The Residences at Dylan Coastal Resort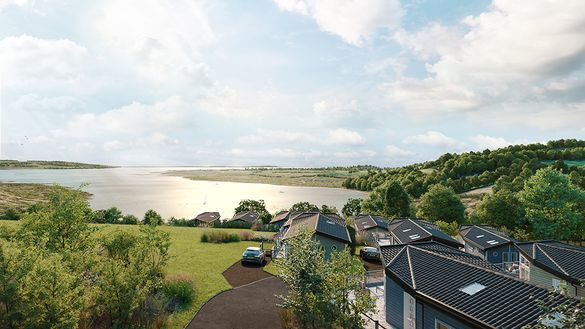 ---
High-quality holiday provider Luxury Lodges has launched its 'Residences' range at its five-star West Wales resort to provide endless, limitless, fuss-free breaks to lovers of the lodge lifestyle.
The stampede for staycations at the company's beautiful Dylan Coastal Resort – which benefitted from a £20M refurbishment during lockdown – has led to the lodges being built for people to purchase and enjoy time and time again, without trying to secure availability, and the stresses booking holidays often entails.
UK holiday bookings have increased by a staggering 300%* with Visit Britain forecasting a £61.7bn spend in domestic tourism this year – a 79% increase since 2020, with £18bn of that spent on domestic overnight tourism**.
This demand for holiday property ownership goes hand-in-hand with the unprecedented demand for superior self-catering accommodation post-lockdown and The Residences at Dylan Coastal Resort are all complete with a private hot tub, offering all the appeal of a fantastic family holiday, but whenever you want to retreat for annual breaks, sporadic weekends away and family get togethers (and family reunions after this year's challenges). The resort is the perfect fit for aunts and uncles, grandparents and grandchildren.
Combining the perfect investment opportunity with the option for home-from-home holiday after holiday, The Residences at the South-West Wales resort, are hotel quality and combine high spec tech with home comforts and an idyllic, seaside location.
The recently launched £7.5M Milk Wood House Spa offers relaxation and recuperation with treatments by marine brand Ishga, a Technogym and infinity pool overlooking the mesmerising, shifting Carmarthen Bay seascape. The mezzanine Milk Wood House Bar and Restaurant and its seaview terraces will relieve you of lockdown's cooking duties, with the Wellness Cuisine focussing on locally sourced seafood and rustic, fresh, pizzas topped with seasonal and sustainable ingredients.
Likewise, the children's menu is brimming with quality ingredients and fresh flavours to make eating fun and wholesome.
Lions and Wales rugby star Alun Wyn Jones appreciates the appeal of endless access to his own lodge, becoming one of the first owners at Dylan Coastal Resort, which he enjoys with his young family.
Luxury Lodges owns four exclusive resorts across the UK from Cornwall to the Lake District and its 19 state-of-the-art Residences will be available to buy from June 2021, with occupancy commencing late Autumn 2021.
Priced from just £295,000, the 1,100 sq. ft fully furnished lodges are available as two or three beds, each with two bathrooms, vaulted ceilings, walk-in wardrobes and fitted kitchen.
Owners have the opportunity to exclusively retain their property or to sublet it through Dylan Coastal Resort's stress-free letting programme.
This offers a potential £25k rental return, or by part occupying and part subletting, a possible £17k income can be re-couped, letting your lifestyle pay for itself. Luxury Lodges also provides finance options with its leading finance provider partners who offer competitive rates on lending.
The exclusive Residences benefit from a designated concierge service as well as 24-hour security and owner discounts across the resort.
Sharon Hurley, founder of Luxury Lodges, said "The entire ethos behind my founding Luxury Lodges was to provide stylish, self-catering holidays for modern families, without compromising on comfort and luxury.
"The Residences are ideal if you're looking to enjoy regular getaways but also generate rental income. Whether it's a way of life or the flexibility to use the subletting program, there has never been a better opportunity with the UK's staycation market rapidly growing, there's never been a better time to buy."
For further information, go to https://residences.luxurylodges.com/
Video: https://www.youtube.com/watch?v=9-HWfAMkel8
Brochure: https://dylan-coastal-residences.testingcreative.co.uk/wp-content/uploads/2020/12/35687_Nuevo_Residence_Print_Brochure

Follow and Share with Jetsettersblog.