The Ritz-Carlton Amidst a Unesco World Heritage Site in Japan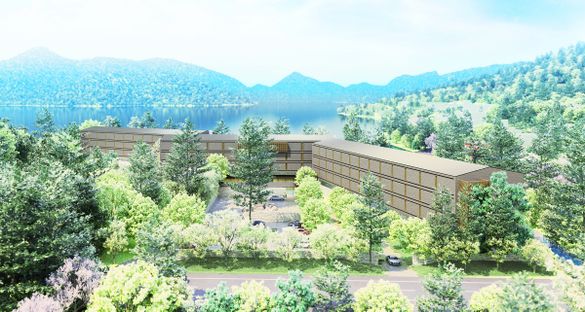 ---
Hong Kong – March 28, 2018 – Building on a growing desire for luxury resort experiences in stunning global locations, The Ritz-Carlton Hotel Company L.L.C. announced plans to bring its legendary style and service to Nikko, Japan. Surrounded by mountainous landscapes, sacred forests and rich traditions, The Ritz-Carlton, Nikko, owned by Tobu Railway Co., Ltd., is expected to open in 2020 and will be the brand's first resort in Japan to be set amidst a UNESCO World Heritage site.
"Today's luxury traveler is increasingly seeking out unique experiences and the opportunity to become immersed in a destination's culture. We are delighted to meet this need by opening exceptional properties in exciting new locations such as Nikko," said Lisa Holladay, Global Brand Leader for The Ritz-Carlton. "We will be working to curate a Nikko experience that truly showcases what is special about this destination while bringing to life and honoring its UNESCO heritage."
Located in the Northern Kanto region of Japan, Nikko lies approximately two hours North of Tokyo and is an outdoor and cultural tourism destination that features many natural jewels including the Kegon Falls and an array of famous Buddhist temples and Shinto shrines. Nikko, and the surrounding area, has long been known as a holy place and was named a UNESCO World heritage site due to the cultural, religious, and architectural significance of its richly decorated temples. Set amidst the mountains and forests that make up this special site, The Ritz-Carlton, Nikko is slated to be located along the East end of Lake Chuzenji and South of Mount Nantai and will  provide guests with easy access to prominent scenic attractions including Nikko's National Park and the UNESCO World Heritage designated area.
"We are pleased to welcome the iconic Ritz-Carlton brand to Nikko, which can be easily accessed from our railway lines," said Yoshizumi Nezu, President, Tobu Railway Co., Ltd. "The land surrounding the hotel has many stories to tell and is rich in history and abundant in nature. Through The Ritz-Carlton, Nikko we hope to introduce the various Nikko attractions to both Japanese and international visitors, eventually contributing to the strength of the Japanese tourism industry."
The Ritz-Carlton, Nikko is set to feature 94 spacious guestrooms and suites, each designed to provide guests with an extravagant view of either Lake Chuzenji or Mount Nantai. Dining options are expected to include an all-day dining restaurant, a Lobby Lounge and Bar, as well as a Western restaurant. The fitness facilities and signature Ritz-Carlton Spa will offer an opportunity for complete rejuvenation through unique treatment rooms and a private Onsen – Japanese hot springs.
"Nikko has a long and rich history, making it an attractive destination for domestic travelers and a growing destination for overseas travelers looking to more deeply experience Japan and its culture," said Paul Foskey, Chief Development Officer, Asia Pacific, Marriott International. "We are truly excited to be collaborating with Tobu Railway Co., Ltd. to bring yet another unique resort to Japan."
– END –
Note on Forward-Looking Statements:
This news release contains "forward-looking statements" within the meaning of federal securities laws, including the number of lodging properties the company may add in future years and similar statements concerning possible future events or expectations that are not historical facts.  We caution you that these statements are not guarantees of future performance and are subject to a number of risks and uncertainties, including changes in market conditions; changes in global and regional economies; supply and demand changes for hotel rooms; competitive conditions in the lodging industry; relationships with clients and property owners; the availability of capital to finance hotel growth and refurbishment; and other risk factors that the company identifies in its most recent quarterly report on Form 10-Q or annual report on Form 10-K; any of which could cause actual results to differ materially from the expectations we express or imply here.  We make these statements as of the date of this press release, and we assume no obligation to publicly update or revise any forward-looking statement, whether as a result of new information, future events or otherwise.
About Tobu Railway Co., Ltd.
Founded in 1897. Tobu Railway's massive network extends through Tokyo and four surrounding prefectures: Saitama, Tochigi, Gunma, and Chiba. With 463.3 kilometers of operating track (as of 2016), Tobu is Kanto's largest private railway and is used by, on average, approximately 2.47 million passengers a day. Thus the Company operates the railway as an artery of transportation supporting the network of the Tokyo metropolitan area while operating other companies lines through operation system between different operators. Tobu is also proceeding with the development projects mainly on the lands along its own railway lines. Tobu opened TOKYO SKYTREE TOWN® in 2012, including the TOKYO SKYTREE®, the world's tallest freestanding broadcast structure constructed as requested by the local broadcasters and ward municipal office (Sumida Ward), and many international visitors as well as local visitors enjoy the panoramic views of Tokyo there. For more information, please visit the company's website at www.tobu.co.jp
About The Ritz-Carlton Hotel Company, LLC
The Ritz-Carlton Hotel Company, L.L.C., of Chevy Chase, MD., part of Marriott International, Inc., currently operates more than 95 hotels and over 45 residential properties in more than 30 countries and territories. The Ritz-Carlton is proud to participate in the industry's award-winning loyalty program, Marriott Rewards® which includes The Ritz-Carlton Rewards®. Members can now link accounts with Starwood Preferred Guest® at members.marriott.com for instant elite status matching and unlimited points transfer. For more information or reservations, visit the company web site at www.ritzcarlton.com, for the latest company updates, visit news.ritzcarlton.com and to join the live conversation, use #RCMemories and follow along on Facebook, Twitter, and Instagram. The Ritz-Carlton Hotel Company, L.L.C. is a wholly-owned subsidiary of Marriott International, Inc. (NASDAQ:MAR).
About Marriott International, Inc.
Marriott International, Inc. (NASDAQ: MAR) is based in Bethesda, Maryland, USA, and encompasses a portfolio of more than 6,500 properties in 30 leading hotel brands spanning 127 countries and territories. Marriott operates and franchises hotels and licenses vacation ownership resorts all around the world. The company also operates award-winning loyalty programs: Marriott Rewards®, which includes The Ritz-Carlton Rewards®, and Starwood Preferred Guest®. For more information, please visit our website at www.marriott.com, and for the latest company news, visit www.marriottnewscenter.com. In addition, connect with us on Facebook and @MarriottIntl on Twitter and Instagram.
Pr
Follow and Share with Jetsettersblog.