The Vuelta al Teide returns to Tenerife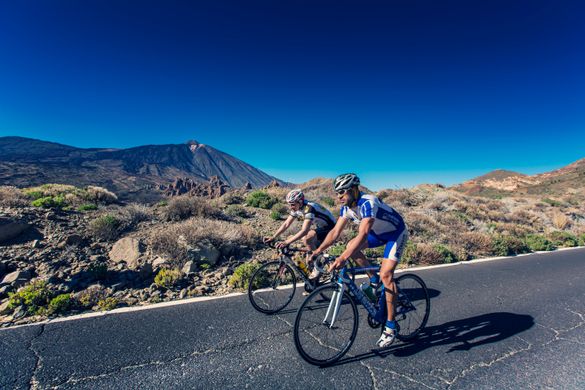 The largest island in the Canaries is gearing up to host the third edition of the Vuelta al Teide, which will welcome thousands of bike enthusiasts and professionals alike to Tenerife for the ultimate cycling endurance test. Taking place on Saturday 30th March 2019, the event will see participants scaling Mount Teide as part of a 160km route around the island.
Boasting spectacular landscapes, stunning coastal views and Spain's highest peak, Mount Teide, Tenerife is already well known among the cycling elite as a world-class training destination. The Vuelta al Teide showcases the island's astonishing natural beauty and enables participants to discover a huge variety of terrain. This includes the UNESCO-listed Teide National Park, which is famed for its remarkable volcanic scenery and the ancient laurel forest of Teno Rural Park.
The Vuelta al Teide is an endurance test aimed at only the most experienced of riders. The 160km route departs from the town of Los Realejos and scales Mount Teide, taking riders 4,000m above sea level. A shorter 90km route, reaching 2,000m above sea level, will also be available.
Commenting on the Vuelta al Teide, the President of Tenerife, Carlos Alonso, said: "The Vuelta al Teide will offer cyclists from around the world a unique opportunity to discover Tenerife's untouched and breathtaking landscape, with a route that explores some of the most beautiful locations on the island. With excellent year-round spring-like temperatures and a diverse scenery, Tenerife is an ideal destination for a cycling and we look forward to welcoming fans of the sport to our island in March."
Online registration for the Vuelta al Teide is now open and participation costs just €65 (approximately £58) for the 160km route and €55 (approximately £49) for the 90km route, which includes race provisions, support vehicles and entry to a Gastronomic Festival at the end of the race.
For more information or to register, please visit: https://www.vueltaalteide.com/?lang=e
-Ends-                            
About Tenerife
Tenerife is the largest of the Canary Islands and one of the most popular and easily accessible holiday destinations for UK travellers. Guaranteed sunshine, diverse landscapes, idyllic beaches and charming villages make the island an ideal holiday choice all year round, while its vast array of fantastic activities, from year-round whale watching and stargazing on Spain's tallest peak to caving adventures inside Europe's largest lava tubes, ensure that the island's variety of experiences are as unforgettable as its flavours and friendly people.
For general tourism information on Tenerife, please visit: www.webtenerife.co.uk