The Year Of Football In Buenos Aires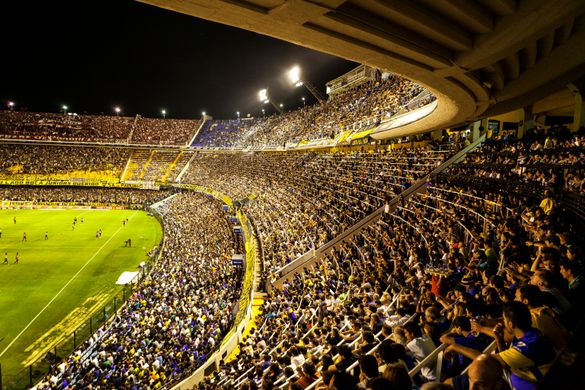 ---
Buenos Aires is a city of many passions and football is a passion that all Porteños share. One that has the power to unify complete strangers and the potential to sever families in two. 2020 is a huge year in the Buenos Aires football calendar and will take centre stage even more so than normal throughout the city.
This year, Buenos Aires has the honour of co-hosting the Copa America, the continent's major international football tournament and the equivalent of Europe's UEFA Euro tournament. For the first time in history, the dates of the two tournaments will coincide, following the Latin American tournament' switch to even-numbered years. The inaugural game of the tournament will take place in the iconic El Monumental stadium on 12th June, home to one of the city's biggest clubs, River Plate. Games will then be hosted across Argentina and Colombia until 12th July with some of football's biggest stars such as Lionel Messi and Sergio Aguero battling it out in Buenos Aires to get their hands on Latin Americas' most prized trophy.
Furthermore, 2020 marks 115 years since the founding of one of Buenos Aires' biggest clubs and River Plate's fiercest rivals, Boca Juniors. The club was founded in 1905 by a group of Italian – specifically Genoese – and Greek immigrants and has since become Argentina's most successful team by number of official titles with 68 as of its anniversary year.
The anniversary of the Boca Juniors' founding is coupled with another major celebration for the team as 2020 is the 80th year since the construction of its home stadium La Bombonera. Formerly known as Estadio Alberto J. Armando, La Bombonera (The Chocolate Box) opened its door in 1940 and was soon given its nickname thanks to its peculiar shape with one flat stand and three steep, more rounded stands. La Bombonera is known for its excellent acoustics which has given Boca's supporters the nickname of "La Doce" (The 12th Man) and ensured its status as one of the most emblematic football stadiums in the world.
With these three major events, 2020 will be a year full of passion for Buenos Aires where temperatures rise with football fever and fans unite to support their country while conversations of Messi vs. Maradona continue to divide opinion.
About the Autonomous City of Buenos Aires
Argentina's capital and most populous city, Buenos Aires, is located on the western shore of the Río de la Plata estuary, on the south-eastern coast of South America. The city is neither part of Buenos Aires Province nor the province's capital; rather, it is an autonomous district. Buenos Aires is a top tourist destination that offers a unique blend of European elegance and Latin American passion. Famous as the birthplace of tango, the city is also home to world-class opera, theatre and art, well-preserved European-style architecture, native traditions, and to restaurants that overflow with wine from Mendoza and cuts of beef fresh from the Pampas. Ranked by The Economist as 2017's best Latin American city to live in, Buenos Aires is made up of small, highly individualized neighbourhoods, each with its own characteristic colours and forms. The destination attracts and satisfies vacationers of all tastes and budgets with its wide range of accommodations including luxury hotels, chic boutique hotels, and international brands. For more information on tourism, visit: https://turismo.buenosaires.gob.ar/en or follow Buenos Aires' Facebook page or Instagram.
Follow and Share with Jetsettersblog.