The Zambezi Queen Collection by Mantis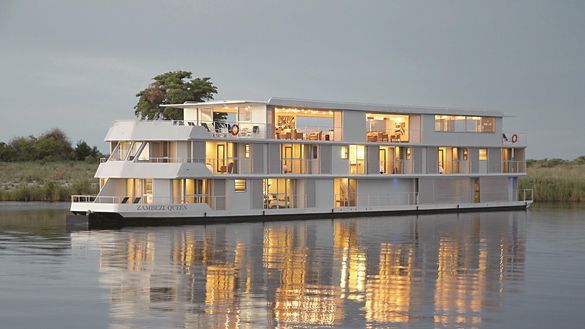 The Zambezi Queen Collection by Mantis Offers Exclusive Charter of Luxury Houseboats
 For the Ultimate All-inclusive Bucket-list River Safari Getaway 
Four vessels for private use, voyaging the shores of the Chobe River bordering Namibia and Botswana
(London, 19 November 2021) The Zambezi Queen Collection by Mantis comprises four houseboats: the flagship, luxury vessel: Zambezi Queen by Mantis and three deluxe vessels: the Chobe Princesses by Mantis.  All of the houseboats sail along the Chobe River, with the Zambezi Queen by Mantis navigating roughly 25km of the river and the Chobe Princesses by Mantis able to navigate 50km of the river due to their smaller size. In addition to the houseboats, the collection also includes the secluded Ichingo Chobe River Lodge by Mantis which is surrounded by dense forest and located on the quieter Namibian side of the Chobe River.
The four houseboats in the collection are available for exclusive charter, offering guests the ultimate all-inclusive river safari getaway. Sole use of the vessels is available for between 8 and 28 people.
The River Safari Experience:
The banks of the Chobe National Park river have one of the world's largest populations of elephant (estimated at around 120,000). The Park is also home to a large number of buffalo, leopard and lion, along with a variety of antelope and abundant birdlife. With an exclusive stay on-board one of the houseboats, guests set their own itinerary and decide whether they want to be up with the lark or  prefer to lounge and watch game from the comfort of their rooms.
One of the on-board highlights is spotting a herd of elephants along the riverbank and seeing them cross the waterway. Heading out on a tender boat towards Elephant Bay with a guide, guests can get an even closer encounter with wildlife with water safari game drives. The Chobe is known as a *photographer's paradise; providing uninterrupted access to striking wildlife. Soft early morning light and sunsets at dusk make for dramatic and unusual photo opportunities.
No trip to the Chobe is complete without trying a **fishing safari, where lucky guests could catch a tiger fish (one of the greatest fighting fish in the world). There is also the chance to catch  one of the many bream species, African pike, tilapia, catfish or upper Zambezi yellowfish as guests explore over 100kms of the Chobe and Zambezi rivers, as well as the winding Kasai Channel and thrilling Chobe and Mambova rapids.
A wide variety of additional  experiences are available, ranging from birding to cultural tours where guests can venture to Ijambwe (a Namibian village on the floodplains of the East Caprivi) to meet the Subiya tribe village elders and locals and gain a greater understanding of how the inhabitants of this 100-year old village live. Guests staying at the Ichingo Chobe River Lodge by Mantis can go on a walking tour to visit a 2,000-year-old baobab tree and learn more about the  medicinal and spiritual value of Impalila Island's flora.
The Houseboat Details:
The Zambezi Queen by Mantis offers 14 luxurious suites (10 standard suites and four spacious master suites at the bow of the boat). All suites have outer decks, with the master suites boasting two balconies each which provide excellent uninterrupted views of the African landscape. The houseboat also has a plunge pool and social spaces on the upper deck.
Two of the Chobe Princesses by Mantis have four cabins each (three standard and one superior). The third Princess houseboat is larger with five cabins (three standard and two superior). The standard cabins have beautiful large windows that slide open to bring the outdoors closer and the superior cabins each benefit from a private balcony. All of the  Chobe Princesses by Mantis offer a spacious lounge and bar area as well as a plunge pool.
The Ichingo Chobe River Lodge by Mantis has eight Meru-style safari tents tucked beneath a canopy of trees, and each tent has a private balcony to take in views of the Chobe River.
Insider Tip:
Game viewing on the Chobe River is at its most exceptional from March to November when the weather is drier and the animals are more mobile as they search for food and water. Summer and spring also offer unique opportunities to witness the landscape burst into life after the first rains of the season. Birding season starts in September, when the first migrants arrive. From December through to March birdlife on the Chobe is extremely busy with colourful breeding plumage on display.
Africa Collection seven nights' all-inclusive including flights, ATOL package for the Zambezi Queen by Mantis:
BA Flights: Outbound: London Heathrow / Johannesburg / Victoria Falls
Return: Kasane / Johannesburg / London Heathrow
Business Class flights upon request at an additional cost
Private Transfer: Victoria Falls Airport  to the Victoria Falls Hotel – a classic five-star hotel  in a prime location overlooking Victoria Falls, Zimbabwe
Accommodation: Two night stay at the Victoria Falls Hotel (classic room including bed and breakfast)
Private Transfer: Victoria Falls Hotel to the Zambezi Queen by Mantis
Accommodation: Three night stay onboard the Zambezi Queen by Mantis (suite inclusive of all meals, drinks and excursions)
Transfer: Zambezi Queen by Mantis to Kasane Airport
Price:
Travelling select dates in December 2021 and 1 January – 28 February 2022 from £2,795 per person sharing. Additional night on the Zambezi Queen by Mantis from £430 per person and upgrade to a master suite additional £232 per person
Travelling select dates from 1 March – 30 November 2022 from £3,100 per person sharing. Additional night on the Zambezi Queen by Mantis from £498 per person upgrade to a master suite additional £338 per person
Exclusive charter rate POA
Contact & Reservations: 
Email: info@africacollection.com
Telephone: 01403 256655
Website: https://www.africacollection.com
Package link: https://itinerary.africacollection.com/Itinerary/Landing/d358646f-95f4-42d0-acdb-3daff88cb8d8
To book one of the Chobe Princesses by Mantis and/ or Ichingo Chobe River Lodge by Mantis contact…
Email: enquiry@zqcollection.com
Tel: UK Enquiries: 0 808 189 0987
Website:  www.zqcollection.com
Rates:
All the houseboats sail on scheduled weekly departures every Monday (two-nights or four-nights), Wednesday (two-nights) and Friday (three-nights). The 2022 rate is per person, per night (based on double occupancy) for either a two-night, three-night or four-night itinerary starting from £354 for the Chobe Princesses by Mantis ***all-inclusive for a standard suite (low season: January, February and December).
Exclusive charter rate POA.
The Ichingo Chobe River Lodge by Mantis 2022 rate is per person, per night and starts from £304
Conservation & Community Upliftment: 
CCFA (Community Conservation Fund Africa) was formed by Mantis and Accor Hotels to address social and environmental imbalances and to find a workable solution to the growing conservation crisis. Mantis and CCFA's new online carbon reduction calculator offers guests staying at a Mantis property the option to offset the carbon footprint of their trip by supporting one of CCFA's community based projects. Borehole construction is a new CCFA fundraising initiative to provide much needed safe and convenient access to water. So far one community borehole has been completed in the Maliyazwa Village in Namibia and CCFA aims to assist with another three boreholes in the Kasika Conservancy, Zambezi region, Namibia by 2022.
*Photographer's paradise: upon request the Zambezi Queen Collection by Mantis  can provide a custom-designed photographic safari boat (catering for six people in individual photographic seats) with swivel chairs for greater stability and mounting rest for SLR cameras.
**Fishing safari: upon request the Zambezi Queen Collection by Mantis can provide both conventional equipment as well as flyfishing equipment including rods, flies, lures, lines, leaders and reels.
***All inclusive: includes accommodation, all meals, soft drinks and local beer/ wine, guided water-based game viewing and birding, guided water-based fishing (strictly catch and release), guided cultural tour of a local village, road transfers to and from Kasane International Airport and Kasane Immigration Office and  boat transfers between Kasane Immigration Office and Namibia Immigration Office located on the Namibian side of the Chobe River.
About Mantis
Mantis is a leading conservation-focused hotel group with luxury hotels, eco-lodges and waterways experiences located across the globe. Sustainable travellers have been enjoying eco-tourism, safaris and adventure travel with Mantis since 2000. Rooted in conservation, Mantis pursues sustainable business practices and develops tourism products that are respectful of the environment and communities in which they operate. Acclaimed for its pioneering work in development, management, marketing, education and conservation, Mantis's business model successfully combines responsible tourism, conservation and adventure, which translates to one-of-a-kind travel experiences. Whether small and intimate or vast and complex, on a sweeping African plain, in a bustling city, or in the midst of a forest, each is an exceptional place for guests to find themselves. While uniquely different in the experiences they offer, all are linked through a collective ambition to be extraordinary; to be rare in a world that mass-produces sameness.  Mantis consistently curates, collects and discovers destinations and experiences that stir the soul, defy expectation and live in the heart forever. Sustainability goals are achieved through the Mantis Impact division, as well as through the Mantis and Accor foundation, Community Conservation Fund Africa (CCFA). Mantis is part of Accor, a world leading hospitality group consisting of more than 5,200 properties and 10,000 food and beverage venues throughout 110 countries. For more information visit: www.mantiscollection.com and www.ccfa.africa
mantiscollection.com | all.accor.com | group.accor.com
About Accor
Accor is a world leading hospitality group consisting of more than 5,200 properties and 10,000 food and beverage venues throughout 110 countries. The group has one of the industry's most diverse and fully-integrated hospitality ecosystems encompassing more than 40 luxury, premium, midscale and economy hotel brands, entertainment and nightlife venues, restaurants and bars, branded private residences, shared accommodation properties, concierge services, co-working spaces and more. Accor's unmatched position in lifestyle hospitality – one of the fastest growing categories in the industry – is led by Ennismore, a creative hospitality company with a global portfolio of entrepreneurial and founder-built brands with purpose at their heart. Accor boasts an unrivalled portfolio of distinctive brands and approximately 260,000 team members worldwide. 68 million members benefit from the company's comprehensive loyalty program – ALL – Accor Live Limitless – a daily lifestyle companion that provides access to a wide variety of rewards, services and experiences. Through its Planet 21 – Acting Here, Accor Solidarity, RiiSE and ALL Heartist Fund initiatives, the Group is focused on driving positive action through business ethics, responsible tourism, environmental sustainability, community engagement, diversity and inclusivity. Founded in 1967, Accor SA is headquartered in France and publicly listed on the Euronext Paris Stock Exchange (ISIN code: FR0000120404) and on the OTC Market (Ticker: ACCYY) in the United States. For more information visit group.accor.com, or follow Accor on Twitter, Facebook, LinkedIn, and Instagram.

Follow and Share with Jetsettersblog.