Timber in the National Forest Wins Major National Award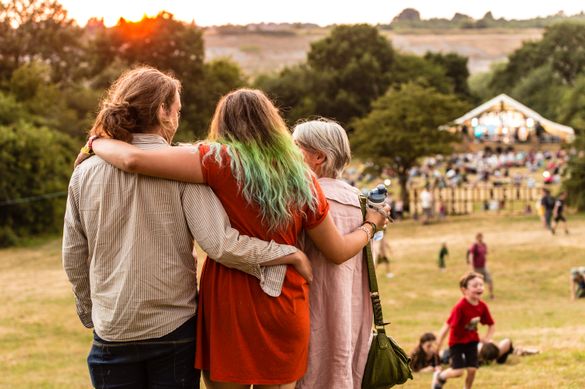 ---
Timber, the new outdoor arts festival celebrating the story of the National Forest, has won the highest accolade in the festival world, taking Best New Festival at the UK Festival Awards ceremony held in London last week.
It was chosen from a challenging field of national competition. This coveted award is just one of a clutch of accolades picked up by the festival recently. It also won Best PR campaign at the Outdoor Events Awards event in Bath last month, and at Leicestershire's Tourism and Hospitality Awards it was awarded Favourite Festival.  The judges for the latter said: "The ambition and vision for this festival were exceptional … a unique and exciting event that embraced the spirit and ambition of its unique setting: the National Forest."
John Everitt, Chief Executive for the National Forest Company, said: "We are thrilled with this array of awards for Timber in its first year. We wanted to make something truly exceptional that would engage people in the National Forest's unique story, and inspire people to reconnect with trees, woodlands and the natural world. All our supporters, partners, and the festival artists and performers, plus all the festival-goers themselves, helped us make Timber the success that it was, and we can't wait to present another amazing festival in 2019."
The National Forest Company worked with award-winning festival producers Wild Rumpus to create the three-day camping festival, which took place in July this year at Feanedock Woods just outside Swadlincote. Through music, art, woodland activities and a lot of fun, it celebrated the transformative impact of forests.
John continued: "Feedback received from festival-goers this year spoke of a real connection with nature, and the amazing atmosphere. It was so chilled out and a contrast to other festivals with its imaginative use of extensive woodland spaces, and intimate music stages set within the woodland glades."
Timber 2019 takes place 5 – 7 July and the first programme announcements will be unveiled in January. Early Bird tickets are on sale now – but disappearing fast – at www.timberfestival.org.uk  National Forest residents benefit from a 25% discount on all tickets.
It promises to be another wonderful weekend where festival-goers can unplug, walk into the trees and fall under the Forest's spell.
See more at www.timberfestival.org.uk
See more about the National Forest at www.nationalforest.org
ends
The National Forest area covers 200 square miles of the counties of Leicestershire, Derbyshire and Staffordshire.  Its objective is to increase woodland cover within its boundaries from an initial six per cent to about a third. No multi-purpose forest on this scale has been created in the UK for one thousand years. More than 8.7 million trees have been planted so far, trebling the proportion of woodland cover in the Forest to over 20 per cent.
Year by year, the National Forest has been steadily turning what was once one of the least wooded areas of England into a multi-purpose, sustainable forest.  The National Forest provides environmental, social and economic benefits, including landscape enhancement, creation of new wildlife habitats and major new access and leisure opportunities. It is an excellent example of sustainable development – with environmental improvement providing a stimulus both to economic regeneration and to community pride and activity.
To achieve these objectives, the National Forest Company leads the creation of the National Forest, working in partnership with landowners, local authorities, private business, voluntary organisations and local communities and has strong support from Government, politicians and the public.  The Company, now also a charity, continues to receive grant support from the Department for Environment, Food and Rural Affairs. Charity no: 1166563.
Follow and Share with Jetsettersblog.