Toboggan Down The Great Wall Of China, Discover Petra By Candlelight Or Visit The Inkaterra Spectacled Bear Project In Peru With Andante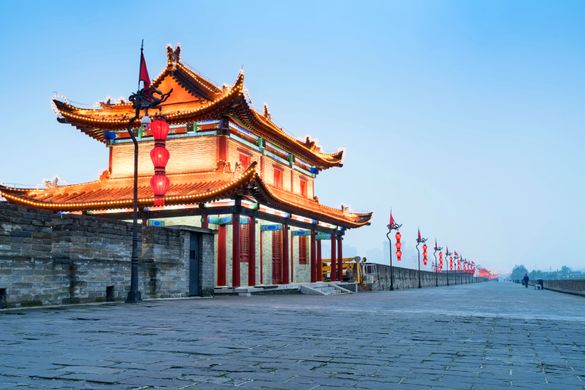 Travels' New 'Cultural Journeys' Tour Range
---
Award-winning special interest holiday company Andante Travels (01722 713 800 www.andantetravels.co.uk) has launched a new collection of tours under the name, Cultural Journeys. These are bucket-list adventures – real journeys of a lifetime – and they're lighter on archaeology, but packed with authentic cultural insight, iconic attractions and immersive experiences in destinations all over the world.
There are nine tours in total, starting from just £2,795pp and ranging from 10-15 days in duration. Each departure will be led by an expert local guide, who knows their destination – from its heritage and folklore, to its nature and architecture – inside and out. The guide for the Costa Rica tour is Johnny Villalobos, who recently won Wanderlust magazine's Top Conservation Guide of 2019 prize at the World Guide Awards. Andante's new range of Cultural Journeys tours was designed to create memorable moments for the intrepid traveller. Sunrise over the Himalayas? Sharing a drink and conversation with local people? Walking in the footsteps of kings, warriors and dynasties? These experiences are all included, with many more in store.
Some of the highlights from across the continent-spanning tour collection include a chance to hunt the northern lights in Iceland, take a boat trip out to the Eqi glacier in Greenland, take part in a yoga class led by a master instructor in Nepal – the practice's spiritual home, and spend a night beneath Jordan's Wadi Rum desert stars in amazing martian dome tents.
FESTIVALS
The tours also take in a selection of local festivals (check individual departures for corresponding festivals). During the Peru tour, guests can experience the Inti Raymi Festival. On the Nepal departure, the Dashain Festival can be encountered. Elsewhere, Diwali and Holi feature on the India tour, Rio Carnival takes place over the Brazil tour, San José Patron Day is included on the Costa Rica tour, and on the China tour guests can experience the Mid-Autumn Festival.
Diwali – November 2020 departure of the India tour
Holi – March 2021 departure of the India tour
Dashain Festival – October 2020 departure of the Nepal tour
Mid-Autumn Festival (Moon Festival) – September 2021 departure of the China tour
San José Patron Day – March 2021 departure of the Costa Rica tour
Rio Carnival Champion's Parade – February 2021 departure of the Brazil tour
WHAT'S INCLUDED
Prices for all of the tours include return flights from London, an expert local guide to accompany the trip throughout its duration, hand-picked accommodation, all local travel, meals as per the itinerary, all activities and entries to sites listed in the itinerary, and gratuities for service staff throughout. Most departures take place in 2020, but there are some 2021 dates already confirmed. For more information, click here: https://www.andantetravels.co.uk/tours/all/74/0/Cultural-Journeys/departure-date.html
TOURS

Boat trip to the Eqi glacier, invitation into Greenlanders' homes for coffee and cake, bathe in secret hot springs, chase the elusive northern lights, visit to the Fri∂heimar greenhouse for a cookery demonstration and lunch, Westman Islands excursion, see how bread is baked in underground geothermal pits, and explore Þingvellir National Park. 12 days from £7,995pp, departing 11th September 2020. 
Peru
Tour Lima's Larco Museum with its curator, visit a weavers' workshop, explore the archaeological site of Moray, discover Machu Picchu and watch a ritual performed by a local shaman, visit the Inkaterra Spectacled Bear Project, visit a tea plantation and make your own tea, observe the Inca Fortress of Sacsayhuaman, and take a boat to the floating islands of Uros to meet their inhabitants. 11 days from £4,695pp, departing 21st June or 23rd September 2020, and 26th May 2021.
Costa Rica
Travel alongside Wanderlust's Top Conservation Guide of 2019 Johnny Villalobos, visit one of the world's five Blue Zones and meet its citizens, sample craft beers on a brewery tour, spot endemic wildlife in the Tortuguero National Park, enjoy a chocolate tasting experience, take part in a traditional pottery workshop, and meet a descendant of one of Tortuguero's very first settlers. 12 days from £3,945pp, departing 4th July or 11th December 2020, and 10th March 2021.
Brazil
Gaze upon the Christ the Redeemer statue, take part in a cachaça tasting and workshop, indulge in an authentic cookery class where you learn to make a traditional dish, learn about the Rio Carnival (our 2021 departure includes tickets to the Champion's Parade, which is not to be missed), take a cable car up Sugarloaf Mountain and stop halfway down for cocktails with a sunset view, visit the Iguazu Falls, learn to samba at a dance class, and visit the TAMAR Project with its turtles and sharks. 13 days from £4,795pp, departing 13th August or 15th October 2020, and 18th February 2021.
Jordan
Visit Umayyad Palace, enjoy a Jordanian wine-tasting experience, trek through the Ajloun Nature Reserve, encounter traditional live music during a visit to Kan Zaman village, visit a local women's centre where handicrafts and ceramics are produced, spend the night under the Wadi Rum desert stars in martian dome tents, take a Jeep safari through Wadi Rum, visit the lesser-known Little Petra, learn to cook an authentic recipe at the Petra Kitchen, experience a memorable visit to Petra by candlelight, visit a farm to learn about local produce, explore the Dana Biosphere Reserve, and float in the Dead Sea. 10 days from £2,845pp, departing 11th September or 23rd October 2020, and 15th March or 2nd April 2021.  
China
Pay a visit to the incredible Terracotta Warriors, visit the Forbidden City and the Temple of Heaven, see giant pandas at the Chengdu research base, walk through the atmospheric bamboo forest of Mukeng Village, learn tai chi and the art of Chinese ink brush painting, enjoy a calligraphy lesson, take a toboggan ride down the Great Wall, watch a performance of Sichuan opera, enjoy an evening of Tang Dynasty music, have a private visit to the Xi'an Antiques Research and Protection Institute in the company of an expert, ascend Mount Huangshan and descend via cable car, and explore a core production area of green tea and pick some yourself. 15 days from £4,095pp, departing 12th October 2020, and 10th May or 8th September 2021. 
India
Visit Bangla Sahib Gurudwara to see the afternoon 'langar' in action, take part in a Patangbazi (kite-flying) session from the terrace of a vintage hotel, stop at the Palace of the Winds, visit the astronomical observatory of Jantar Mantar, spend time with Project Tiger and enjoy a safari where it might be possible to spot these majestic animals in the wild, enjoy an encounter with a local family to learn about life in the region, pay a sunrise visit to the Taj Mahal, and explore Elephanta Island with its ancient cave temples. 11 days from £3,095pp, departing 13th October or 10th November 2020, and 25th March 2021.
Nepal
Gain an introduction to Tibetan Thangka painting at a workshop, visit the UNESCO-listed Royal Chitwan National Park, enjoy a jungle safari by water along the Narayani River, watch a performance of a typical Tharu cultural dance, take an early morning nature walk to spot birds, visit a local Tharu village to meet indigenous people and learn about their life and culture, discover the Gurkha Museum, and take part in a rejuvenating yoga class led by a master instructor in this practice's spiritual home. 12 days from £2,795pp, departing 22nd October or 24th November 2020, and 3rd April 2021.  
Israel
Discover the ancient fortress of King Herod in Masada, observe modern Israeli street art and graffiti on a walking tour, spend time with both a Druze community and Jewish family to learn more about their way of life and culture, float in the Dead Sea, explore the Ein Gedi Nature Reserve, sample excellent wines at the Golan Winery, enjoy a culinary tour in Nazareth, try your hand at making delicious shakshuka, and wander around the modern Sarona Market. 10 days from £3,345pp, departing 16th November 2020, and 15th March 2021.
To view the digital issue of the dedicated Cultural Journeys brochure, click here: https://issuu.com/specialistjourneys/docs/andante_travels_cultural_journeys_2020_uk_
For more information, call Andante Travels on 01722 713800 or visit https://www.andantetravels.co.uk/
For further media information, contact: Martha Whatley, Content Marketing and PR Executive, martha@specialistjourneys.com
Founded in 1985, Andante Travels – part of the Specialist Journeys group – has grown to become one of the UK's leading specialist tour operators. This year, Andante won Best Specialist Tour Operator and Best Escorted Tour Operator at Luxury Lifestyle Magazine's Readers' Travel Awards, it was also a finalist for the Marketing Excellence prize at the South Wilts Business of the Year Awards, and Andante guide Dr. Eireann Marshall recently won Top History & Culture Guide at Wanderlust magazine's World Guide Awards. Andante is once again nominated in both the Best Special Interest Holiday Company and Best Holiday Company to the Italian Peninsula & Malta categories at the 2019 British Travel Awards.
Andante's tours have been named 'Trips of a Lifetime' by the National Geographic Traveler on five occasions and in 2018 it appointed Jackie Willis as its new CEO, who brought with her over 35 years of touring and travel experience. Over the years, the company has introduced thousands of people to the wonders of the ancient world. Its tours are all designed and led by renowned experts, who bring a unique, special insight to each site visited in every corner of the globe, and every one of its itineraries boasts exclusive access to either a museum or venue, a specific archaeological site or to a workshop. Andante's tours are peppered with hands-on, immersive experiences that offer an authentic taste of each destination and leave guests with memories that will linger long after they return home.
Follow and Share with Jetsettersblog.