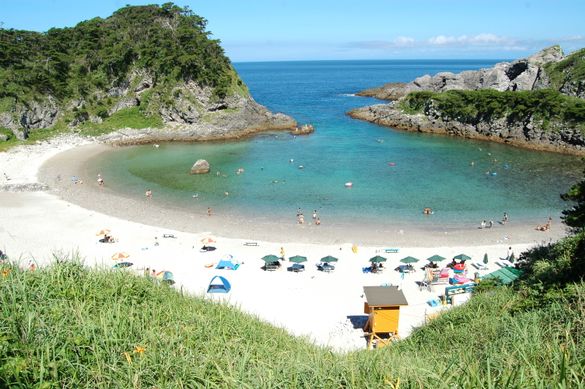 2
---
Subtropical Island retreats may not spring to mind when thinking about Tokyo, however, the Izu Islands and Ogasawara Islands at Tokyo's most South East, offer the perfect getaway to leave the big city life behind and indulge in some tranquil outdoor activities.
Tokyo's Island archipelagos comprise over 30 islands, 11 of which are inhabited. The nine Izu Islands are known for their hot springs, sushi and an abundance of nature. The two Ogasawara Islands further south are a subtropical idyllic island paradise. Each of the islands are unique and have their own special attractions. If you like a bit of an adventure, hiking, swimming in pristine waters, bird watching, dolphin spotting, fishing, diving, snorkelling, or camping Tokyo's island getaway is could be the escape for you.
Whilst there are plenty of islands to choose from, Kozushima Island and Hachijojima Island are both a short direct flight away from Tokyo making them an ideal escape from the city. Switch over to island time, here are some of the best experiences to be had on Tokyo's Islands:
Kozushima Island– An idyllic Island with pristine nature:
Treat yourself to Beach & Island Time: For hiking, snorkelling and splashing around, Kozushima Island is a picturesque slice of paradise with sandy beaches, an ultra-fun clifftop promenade and snorkel-swim play area. It also caters to more adventurous travellers with challenging hiking trails and dive spots.
Offshore Fishing with a Local:Tokyo's Islands blessed with an abundance of sea life thanks to the Kuroshio current- join a local fisherman for a half day on his vessel and see first-hand how they fish for mackerel, amberjack and neon flying squid.
Local Island Cooking Experience: Experience the Island lifestyle being hosted by a local grandmother, who will teach you how to cook local seasonal dishes.
Getting there: Kozushima Island is just a 45 minute flight from Chofu Airport or approx. 4 hours by ferry from Tokyo's Takeshiba Pier.
Hachijojima Island– Your subtropical island retreat:
Go for a Volcano Hike: Head to Hachijojima Island and enjoy a hike to the top of Mt. Hachijo-Fuji, the island's own version of the famous Mt Fuji. The temperate subtropical climate supports a wide variety of wildlife and local plant life, and the volcanic terrain creates gorgeous views combining lush grasslands and rugged mountains overlooking the crystal-clear ocean.
Dive with Sea Turtles: Discover the sea turtles and other marine life in pristine ocean around Hachijojima, known locally as "Hachijo Blue". You can scuba dive by day and snorkel by night.
Star Gaze on a Night Walk: When the sun goes down the starry sky above lights up an amazing natural nightlife on Hachijojima, take a walk with an experienced guide.
Getting there: Hachijojima is just a 55 minute flight from Tokyo's Haneda Airport or 10 hours (overnight) by ferry from Tokyo's Takeshiba Pier.
For more information on Tokyo's regional areas: "Tama" (Western Tokyo) and "Shima" (meaning Island in the South) go to: https://Tamashima.tokyo/en
Follow and Share with Jetsettersblog.