Top 10 Island Highlights on 'La Isla Bonita' La Palma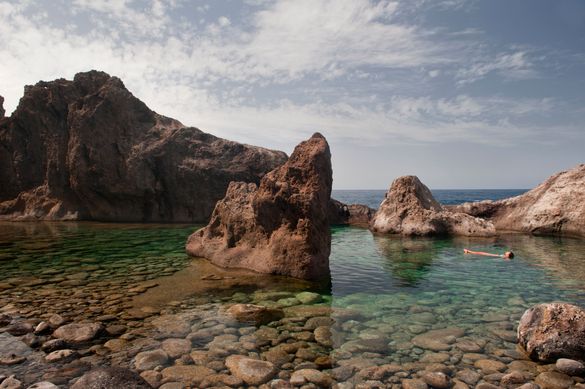 ---
Explore Europe's largest crater
The Caldera de Taburiente is a crater of 8 kilometres in diameter and the largest erosion crater in the world. The 2,000-metre-high mountains enclose picturesque walking routes, scattered with pine trees and mesmerising coloured waterfalls stained red and orange. www.visitlapalma.es/en/recursos_culturales/centro-de-visitantes-del-parque-nacional-de-la-caldera-de-taburiente/
Travel across thousand-year-old volcanoes
The 'Route of the Volcanoes' is 17.5km stretch offering stunning panoramic views of the San Antonio and Teneguia volcanoes, but also provides breath-taking vantage points from which to see the islands native bird species, including the rook and kestral. www.visitlapalma.es/en/rutas/ruta-de-los-volcanes/
Explore a UNESCO Starlight Reserve
The first destination in the world to be recognised by UNESCO as an official Starlight Reserve, La Palma boasts the highest quality night sky for stargazers. The Roque de Los Muchachos observatory, referred to as the 'Balcony to the Stars', is one of the three best observatories on earth and sits at an altitude of 2,420m.  www.visitlapalma.es/en/experiencias/visita-el-observatorio-del-roque-de-los-muchachos/
Spend the day at La Palma's Recova market
In the heart of the island's capital, Santa Cruz de La Palma, the Recova Market is one of the most important on the island, offering a lively bustling vibe. Visitors can indulge in Canarian delicacies, alongside a morning of shopping, and grab all the essentials needed to make traditional dishes yourself! www.visitlapalma.es/en/experiencias/mercados-recovas-y-mercadillos/
Taste test the famed Palmeran Wines
The island's wineries have been the focal point of Palmeran wine production, preserving traditional methods, while incorporating the most modern winemaking techniques to heighten the quality of the wines. Boasting some of the most awarded wineries in the Canary Islands, visitors can tour the vineyards and dine in delicious on-site restaurants. www.visitlapalma.es/en/experiencias/artesania-con-sabor/
Discover the array of artisanal products in La Palma
La Palma's long history with Latin America has influenced the artisanal products made on the island, including world-renowned cigar factories, traditional handmade silk garments, rum distilleries, and crafts made from local wood, stone, leather, and metal. Visitors can learn about the importance of these products in Palmeran culture and their production and manufacturing.www.visitlapalma.es/en/vive_experiencias/siente-una-artesania-delicada-y-fina/
Experience a traditional Carnival in La Palma
La Palma is known for hosting the most traditional carnival celebrations in the Canaries, celebrating with the Fiesta de Los Indianos, in the island's capital Santa Cruz de La Palma. The event dates back hundreds of years and depicts the historic relationship between the island and Cuba, characterised by locals in white clothing parading down the cobbled streets, throwing talcum powder by the kilo. www.visitlapalma.es/en/fiestas/carnaval/
Enjoy an alternative beach experience
The Charco Azul in San Andrés y Sauces is a fresh sea water bathing pool, enclosed by volcanic rocks which have created small waterfalls and a large refreshing swimming area for visitors to indulge in. The island's natural settings also provide authentic alternatives to busier beach destinations including the black sand beaches of Puerto Naos, famed for its crystal-clear waters that allow for night-time scuba diving. www.visitlapalma.es/en/recursos_naturales/playas-y-piscinas-naturales/
Taste the Salt Pans of Fuencaliente
The mesmerizing salt fields in the south of the island have been declared an Official Site of Scientific Interest, as a result of the hundreds of birds who migrate to the area to rest. In the neighbouring themed restaurant, visitors can learn about the production process and purchase high-quality products such as the Flor de Sal, or Salt Flower, the purest form of salt, after enjoying the most famed cuisine on the island. www.visitlapalma.es/en/recursos_naturales/las-salinas/
Relive La Palma's history
The small island is filled with a number of centres and museums for visitors to learn about the history and culture of the island including the Insular Museum focused on Nature, Fine Arts and Ethnography, as well as the Benahoarita Archaeological Museum, the Banana Museum, the Maritime Museum and the Borde Palmero Museum. www.visitlapalma.es/en/experiencias/visita-los-museos/
-Ends-
Images are available to download here.
For more information, please contact Camila Holden-Ayala or Kate McWilliams at LOTUS: 020 7953 7470/ LaPalma@wearelotus.co.uk.
Turismo de La Palma is part of the Ministry of Planning and Tourism of the Insular Cabildo of La Palma, the island's highest representative body. Among other functions, is dedicated to the external promotion of the destination La Palma, Isla Bonita, in international markets.
Follow and Share with Jetsettersblog.