Top 10 Outback Dundee Experiences In South Australia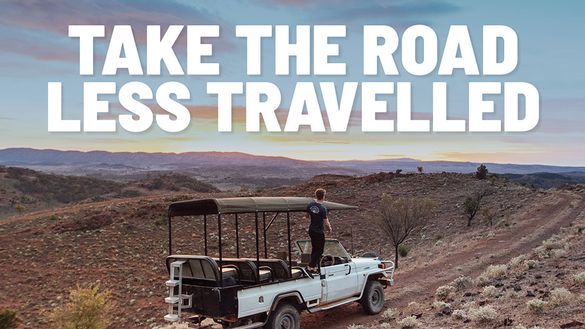 ---
GLAMPING, FLINDERS RANGES
Love the idea of camping, but hate the idea of roughing it? We get it! While it's not exactly what Dundee would do, glamping (glam camping) in Wilpena Pound is your answer. Follow Dundee's lead, immersing yourself in the rugged, ancient Flinders Ranges, without giving up life's luxuries. Sleep under the stars without the fuss of a traditional (and far less glam) camping trip. Premium tents come with king size beds, en suite bathrooms, power and air conditioning (a must in summer months). Just outside your sturdy canvas walls are river red gums, beautiful native pines and abundant wildlife.
IKARA-FLINDERS RANGES NATIONAL PARK, FLINDERS RANGES
Driving through Ikara-Flinders Ranges National Park, you'd be forgiven for thinking you were navigating the unexplored face of Mars. Spend the day exploring the outback and retire to deep-red sunsets. Rugged mountain ranges, dramatic gorges and abundant wildlife are just the beginning of what awaits you in one of South Australia's most spectacular destinations. The main attraction is Wilpena Pound: a gigantic natural amphitheatre encompassing the Flinders Ranges' highest point, St. Mary Peak.
RAWNSLEY PARK STATION, FLINDERS RANGES
Located on the south-eastern edge of Wilpena Pound, Rawnsley Park Station adjoins the Flinders Ranges National Park, five hours' drive from the city of Adelaide. Experience the ancient rugged landscape like a true, blue Aussie Dundee on a luxurious, fully-operational sheep station, in beautifully-appointed eco-friendly villas, camping sites or holiday units. Wake-up to kangaroos, emus, echidnas and countless bird species, learn about Aboriginal culture and history from the local elders, or simply sit back and take-in the otherworldly views, local glass of wine in-hand.
COOBER PEDY, OUTBACK
Journey to the underground town of Coober Pedy – Australia's opal capital, boasting a sun-baked lunar landscape. Descend beneath the earth to discover a labyrinth of underground houses called dug-outs, hotels and even shops. Above-ground, visit the eccentric underground home of Crocodile Harry – a colourful figure who was a fair dinkum croc hunter before settling-down in town. Watch Coober Pedy change colour as the sun drenches the land; sleep under the stars and take a flight over Lake Eyre and the impressive painted desert, Tee-off on a gigantic, grassless golf course, fossick for your own opals and explore underground art galleries, churches and mines.
THE PRAIRIE HOTEL, FLINDERS RANGES
Ever eaten emu egg omelette? How about kangaroo tail soup, or camel sirloin with sweet potato wedges, native thyme and garlic chive butter? When you pull up at the Prairie Hotel in Parachilna, you'll find a top-notch, Dundee-worthy menu. Listed as one of the top 100 gourmet experiences in Australia, the Praire Hotel's feral menu gives you a slightly bizarre, yet totally exclusive chance to devour roo mettwurst, emu liver pate and camel sausages. The Prairie Hotel is a quintessential outback pub, fit or true Dundee characters. Both locals and travellers passing through sleep, recharge and swap stories from the seemingly-endless surrounding outback.
THE NULLARBOR, EYRE PENINSULA
Many come to the Eyre Peninsula for its national parks with huge sand dunes, deserted beaches and rugged bushland, but nothing compares to the vastness of the Nullarbor. Beautifully desolate, the Nullarbor stretches 450 miles to the West Australian border and is made-up of rippling sand dunes, bluebush, saltbush and wildflowers, stretching all the way to the rugged Head of Bight. During the winter months, the coastal waters off Head of Bight are home to migrating southern right whales and their calves.
KATI THANDA-LAKE EYRE NATIONAL PARK, OUTBACK
Kati Thanda-Lake Eyre is South Australia's desert oasis. Take a tour and see how rain transforms this giant saltpan into an inland lake brimming with birdlife. Experience the beauty of Lake Eyre – be it wet or dry – on a guided tour or scenic flight. Take off from a red earth runway, soar higher than flocks of native birds and take-in views of endless, still water and gleaming salt crystals. Venture into the water on a kayak, catamaran or small yacht and explore the lake's inlets and expansive waterways.
WILLIAM CREEK, OUTBACK
South Australia's William Creek is one of Australia's most remote towns. Situated along the sprawling Oodnadatta Track, William Creek is a 90 minute drive from Coober Pedy. The William Creek Hotel is loved by travellers from all around the world with a front bar decorated by hundreds of notes, memorabilia and mementos. Experience the beauty of nearby Lake Eyre (Kati Thanda) or the amazing Anna Creek Painted Hills with Wrightsair, offering flights from Coober Pedy all year-round.
ARKABA, FLINDERS RANGES
Arkaba is at the foot of the dramatic Chace Range in the Flinders Ranges. It offers an exclusive experience for a maximum of up to 10 guests a time on its entire 160 miles. Early morning safari drives on this private property reveal remarkable wildlife including kangaroos, wallabies and emus, and breathtaking views of the surrounding Elder Ranges. As part of the Luxury Lodges of Australia collection, it's the perfect place to sip on your evening cocktail, lounge in the outdoor pool and watch the light fading on the Chace Range.
OUTBACK STATIONS
Sheep and cattle stations have been a huge part of South Australia's history for more than 150 years. Today many properties in the Flinders Ranges and Outback combine traditional farm life with pure luxury, providing a unique experience for guests. Stay on a sheep or cattle station in shearers' quarters, cook your own meals or join your hosts for dinner. Top picks include Arkaba, Rawnsley Park Station, Angorichina Station, Alpana Station and Beltana Station.