Top Africa Wellness Lodges for 2018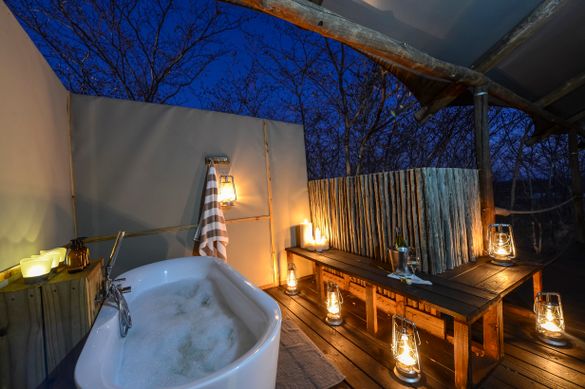 ---
With a new year often come new resolutions, and many seem keen to go on some kind of health-related detox. However, 2018 is heralding a different trend, one that encourages people to clear up some headspace and go 'offline'. We asked our experts for their top recommendations for lodges with the most relaxing spa treatments and the best yoga facilities, as well as lodges with absolutely no WiFi. So whether you're after a hardcore 'cold turkey' detox or just a break from the constant stream of emails, why not embrace a wellness safari in order to unplug, unwind, and find the ultimate holiday detox?
Top lodges for a spa safari
Bisate Lodge, Rwanda: It isn't just the fresh, healthy mountain air that makes newcomer Bisate an ideal destination for a holistic and wellness experience. Situated at 2,650 metres above sea level and adjacent to Volcanoes National Park, Bisate is currently the most luxurious lodge within gorilla-trekking distance thanks to its ridiculously sumptuous en-suite bathrooms, private verandas, and large bedrooms with ample space for resident masseuse Orlane Umutesi to work her magic on you. As most visitors will spend the day hiking along misty pathways in search of the endangered mountain gorilla, it's a real delight to return to the stunning lodge for some much-needed rejuvenation. The signature massage is the Intonga Amasatchi, a local full-body, deep-tissue treatment just ideal for relieving stress and the aches and pains of a long hike.
Toka Leya Camp, Zambia: Overlooking the broad Zambezi River, Toka Leya's upgraded wellness area includes a spa, an air-conditioned fitness room, and an incredible infinity pool surrounded by sunloungers and large parasols. This is one of the most luxurious properties on the Zambian side of Victoria Falls, and you'll be thankful for the traditional massages on offer after exploring the region via bungee jump, raft, boat, microlight, and helicopter. Using age-old massage techniques that involve traditional Zambian movements, warm cloths, and pure African ingredients, the spa staff at Toka Leya provide a perfect end to an active day, accompanied by the soothing sounds of the majestic Zambezi.
Singita Lebombo, South Africa: With an A-list clientelle that includes Justin Timberlake, Oprah Winfrey, and members of the Royal Family, Singita's name is synonymous with opulence and breathtakingly beautiful properties. From its fine dining to its glass-fronted rooms, Lebombo oozes style and luxury, which extends to its glorious spa. Go for the signature treatment 'I Dreamed of Africa' to have toxins elimiated by heated pindas in a combination of heat, deep pressure, micro-massage, and lymphatic drainage movements, or, if you are visiting as a couple, choose the 'African Self-Enlightening Ritual', which is based on ancient African healing remedies and comprises a full-body exfoliation and a holistic heat therapy with African basalt rocks – a treatment that is completely exclusive to this spa.
Top lodges for finding your inner Yogi
Londolozi Varty, South Africa: A pyramid-thatched roof and large Zen wooden deck beckons the bendy and inner-calm-inspired traveller at Londolozi's stunning properties. The ideal antidote to mornings and afternoons spent in a game-viewing vehicle, Londolozi's yoga types include Kundalini, Ana Forrest, and Vinyasa. Taken everyday at noon, the compliemtary yoga classes are intimate, peaceful, and sometimes attended by the resident wildlife – ever watched elephants walk by as you do your best Urdhva Hastasana? Under the teachings of BeJay Watson, who intiated yoga at Londlozi over ten years ago, classes place emphasis on harmonising the body with elements of the African bush so that clients become at one with the sounds, temperatures, and animals that surround them.
Kinondo Kwetu Hotel, Kenya: Considered one of the best small hotels on the Kenyan coast, this property is set on a quiet private beach just south of Diani. With a Finnish sauna, plethora of watersport options, and list of spa treatments, the hotel entices clients to spend their days dipping between some seriously thrilling activities and simply reading a book on a beachside sunlounger. What sets Kinondo Kwetu apart is its well-established wooden platform that overlooks the Indian Ocean and its meditation site on top of a nearby cliff. Whether group or private sessions, yoga classes are offered all year round and are normally taken in the early morning in order to watch the day break on your Sun Salutation.
The River Club, Zambia: Brand new to the River Club, 'Yoga @ the Club' offers classes and entire stays based around a tranquil experience along Zambia's mighty Zambezi River. The River Club is a small yet smart hotel that sits high up on the banks and boasts expansive views towards Victoria Falls. It has over 20 hectares of sprawling grounds that extend to the edge of the Zambezi, which is where the hotel has set up its invigorating yoga classes and retreats. Expert instructor Carolyn McPherson will help you improve your circulation, flexibility, strength, breathing, and vitality with meditative walks, daily classes, and holistic approaches.
Top lodges without WiFi
Serian The Original, Kenya: The managers of Alex Walker's Kenya camps were asked so often if they had WiFi that they decided to get a dog. That way, when they were asked again, they could respond with a resonant 'Yes!' and produce their loving pooch, called WiFi. The first of the famous camps, Serian The Original was designed to be a retreat from the bustle of contemporary life. No WiFi, no TV, no stress. It is a charming tented camp in the Mara North Conservancy, just perfect for families.
Greystoke Mahale, Tanzania: Accessed only by boat and far away from pretty much everything, Greystoke Mahale is one of Africa's finest lodges. It is set on the sandy shores of Lake Tanganyika, with an incredible backdrop of the forested slopes of Mahale Mountains. There's no WiFi, internet, or even cellphone reception – you stay at Greystoke Mahale for a different kind of connection. Here, you have the opportunity to encounter Tanzania's congress of chimpanzees. Who needs FaceTime when you can have face-to-face meetings with these fascinating relatives in the rainforests of remote Tanzania?
Chongwe River House, Zambia: Imagine the architects were giant termites and the interior designers were the Flintstones, and you'll have some idea of this unique and fascinating lodge in Zambia's Lower Zambezi National Park. Booked on an exclusive-use basis, Chongwe River House has been built on the riverbank, which offers a constant source of water for game as well as regular wildlife sightings. There's no wall to the front, and all of the large bedrooms are open to make the most of the views. With your own private chef, vehicle, boat, canoe, and guide, you'll have meals and activities tailored to suit you personally. You won't even have time to try to find some WiFi bars – and besides, there aren't any here!
About Yellow Zebra Safaris
Yellow Zebra Safaris is a luxury and adventure travel company specialising in 'Safari Africa'. With four professional safari guides on the team and five members of staff who have run some of Africa's most famous properties, Yellow Zebra Safaris has over one hundred years of bespoke travel experience across the continent, guaranteeing a level of knowledge to rival any African specialist worldwide.
Follow and Share with Jetsettersblog.