Top Tokyo Hotels for Art Lovers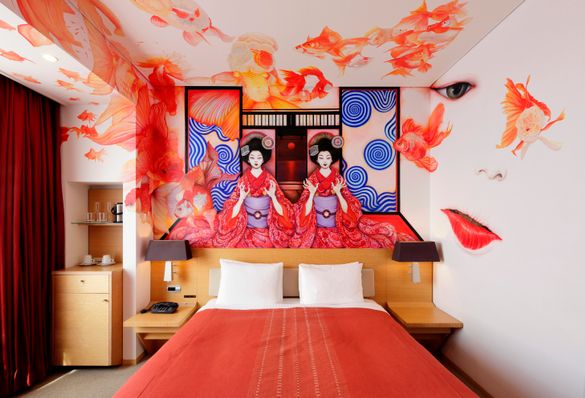 Tokyo's Hotels are known for their exceptional style and interior design.  For those wishing to immerse themselves in art Tokyo has numerous hotels offering just that. From elegant traditional art interiors to edgy contemporary collections, here are 5 handpicked examples of Tokyo hotels making art a priority.
The BnA Project provides room for up-and-coming Japanese artists to create live-in artworks for travellers to stay in. BnA HOTEL Koenji has become a hub for international and local creatives to meet and network. BnA STUDIO Akihabara, which opened its doors earlier this year, gives way to both artist and travellers exploring ideas of future urban living, design and functionality.
The first Gajoen restaurant opened in back in 1928, the owner was focused on creating a magnificent lace where guests could be surrounded by and delight in the luxury of original traditional art.  Leading artists of the era were invited to decorate the interior and in 1938 it became a renowned wedding venue.  Today the Hotel Gajoen Tokyo continues to attract guests and it is an ideal choice for anyone wanting to immerse themselves in the Japanese aesthetic whilst staying in Tokyo.
A hotel unlike any other, this former warehouse with storage house for works of contemporary art offers a truly unique hotel experience. Kaika Tokyo by the Share Hotels opened in Tokyo's popular Asakusa area earlier this year and features 73 rooms, most of which are Quad rooms. There are eight storage compartments for publicly storing artworks with exhibits including paintings, sculptures, and crafts. Video: LINK
This lifestyle boutique hotel connects travellers to local artists, having curated a collection of original products and works of art by local craftsmen, designers, and artists, which feature in various contexts around the 10-storey hotel. By exhibiting these products, the hotel wants to introduce its guests to the studios and shops that produce these unique items whilst giving an insight into the local culture and traditions of the area. Collaborative events, seminars and workshops are held frequently to bring guests face-to-face with local artists.
If you're looking for an art-inspired stay in the beating heart of Tokyo, with splendid views over Tokyo Tower, this is an address to remember. The hotel's "Artist Rooms", on the 31st floor of the property, were painted by different artists in their own style and with their own meaning, encapsulating the creator's passion and view of the world. The hotel is working on adding additional artist rooms on the 34th floor. Down in the lobby and corridor area, there is an "Art walk" to discover for guests of the hotel, displaying artworks as part of a monthly art exhibition.
One of Tokyo's most prestigious hotels is also home to an incredible collection of contemporary art.
The hotel's collection numbers over 1,000 pieces of art many commissioned for the hotel, others hand-selected for the property. Ranging from some up-and-coming artists to some of Japan's well-known masters.
Guests of the hotel will find an in-room book The Art of Palace Hotel Tokyo, details of the works are also available online: LINK The Hotel also offers exclusive All About Art stay packages giving visitors an insight into Tokyo's art and architecture.
F
Follow and Share with Jetsettersblog.