Trafalgar Placemaking Tours to Explore Singapore's "Heartware"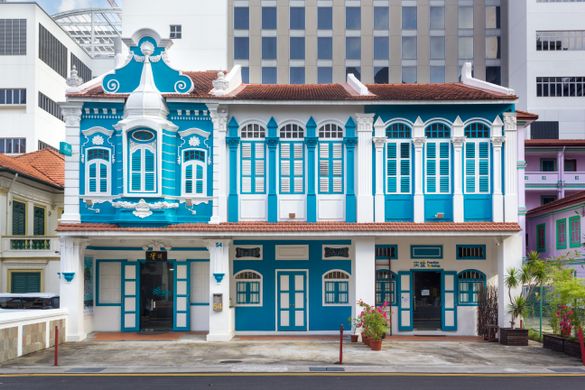 "Singapore Arts and Cultural Gems" is a 6-hour tour around the Bras Basah – Bugis  and Tiong Bahru precincts tying Singapore's past with its present 
Tour differently with Trafalgar on an arts and culture trail that showcases the importance of placemaking in Singapore. Waterloo Street, one of Singapore's oldest streets and Tiong Bahru, Singapore's oldest public housing estate are featured on this 6-hour discovery tour. Presented as a day tour, guests will explore the stories of two vibrant cultural enclaves tying Singapore's past with its present. With insights by local insiders, learn how different communities have formed connections with the places they live, work and play in.
"Singapore Arts and Cultural Gems" has been carefully curated to allow heritage and culture enthusiasts the opportunity to reconnect to the joy of travel with deeper, richer experiences. The tour is an exploration of Singapore's sociocultural history, and delves into what has formed the "heartware" of its communities.
There will be two different themes for its guided walking tour of the Bras Basah – Bugis precinct.
"Crossroads Alive!" is a one-of-a-kind tour organized in partnership with The Theatre Practice ("Practice"). With historical anecdotes compiled during the creation process of Practice's "Four Horse Road 2020" production, guests on the tour will learn about the diverse communities that once lived, studied, worked and worshipped on Waterloo Street and its neighbouring streets.  The tour includes lunch at Practice Tuckshop, the home of Singapore's longest-standing professional bilingual theatre institution. On this tour, guests will get to taste the essence of The Theatre Practice, with a special "Practice 54" tea, created specially for the arts group by Pek Sin Choon Tea Merchants.
"Tapestries of the Heart" is a tour organised in partnership with Singapore Council of Women's Organisaton (SCWO) and Singapore Women's Hall of Fame (SCWF). This tour presents the stories of Singapore's pioneer women who have played an instrumental role in shaping Singapore's history. Guests will discover how the various landmarks around the neighbourhood are linked to the changemakers feaured in Singapore's Women's Hall of Fame. Lunch will be at Awafi Restaurant, Singapore's only Kosher restaurant, located within South East Asia's oldest Jewish synagogue- Maghain Aboth Synagogue.
After lunch, the tour continues on In Tiong Bahru for a 'Be My Guest' experience with Chef Asai at Bincho @ Hua Bee. Bincho is Tiong Bahru's iconic neighbourhood dual-concept restaurant by Unlisted Collection. By day, "Hua Bee" is a coffeeshop selling mee pok noodles and in the evening, the space transforms into a yakitori restaurant serving up omakase sets.  The mee pok stall has been around for over 70 years and was the filming location of "Mee Pok Man", a 1995 Singaporean award-winning film directed by auteur Eric Khoo.
Prices for "Singapore Arts and Cultural Gems" are from S$228 per person. Prices include guided walking tours with lunch, and a 'Be My Guest' experience with Chef Asai at Bincho.  
Trafalgar's 'Be My Guest' experience allows passionate hosts to open up their homes and businesses to share stories with travellers. Now available to guests on nearly every Trafalgar itinerary all over the world, 'Be My Guest' began inadvertently on a lemon farm in Sorrento, Italy in 2009. Many of these experiences take place in private estates where there are vineyards or farms, with hosts connecting with their guests over conversations and a home-cooked meal. 
"Travel is all about the connections we make with people and the places we visit. We took great effort to curate unique experiences that will deliver magic moments of joy. Our guests will gain sociocultural insights of the Bras Basah-Bugis and Tiong Bahru neighbourhoods. There will also be insider access as they get to enter some of the unique heritage buildings along Waterloo Street, and a 'Be My Guest' experience with Chef Asai at Bincho. We designed this tour with conscious travellers in mind – the perfect opportunity to make travel matter and support communities deeply affected by Covid-19," said Mae Cheah, President, Trafalgar Asia.
Trafalgar has collaborated with the World Tourism & Travel Council (WTTC) to align and create global protocols and procedures which have been awarded the WTTC Safe stamp. Together with Singapore Tourism Board regulations and World Health Organization (WHO) guidelines, Trafalgar has produced its enhanced travel well-being protocols to ensure guests' peace of mind for its Singapore tours.
Trafalgar's "Singapore Arts and Cultural Gems" will have a maximum group size of 10 pax (excluding guide), with only 5 pax allowed in one sub-group. Additionally, each sub-group is required to maintain at least 1 metre safe distance from each other, and there cannot be any intermingling between the groups.
A Travel Director will accompany guests throughout the tour so that they can explore and discover with ease, with every detail being taken care of. Trafalgar also offers a private group option for both its local and outbound holidays, allowing family and friends to travel exclusively within their own travel bubble, while enjoying all the same rich Trafalgar experiences in a highly personalized environment.
Trafalgar's parent company, The Travel Corporation (TTC) has renewed its commitments to make travel matter with the launch of a new, five-year sustainability strategy to address both the environmental footprint and the community impact of its business and operations. Entitled How We Tread Right (HWTR), TTC has anchored its sustainability goals to the United Nations Global Goals for Sustainable Development (UN SDGs) such as addressing sustainable food production and responsible consumption, as well as diversity and inclusion.
SingapoRediscovers Vouchers (SRV) can be used by Singaporeans to offset tour prices for Trafalgar's "Near Not Far" tours from 1 December 2020 to 30 June 2021.
The three "Near Not Far" tours eligible for this redemption are:
1. Victoria Theatre and Victoria Concert Hall tour with Clock Tower Climb – Experience tour
2. Singapore Arts & Cultural Gems – Discovery Day Tour
3. Singapore Heritage Highlights – 2D1N staycation
For more information and to book, visit www.trafalgar.com/staycations or call +65 69225965.
About Trafalgar
With over 70 years' experience, spanning all seven continents, Trafalgar is the world's leading and most awarded travel brand. From the iconic to the unexpected, Trafalgar connects guests to the real depth of the places they go, from breaking bread with locals at exclusive Be My Guest experiences to expert Travel Directors and Local Specialists that unlock the magic of destinations. Trafalgar takes care of everything, so guests travel with true ease, getting the real thing without worrying about a thing. Trafalgar is a member of The Travel Corporation (TTC) family of companies. Through its JoinTrafalgar program, guests traveling with the brand become part of the sustainability solution, bettering the lives of locals and their communities now and into the future. For more information visit www.trafalgar.com.
About The Theatre Practice (Practice)
The Theatre Practice (Practice) is Singapore's longest-standing professional bilingual theatre institution. Artist-driven and deeply progressive, Practice strives to be an arts space in Singapore that consciously nurtures and empowers people who care about humanity. Over the past 55 years, we have developed and presented a critically-acclaimed repertoire of over 350 works that reflect the richness and complexities of Singapore's diverse cultures. Today, we carry on the work of our visionary co-founders and cultural medallion recipients, Kuo Pao Kun and Goh Lay Kuan. Under the helm of current Artistic Director Kuo Jian Hong, Practice continues to shape Singapore's cultural landscape as the definitive voice in Singapore theatre. Jian Hong is deeply influenced by the importance of play in art-making and under her leadership, Practice has become the embodiment of the irrepressible spirit and fearless experimentation of play.
Artistically diverse and constantly relevant, Practice will always engage with the ceaseless exploration of new frontiers.
About Singapore Council of Women's Organisations (SCWO) 
The Singapore Council of Women's Organisations (SCWO) is the National Coordinating body of women's organisations in Singapore. They have more than 50 Member Organisations representing over 500,000 women in Singapore. Incorporated in March 1980, the SCWO, having been founded by women, seeks to unite the various women's organisations, clubs, committees, groups and women leaders together, working in accordance with its various aims and objectives. The SCWO seeks to co-ordinate these associations into a national movement and to act on their behalf in matters for which is authorised by its members. It seeks to promote the ideals of `Equal Space, Equal Voice and Equal Worth' for women in Singapore. SCWO celebrates the achievements of women through the Singapore Women's Hall of Fame.
Follow and Share with Jetsettersblog.