Travel With Caspin Journeys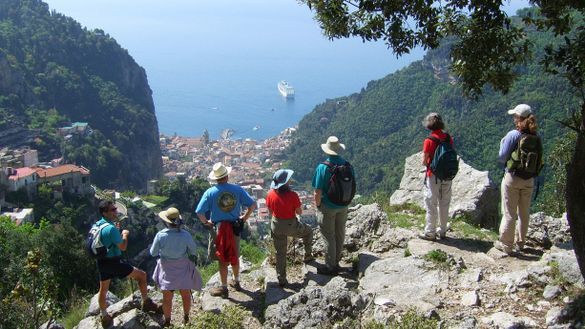 ---
1:1 Relationship
A personal experience all the way.
Your Caspin Journeys experience starts as soon as you get in touch with us to tell us about your interests and the destination you are dreaming of. Like you, we have the travel bug and get as excited about it as you do.
We are here to take away the hassle of the planning process. Right from the start, we can direct you towards the best tour to meet your desires and expectations. Once we have helped you to choose and book your tour you can expect to meet us on the first day when we meet you at the pickup point. We will have made all the hotel arrangements, selected delicious local dishes for lunches and dinner menus. We will be there to guide you whether it be through the narrow, pebbled streets in Sicilian towns, on the exhilarating Dolomite mountain trails or along the Spanish pilgrim roads. We do all the driving in between walks so you can sit back and relax or gaze out of the window and day dream while we take care of everything.
And if the destination you are looking for is not yet in our repertoire, don't hesitate to ask, we would love to Tailor-Make a trip for you!
We are happy to develop your bespoke trip and itinerary. Our personal touch is unique and our travellers tell us they cherish the special relationship they can find only with Caspin Journeys.
Read more about our Authentic Ways to Travel >
If you still want to know more about us and how Caspin Journeys works, please read this interview that Caroline did last year for a travel magazine. We are sure you will feel right at home ????
How did you get into your field of expertise?
Caspin Journeys started nearly 25 years ago when Pino and I were asked to help a group of our American friends set up a walking tour in Italybecause Italy is Pino's motherland and Caroline had guiding experience. The vacation was put together initially as a friend's reunion. We didn't imagine then that guiding could become our full-time occupation. The trip was such a success that it soon
sparked a series of subsequent tours which quickly sprouted into the business we still run today.
How did you make the transition to becoming a tour guide?
We slowly built up our repertoire starting with Tuscany and then Sicily, gradually spreading to many different regions of Italy, England and Spain. We took great care to carefully research each destination to reflect the local culture, traditions and environment. We tailored each tour to meet the needs of our clients, who repeatedly asked to travel with us because of the unique experience we offer them. We could hardly describe those who travel with us as clients, they have become friends and the proof of this is that for over 20 years our business has grown thanks to their word of mouth and fantastic reviews.
What does a typical day look like for you?
When we are running a tour we are completely dedicated to our guests. We all have breakfast together in the morning and then after a short briefing leave for the day's activities, which could be walking, town visiting, wine tasting, cooking and more. On our guided tours the days walk is divided into two parts and lunch is usually a homemade buffet picnic at the halfway point of the days' walk. In the afternoon we guide our groups around heritage towns and discuss the culture, history and traditions of the area. The evening meal is a carefully chosen menu which we share together – it is an important moment of conviviality to talk about our experiences while tasting local food and wines.
Have you got a certain style of guiding, or do you just run with it on the day?
Attention to detail is paramount to how we run the tour. We carefully plan every step beforehand and throughout the trip make sure we are with the group at all times so that we can answer all their questions and needs. It is important to take care of everything so that our guests can relax, enjoy the experience and absorb all the amazing things our destinations have to offer. We put a lot of care, enthusiasm and passion into what we do and we think these are the chief ingredients of our success.
What is the best part of your job?
The best part of our job is the time we spend with our guests. They are all likeminded travellers, who love to see new places, learn new things and completely immerse themselves in the local culture. The conversations are stimulating and interesting and always a lot of fun. We have as much to learn from our guests as we can teach them. As one of our travelers put it: 'Caspin adventures always stimulate our intellects and satisfy our tummies'.
What's the most bizarre experience you've had on a guided tour?
We once had a client fall and cut a lip on a walk in a remote part of Sicily. We took her to the emergency services which were located inside the walls of a 750 year-old castle! The lady, who was American, was extremely concerned and thought she would need to fly home to see her plastic surgeon; but the local hospital was totally modern inside, did a marvellous job and never charged her a penny!
Ever had any odd requests from clients?
We were once asked by a client if they could bring along someone's ashes and would we help find a nice place to scatter them!
Every job has its ups and downs. Are there any aspects of your job that you don't like or aren't that keen on?
We do this job because we love it, no moment is ever dull and though it can be tiring because the hours are long it is always extremely rewarding.
As an experienced guide yourself, can you explain to our readers what the benefits of hiring a guide are?
The benefits of hiring a guide are that they allow those on holiday to completely relax, forget about the hassle of organising every detail and experience a destination to its fullest, thanks to the knowledge of guides. We offer you the luxury to be carefree and totally immerse yourself in the local atmosphere, making the most of your precious time. They take care of all the logistical arrangements and tiny details you would hope to think of if only you had the time. A guide knows the way, can take you off the beaten track, can show you things you would not see if you were by yourself, can introduce you to local people and good local food.
In your view, what makes a good tour guide?
The best tour guide is someone who knows how to share his knowledge in a manner which is easily understood – paints a picture in the minds of his/her guests, helping them to understand and feel the story, the magic or the importance of the place they are in. A good guide can judge how much information to give without boring the guest! After that a good guide blends in with his guests and is not simply acting as a guide but as a knowledgeable fellow traveller, someone to share experiences with, to laugh, have fun and discover with. Guests should go away with great memories and new knowledge.
And finally, have you got any tips for people who are interested in booking a guide like yourself, but aren't too sure what to look for?
If you are not booking a guide it is a good idea to have a guidebook and some maps and perhaps a dictionary and a phrase book if you are in a foreign country. Check the internet for your destinations tourist information offices and their opening hours. You can write to a guide, tell them what you want, or what you're looking for in your holiday and without a doubt, they will either be able to answer your question or point you to someone who can.
Follow and Share with Jetsettersblog.