Travelzoo Reveals Best Destinations for Value-seeking Brits in 2019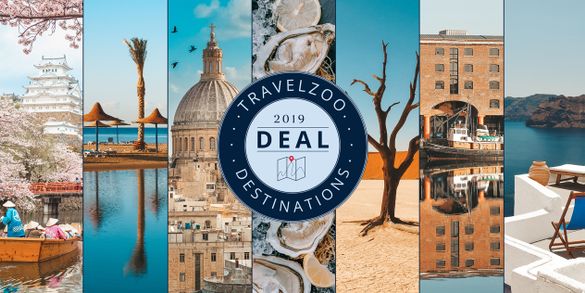 ---
As the value of the pound remains low and holidaymakers are expected to face a rise in the cost of holidays next year, experts at Travelzoo, the UK's leading travel deals publisher, have revealed the destinations set to offer the best-value deals for British travellers in 2019.
Travelzoo's deal experts reviewed international currencies, flight routes, hotel inventory and other key travel data to pick out the very best Deal Destinations for 2019 – the best places to go next year for everything from a UK city break to an exotic bucket-list adventure.
The list comes after the annual Holiday Habits survey by the Association of British Travel Agents (ABTA) revealed that the average spend for UK holidaymakers was down for holidays abroad, while fewer travellers are budgeting more on overseas holidays for 2019 than they did in 2018 – meaning it is perhaps no surprise that forward bookings are up 12% on this time last year.[i]
James Clarke, UK General Manager for Travelzoo, said: "The rising cost of holidays added to the Brexit uncertainty in the UK means many travellers are choosing to book their 2019 trips in advance or are seeking out deals. Our Travelzoo experts have picked out the destinations where, due to new hotels, budget flight routes or currency benefits, the British holidaymaker's pound will go that bit further."
Here are Travelzoo's top Deal Destinations for 2019:
Best for Foodies: Galway
The beating heart of Ireland's food scene, Galway won the title of European Region of Gastronomy in 2018 in recognition of its food festivals, culinary tours and two Michelin-starred restaurants. After being named as a European Capital of Culture for 2020, the city's cultural and social development is expected to grow still further in 2019, as investment is made in community projects, local food producers and hotels as part of the Galway 2020 initiative. Beat the rush in 2019, when budget flight options to nearby Shannon, plenty of hotel-only deals and good-value restaurant dining make this the wallet-friendly destination for foodies.
Destination Deal:  2-night break in Galway with flights from £79 per person.
Best for Luxury: Greece
Greece has long been a favourite of British travellers, and it remains one of the best places in Europe to find luxury at pocket-friendly prices. Holiday operators such as Elegant Resorts and Mr & Mrs Smith have increased the number of luxury accommodations available, while a growing trend for boutique hotels offers luxury at competitive prices. With budget airlines including easyJet, Ryanair and Norwegian all providing a route into the country at bargain prices, and 227 inhabited islands to explore, it's easy to find some relaxation and indulgence away from the crowds.
Destination Deal: Seven nights, five-star break in Rhodes from £499 per person.
Best for Solos: Japan
Though at first glance Japan might seem daunting to international visitors, Japanese culture embraces the solo traveller, and the plentiful accommodation options, easy-to-use transport and emphasis on travellers' safety make it one of the best destinations for first-time solo travel. This year, the Post Office's annual Holiday Money Report also revealed Japan was becoming significantly more affordable for Brits than in recent years.[ii] As the country surges to the top of many travellers' wish-lists thanks to the 2019 Rugby World Cup and Olympic Games in 2020, now is the best time to take advantage of the huge increase in hotel investment and the launch of new flights, such as British Airways' new direct route from London to Osaka. There are plenty of great cheap eating options, and with the value of the yen putting a beer to wash down dinner at around £2.40, solo travellers can look forward to good deals and a warm welcome in 2019.
Destination Deal: 8-night Japan tour including Mount Fuji, Kyoto and Nara with rail pass from £1699pp.
Best Staycation: Liverpool
While the UK is hardly short of city-break options, finding a destination that offers good value to visitors can sometimes be tricky. Step forward Liverpool, reinvigorated after a year of activity in 2018 to mark ten years since it was named European Capital of Culture. Reachable by car in four hours from much of the country, Liverpool offers plenty worth travelling for; the city is packed full of history, music and culture, and boasts a host of bars and restaurants offering an evening out at reasonable price. With 2019 marking 50 years since the release of "Abbey Road" and The Beatles' final live public performance, there's no better city in which to revisit musical history as part of a memorable staycation.
Destination Deal: Grade 1-listed Liverpool hotel from £89 per night including dinner.
Best Bucket List Destination: Namibia
Going on a safari is at the top of many a bucket list, but that once-in-a-lifetime trip can often come at a once-in-a-lifetime price, particularly in popular destinations such as Botswana and Tanzania. Namibia offers equally incredible natural splendour and is a great option for that 2019 big trip. It combines spectacular desert landscapes with big-hitting wildlife spotting in places such as Etosha National Park, which is roamed by an abundance of wildlife, including lions, elephants and giraffes. As the Namibian dollar is pegged to the South African rand, British travellers will find the pound goes further, too, particularly for food and drink -– beer is brewed to German standards and is available at an average price of £1.13, while Namibian oysters are some of the best in world.
Destination Deal: 9-night Namibia tour including safari and flights from £1799pp.
 Best City Break: Valletta
With 300 days of sunshine a year, a plethora of things to see and do, and flights available from across the UK (including newly launched links from Exeter and Cardiff), Valletta is a hard-to-beat city-break destination. The Maltese capital packs plenty into its city walls, with the narrow streets of the UNESCO World Heritage-listed fortress ranking as one of the most concentrated historic areas in the world, chock-full of churches, palaces and some of Europe's finest artworks. Named a European Capital of Culture in 2018, Valletta has benefitted from recent investment, which has culminated in the recent opening of MUŻA, Malta's flagship museum of art. New boutique hotels, meanwhile, have added more room capacity, meaning 2019 is set to be the year of great city-break deals.
Destination Deal: 3-night Valleta break including flights from £125 per person.
Be inspired by Travelzoo's Deal Destinations here.
About Travelzoo
Travelzoo® provides our 28 million members insider deals and one-of-a-kind experiences personally reviewed by one of our deal experts around the globe. With more than 25 offices worldwide, we have our finger on the pulse of outstanding travel, entertainment and lifestyle experiences. For over 15 years we have worked in partnership with more than 2,000 top travel suppliers—our long-standing relationships give Travelzoo members access to the very best deals.
Travelzoo and Top 20 are registered trademarks of Travelzoo. All other names are trademarks and/or registered trademarks of their respective owners.
[i] ABTA's 2018 Holiday Habits survey revealed that the average spend of British holidaymakers was down £24 (£586 to £562) for longer holidays abroad and £30 (£311 to £271) for longer holidays in the UK. Over half (51%) plan to spend the same on their holiday in 2019, with fewer people planning to spend more (down 6% on last year to 25%). https://www.abta.com/industry-zone/reports-and-publications/abta-holiday-habits-reports/holiday-habits-report-2018
[ii] The Post Office's Holiday Money Report 2018 claimed that Tokyo offered the cheapest prices for long-haul holidaymakers. https://www.postoffice.co.uk/travel-money/holiday-costs-report
Follow and Share with Jetsettersblog.