Tucan Travel Western Europe Tours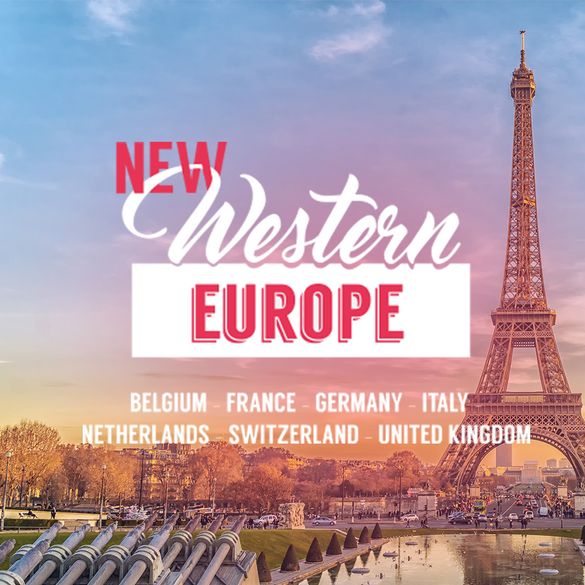 Adventure travel company Tucan Travel are delighted to launch nine tours covering the highlights of Western Europe. Ranging from 7 to 21 days in length, these itineraries visit some of Europe's most popular cities including Paris, Amsterdam and Venice. The main form of transport used will be regional trains to get from city to city, giving travellers more time at each destination.
The longest tour is London to Rome which covers 10 countries including Vatican City. It is a great option for people who want to see the highlights of Europe in a short space of time.
There are also other itineraries which start in Paris, Berlin and Milan giving flexibility for clients who may be already travelling around Europe.
CEO Matt Gannan was quoted "These new itineraries will be a fantastic addition to our Europe range. Our Eastern and Central Europe tours are some of our best-sellers so we are very excited to have even more options for our travellers to choose from. Like all Tucan Travel tours they are excellent value for money."
Some of the new tours can be found below
London to Rome | 21 days | London to Rome | From US$1,614 + Local Payment €530
This tour covers 10 countries in 21 days, including Vatican City! There is a chance to visit 10 UNESCO sites on this tour and it is packed with many included activities.
What's included: Eurostar ticket from London to Paris, City Lights of Paris walking tour, Amsterdam Canal Cruise, Vatican City guided tour, Entry to Milan Duomo, half day trip to Leaning Tower of Pisa, 20 nights hotels, 20 breakfasts
Paris to Milan | 14 days | Paris to Milan  | From US$3,119 + Local Payment €340
In two weeks enjoy the highlights of Europe from the glistening Eiffel Tower in Paris to the extravagant Duomo in Milan. Experience some of the most magical cities from the water, sailing through canals in Bruges, Amsterdam or Venice. Visit two contrasting German cities, the defiant and modern Berlin and the traditional, charming city of Munich.
What's included:  Amsterdam Canal Cruise, Entry to Milan Duomo, 13 nights hotels, 13 breakfasts
Italy in a Week  | 7 days | Milan to Rome | From US$1,339 + Local Payment €170
In 7 days prepare to experience the highlights of one of the most visited countries in the world. Starting in the vibrant fashion capital of Milan, experience the beauty of the city from the rooftop of the Duomo, the biggest cathedral in the country. Drift down the charming canals in Venice, with your camera in hand and a local gelato in the other, listening to the bustle of this quaint and enchanting city on water. After getting your fill of art and culture in Florence, we finish our Italian adventure in the ancient city of Rome. After a guided tour of Vatican City, there is an abundance of historical landmarks just waiting to be explored.
What's included:  Half day trip to the Leaning Tower of Pisa, Vatican City guided tour, 6 nights hotels, 6 breakfasts
To view the complete range of new Western Europe tours please follow the link below
https://www.tucantravel.com/travel-deals/new-western-europe
Sydney and Peru. Tucan Travel known for their extremely competitive prices and fantastic adventures around the world
Follow and Share with Jetsettersblog.