U by Uniworld Announces Big Plans for 2021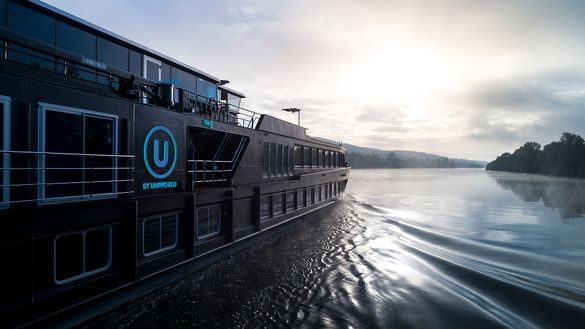 ---
With New Themed Cruises and Even More Onboard Inclusions, U by Uniworld Will be Back and Better Than Ever in 2021~
Next year, U by Uniworld, the award-winning modern river cruise for the active traveller, will welcome guests with completely new, first-of-its-kind experiences. U is reimaging the river cruising industry with four itineraries throughout European hot spot cities and idyllic river towns, as well as a dynamic roster of new inclusions from offshore excursions to airport transfers, and themed cruises tailored to the curious spirit of the U traveller.
"Our mission for 2021 is to re-connect and remind our guests why they love to travel. We're introducing these unconventional experiences that align with our traveller's playful and adventurous energy and will bring even more value to our sailings than before with our new inclusions," says Ellen Bettridge, President and CEO of U by Uniworld. "We've seen a huge uptick in interest for travellers seeking smaller cruise ships next year. We know our ship's high guest to staff ratio, close proximity to shore, enhanced health and safety protocols, and less people onboard, will keep our guest's minds at ease as we go into this new era of travel."
GenZ On U
In 2021, GenZ on U will be introduced, the new family program exclusively for teens and their parents. On six select sailings, these cruises will be the perfect way to celebrate special milestones, graduations, and birthdays, or simply connect as a family with unconventional experiences that both generations can enjoy. Teens will get the chance to travel and see new places while having a designated onboard teen lounge to hang with others their own age. Other fun offerings will include karaoke contests, foosball tournaments, camping on the rooftop, trivia nights, projector movie nights on the rooftop, onboard pretzel demonstrations, and more. For parents, GenZ on U is the ideal way to explore Europe and bond with their teens through travel, while only unpacking once on their own floating modern hotel with contemporary accommodations. Featured offshore excursions include a culture & food tour by bike through Antwerp's neighbourhoods, kayaking through the canals of Ghent, yoga in the Wachau Valley vineyards, and a Viennese cooking class.
If U Love Food: A Foodie Experience for Hungry Souls
After debuting the successful U in Drag and Tattoo on U sailings, the next obvious choice: food. U's first foodie themed cruise will set sail July 24, 2021 in collaboration with top food influencer Salvatore DiBenedetto, known as The GrubFather (@thegrubfather) who has over 215k Instagram followers and is widely sought after for his food photography and travel inspiration. On this Rolling on the Rhine cruise, guests will experience a specially curated menu, excursions, and onboard activities that were created by Sal and the U team first-hand. Unique to this itinerary is a cooking demonstration with a local chef, a food & travel photography and business workshop led by Sal, sunset champagne sailing with a local DJ & Sax player, offshore excursions co-hosted by The Grubfather to showcase his favourite spots in the cities, and much more.
Even More Inclusions
In 2021, U will be back and better than ever with its new inclusions: beer and wine included at lunch and dinner, and roundtrip airport transfers. Every U sailing also includes three daily locally sourced meals, two dedicated U Hosts who know the destinations best, local DJ performances on the rooftop lounge, daily offshore excursions, ship-wide Wi-Fi and all gratuities. The U experience means life is just as fun onboard as it is off. Guests can choose from a lineup of daily activities and events like rooftop sunrise yoga, mixology classes, paint & wine and more. U will also debut brand-new included active and cultural excursions like biking to Domburg Beach along the Netherlands coastline; jogging through the thousands of running paths in Rotterdam while taking in the stunning sights; a pub crawl through Krems in Vienna; and visiting the famous ruin bars in the scenic city of Budapest. Additional new excursions for an extra fee include a day trip to Croatia from Hungary for a traditional Croatian lunch with a local family; and paddle boarding or canoeing through the Ilz River to explore Passau
In 2021, U's four new and updated itineraries on The A and The B include Amsterdam & Brussels Bound, Vienna Vibe, Eastern Europe Escape and the reimagined Rolling on the Rhine. These seven-night itineraries take travellers to hot destinations like Belgrade, Amsterdam, Vienna, Brussels, and Cologne. From the sleek ship design to the unique excursions, the food to the cocktails, U will continue to bring curious travellers to offbeat places while enjoying high-energy experiences in new ways. For more information or to book a cruise, visit www.ubyuniworld.com. Rates start at $2,799 per person.
U by Uniworld:
U by Uniworld the first river cruise dedicated to a new generation of adult travellers, with a sexy, stylish look and feel that offers immersive experiences along the world's most popular rivers. Itineraries focus on longer stays in destination, allowing guests to connect with local people, experiences and each city's vibrant nightlife. The U fleet offers two, 120-passenger matte black ships – The A and The B, each boasting two rooftop venues, a spa, mixologists, international DJ's, communal tables for dining and locally-inspired, farm-to-table cuisine. Onboard accommodations include four Suites, 26 Balcony Bedrooms, 29 Studio Bedrooms and two Studio Bedrooms with triple occupancy, all with waterfront views, built-in Bluetooth. U by Uniworld has recently been named among the top ten river cruise lines in the world in the Travel + Leisure's World Best Awards 2020 reader's survey.