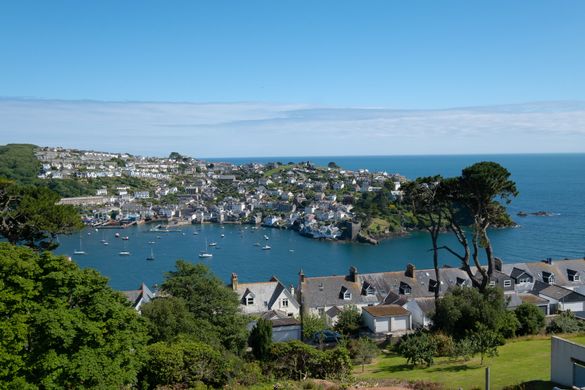 ---
Luxury Family Hotels Fowey Hall in Cornwall is launching an initiative to support the local community coming out of lockdown by hosting a market in its grounds.
The newly created outdoor market  – which offers one of the UK's most scenic views stretching over the Fowey Estuary and out to sea – will offer delicious coffee, bacon sandwiches, regenerative vegetables and farm produce, basket weavers, wood carvers, fashion, cake stalls, potters, quilters, artists, antiques, Cornish storytellers and musicians and lots more.
Fowey Hall Hotel is offering all the stalls to the suppliers free of charge, to support them as they restart their businesses following the pandemic, and also to support the wider Cornish community.
Launching on May 30th, it will run every other Sunday with the vision of it going weekly at a later date.
The market will feature an amazing array of hand picked producers and artists who share the hotel's vision for sustainable and local produce.
Simon Maguire, Managing Director, Luxury Family Hotels, says: "We are really excited to be launching this initiative at our Cornwall hotel.  We think it's important to support local and regional businesses in the area and showcase their exceptional produce and products to both our guests as well as a wider audience as possible.
"We believe we are the first hotel in the UK that's creating a local market in its grounds that benefits the local community as we all come out of lockdown.  It's going to be really lovely for all and particularly for our guests who will be able to pick up unique gifts or perhaps something for themselves while at the same time being able to support local producers.  We hope it will also provide one of many lovely memories following a stay at Fowey Hall."
To bring the market to life, Fowey Hall Hotel is partnering with former Vogue contributing editor Fiona Golfar who lives locally and former Port Eliot Festival director and co-founder and director of Farms to Feed Us[1] Cathy St Germans who are curating the market.  Both have an amazing wealth of knowledge and contacts and have been able to bring together local friends from farmers to artists, tapping in to the rich creative network that exists in Cornwall.
Cathy St Germans says: "Cornwall has some of the best growing conditions in the country and a high density of farmers working to heal our soils by farming with nature. At market, we are aiming to showcase and support the incredible produce being grown here by an exciting movement of farmers who are on a regenerative journey, helping to heal our planet and grow fantastic tasting food. We're encouraging everyone to come to the market to find some of the best fresh produce in the country!"
Fiona Golfar recently launched The Little Shop at the end of last year in the grounds of the hotel which brings together an eclectic collection of homeware, clothing, books, beauty products, as well as sustainably and ethically sourced gifts. She adds: "Celebrating the fabulous local makers and producers is the main focus for Fowey Hall's market and we can't wait to open and welcome our very first visitors."
After the market has finished and just before dinner (4.30pm-6pm), talented local musicians will be given a platform to showcase their talents while guests enjoy the hotel's terrace with spectacular views over the estuary and children can play in its extensive grounds.
The market will run every other Sunday morning, 9.30am-12.30pm from the end of May and throughout the summer.
For Fowey Hall Hotel bookings, please telephone 020 8076 5555 or visit www. luxuryfamilyhotels.co.uk.  Each one of the Luxury Family Hotels also offers 1.5 hours free childcare each day for guests to take advantage of as well as family swim times and a range of pampering spa treatments.
Follow Luxury Family Hotels on Instagram @LuxuryFamilyHotels, on Twitter: @LFHotels and on Facebook: facebook.com/luxuryfamilyhotels
Images available on request at Luxury Family Hotels media photo library.
[1] Farms to Feed Us (https://farmstofeedus.org) is an organisation that connects small-scale farmers with consumers.

Follow and Share with Jetsettersblog.