Unique Wedding and Events Venue Near Barcelona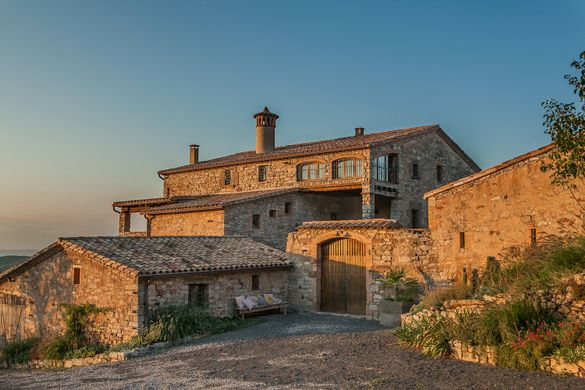 ---
Set on the edge of a valley overlooking the rolling Catalan hills and with the foothills of the Pyrenees in the distance, the centuries-old 'Mas Casamitjana' enjoys a stunning location near the charming town of Moià, and boasts some of the prettiest sunsets you'll ever see.  Recently and lovingly restored in a Modern Rustic style, if you are looking for a beautiful and unique event and wedding venue near Barcelona with bags of individuality, fun and flair, then look no further. This Must Be The Place.
Our name and philosophy have been inspired by the Talking Heads song 'This Must Be The Place (Naive Melody)', which songwriter David Byrne describes as: "A real honest kind of love song… I tried to write one that wasn't corny, that didn't sound stupid or lame the way many do. I think I succeeded".
He did, and we intend to too.
Jo, Duncan, Indy (age 3) and Valentina (age 5, or 36 in cat years) are your hosts. They upped sticks and relocated from Herne Hill, south London, in June 2016 with a crazy dream… and 2 years and a lot of hard work later, that crazy dream has become reality. They can't wait to welcome you to their home.
Jo's background is in film production and her film credits include the Woody Allen film 'Vicky Cristina Barcelona'. She previously lived in Barcelona for 10 years between 1998 and 2008, speaks fluent Spanish and is also pretty nifty at the local Catalan language.
Duncan's background is in the festival and music industry where he was a key member of the creative team behind the UK's multi-award winning Bestival and Camp Bestival music festivals for over 10 years, as well as its sister record label Sunday Best. He also DJs as one half of the Sombrero Sound System (albeit very occasionally nowadays), and speaks a slightly confusing mix of Spanish and Catalan, badly, with a few hand gestures thrown in for good measure.
We have several unique event spaces in and around the house for you and your guests to enjoy, and they have all been designed to give you total freedom as to how and where you would like to experience individual elements of your day. The centrepiece are our lovingly restored conjoined barns (Els Graners) that spill out onto our central courtyard (El Barri) to one side, to our large yard garden (L'Era) above and to our terrace garden (La Feixa) on another side.
Say 'I do', eat, drink and dance – in or out (or shake it all about) – you decide.
Our wedding and event accommodation at This Must Be The Place comprises of four large en-suite rooms which occupy the entire ground floor and lower ground floor of the main house. They can hold up to 15 people and also come with a self-catering breakfast room. For your other guests we have a comprehensive local accommodation brochure.
This Must Be The Place (aka Mas Casamitjana) is also perfect for event venue hire for business and leisure. Product launches and photo shoots, business conferences and away days, birthday parties and calçotadas, yoga, meditation, writing or painting retreats… and much more.
You tell us and we will help you make it happen!
Our house is about an hour from Barcelona and its airport, and also from Girona and its 'Costa Brava' airport. Barcelona has a reputation as one of the trendiest cities in Europe, and the province of Catalunya is well known for its wonderful climate, beautiful natural light, fantastic food and wine.
Our nearest town is Moià, a charming historical market town with a fine tradition of producing outstanding food – much of which is organic. Moià is most alive on a Sunday for its market day and people from all over the province come to sample its high quality produce – and for a town of approx 6,000 inhabitants to sustain eight butcher/delis, three bakeries and a host of great restaurants, it must be doing something very right. Yum.
For more information please visit our website https://thismustbetheplacebarcelona.com, email duncan@thismustbetheplacebarcelona.com