Unleash Your Wild Side in Seychelles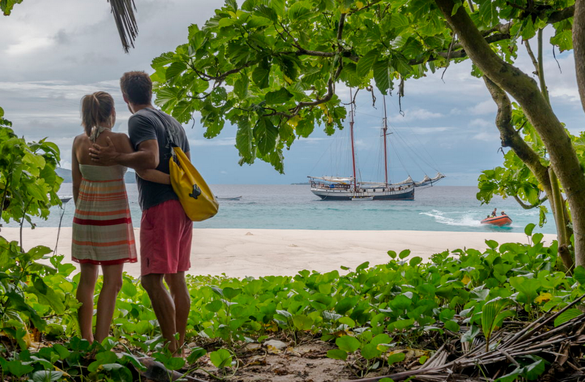 ---
Monday, 15 Oct 2018 — Nothing puts you in touch with your wild side quite like a big adventure. And Seychelles offers 115 islands to do just that. From island hopping to snorkelling to sailing, you'll never be bored here. Read on for three adventures that'll send you on your merry way.
Island hopping
Seychelles' main islands are Mahé, Praslin and La Digue, though there are many more options to explore. Each island has its own distinct charm, which makes the archipelago primed for island hopping. And, thanks to a strong network of air and sea connections, you can quickly get between them all.
Local operators offer trips to the inner granite islands. These are the world's oldest ocean islands, where you can easily spend the day exploring pure nature. Hiking is highly encouraged, as is swimming and admiring the wildlife.
Then, when you work up an appetite, traditional Creole food goes down a treat. Be sure to try local favourites such as coconut curries; fresh-baked fish basted in ginger, garlic and chillies; a variety of fruit and veg used in hearty stews. You can't go wrong.
But for unspoilt nature at its best, head to Bird Island and Denis Island in the north. These flat coral outposts are rich in conservation, making for lovely spots to unplug and unwind. The outer islands of Desroches and Alphonse are just as amazing if you wish to get away from it all – far away from the crowds. More than that, they are some of the best places for diving and fishing.
After a well-spent day hopping the islands, there's all manner of accommodation to rest your head. Whether you prefer small tropical lodges or exclusive hotels, the sea will be waiting right outside your door.
Watersports
With warm turquoise waters and sunshine all year round, it's no surprise that Seychelles is the ideal watersports destination. Mahé Island's Beau Vallon is a safe bay for jet skiing, windsurfing and paragliding, and just as popular with surfers too.
Seychelles is also home to thriving marine life, and few experiences beat swimming with dolphins, rays, turtles and schools of tropical fish. Dive centres can take you deep down into the depths of colourful coral reefs.
Or, you could watch from above by hiring snorkelling equipment from the island's hotels and watersports centres. Operators offer deep sea fishing in waters full of tuna and marlin, because you never know when you might hook the catch of your life.
Sailing
Some of the biggest adventures can be found cruising the open sea. Seychelles' climate is nearly flawless, and stunning panoramas abound, never failing to impress when it comes to sailing.
Sailing can be enjoyed on hulls and catamarans, which you can hire within the area. Boats can either be skippered or unmanned, leaving you to either sit back and cruise or take the wheel. The best part is that sailing is an activity you can enjoy any time of year.
Another advantage to sailing is that the waters around the islands are often calm and free of traffic, so the only sails out there may be your own.
Up for more big adventures in Seychelles? Go to the official tourism website.
Follow and Share with Jetsettersblog.