USA Luxury Shopping Consortium Welcomes Royal Hawaiian Center and the Forum Shops at Caesars Palace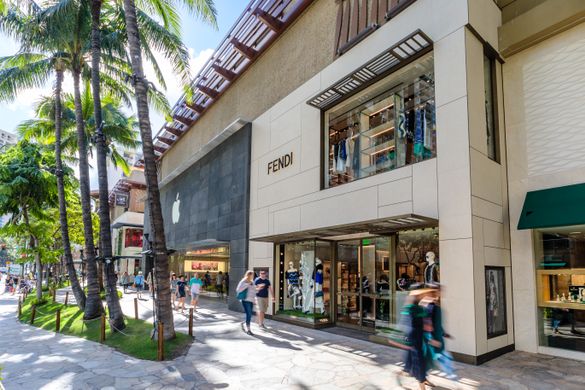 ---
Founded in 2017, the USA Luxury Shopping Consortium is an elite collection of shopping centers and retail districts located in popular vacation destinations throughout the USA including Honolulu, Santa Monica, Newport Beach, Scottsdale, Las Vegas, Houston, Atlanta, Orlando, Washington DC and New York City. The properties not only offer a stellar collection of designer boutiques, contemporary shops, signature restaurants and entertainment, they also cater to today's fashionable domestic and international travelers by offering special amenities and experiences curated especially for luxury travelers. Recently, the USA Luxury Shopping Consortium added two new shopping properties to its collection: Royal Hawaiian Center in Honolulu and The Forum Shops at Caesars Palace in Las Vegas.
Royal Hawaiian Center
Royal Hawaiian Center is the premier shopping, dining, entertainment, and cultural destination in Waikīkī, comprised of 110 distinctive stores and 30 unique dining destinations over three city-blocks of world-renowned Kalākaua Avenue. Signature retailers include Tiffany & Co., Hermes, Salvatore Ferragamo, Harry Winston, Fendi, Louis Vuitton, Loro Piana , Jimmy Choo, Tourneau and Valentino.  Dining options range from authentic island cuisine to classic family fare.
The Center stands proudly upon historic land known as Helumoa, once home to Hawaiian royalty. Royal Hawaiian Center is built upon the historic lands of Helumoa.  Waikīkī, meaning "spouting waters", was a favored retreat for aliʻi (Hawaiian nobility). Here at Helumoa, the gathering place of Waikīkī, aliʻi spent their days in the shade of more than 10,000 coconut trees. At The Royal Grove, a lush garden at the piko (center) of Royal Hawaiian Center, is a bronze statue of Princess Bernice Pauahi, great-granddaughter of Kamehameha I, Hawaiʻi's first monarch. Here at Helumoa, Pauahi penned her last will and testament, establishing the Kamehameha Schools, dedicated to educating children of Hawaiian descent.
Royal Hawaiian Center opened its doors in 1980 and since then has been welcoming malihini (visitors) to experience the very best in cultural lessons, shopping, and dining. Excellence in Hawaiian performing and visual arts is an important part of the center's mission. The suite of complimentary cultural lessons that comprise the core of Royal Hawaiian Center's cultural program welcomes tens of thousands of guests a year from nearly twenty countries. Hawaiian culture is celebrated every day at the Center with a variety of cultural lessons such as hula, lauhala weaving, lei-making, 'ukulele classes, along with live entertainment featuring Hawaiian music and hula performances.
The Forum Shops at Caesars Palace
Home to painted skies, talking statues and more than 160 specialty shops and restaurants, The Forum Shops at Caesars Palace is recognized worldwide as the premier luxury retail destination in Las Vegas offering an excellent location and a fantastic array of sought-after shops and restaurants all in a picturesque Roman-themed atmosphere.
The Forum Shops is home to some of the world's most celebrated retailers.  Stores include Salvatore Ferragamo, Louis Vuitton, Giorgio Armani, Dior Beauty, Mulberry, Christian Louboutin, Tod's, Saint Laurent, Kate Spade, Tiffany & Co., David Yurman, Michael Kors, Balenciaga, Versace, Gucci and Jimmy Choo. Among the many distinctive retailers and desirable brands, more than 50 can exclusively be found in Las Vegas at The Forum Shops at Caesars. Restaurants include Joe's Seafood, Prime Steak & Stone Crab, The Palm•Las Vegas, Sushi Roku, Il Mulino New York, Carmine's NYC's Family Style Italian Restaurant, Planet Hollywood Restaurant & Bar, Trevi Italian Restaurant and The Cheesecake Factory. Recently announced, The Slanted Door and Water Grill will both be joining the impressive roster of eateries.
Beautiful architectural design elements and features are hallmarks of The Forum Shops. This was the arena shoppers first experienced a thematic retail atmosphere with the fantasy recreation of an ancient Roman Forum streetscape featuring classic columns and a Mediterranean barrel-vaulted sky feature designed to continually recreate the Roman sky as it evolves from dawn to dusk over a one-hour period. The Forum Shops also boasts the widely-popular animatronic attraction The Atlantis Show and Aquarium. Long heralded as a "must see" for travelers to Las Vegas, The Atlantis Show is an entertaining take on the legendary story of the ill-fated city of Atlantis. Adjacent to the Atlantis Show is the Atlantis Aquarium. More than 300 unique species of tropical fish life can be found in the 50,000-gallon saltwater aquarium. Perfectly situated at the heart of the famous Las Vegas Strip, adjacent to Caesars Palace, The Forum Shops proudly welcomes more than 28 million visitors annually. To meet the needs of their global guests, there are more than 25 languages spoken within The Forum Shops retailers and concierge center.
"We are honored to add these two luxury shopping destinations to our portfolio" says Kathy Anderson, founder and director of the USA Luxury Shopping Consortium. "The majority of travelers include shopping as an activity during their travels throughout the U.S., yet want it to be a unique and memorable experience. The Consortium properties offer a variety of services for luxury travelers including language assistance and currency exchange, complimentary in-store refreshments, personal shopping, car service or valet parking, beauty services, package delivery to hotels, unique culinary experiences, gifts with purchase and more. Customized experiences are also created with advance notice." For further information, visit www.usaluxuryshopping.com.
###
ABOUT THE USA LUXURY SHOPPING CONSORTIUM
The USA Luxury Shopping Consortium is comprised of a distinctive collection of luxury shopping centers and retail districts located in 10 popular travel markets throughout the USA. The partners offer a distinctive collection of traditional and contemporary designer brands in addition to a menu of signature and chef-inspired restaurants. The retail destinations are distinguished by their offering of customized shopping, dining and hotel packages which focus on providing an array of unique services and amenities for luxury travelers. The USA Luxury Shopping Consortium properties are recognized as "Preferred Shopping Destinations" of the Virtuoso Travel Network.
2019 USA LUXURY SHOPPING CONSORTIUM PORTFOLIO
Royal Hawaiian Center, Honolulu Hawaii www.royalhawaiiancenter.com
Fashion Island, Newport Beach, California www.shopfashionisland.com
The Forum Shops at Caesars Palace, Las Vegas, Nevada www.simon.com/mall/the-forum-shops-at-caesars-palace.com
Madison Avenue, New York, New York, www.madisonavenuebid.org
Mall at Millenia, Orlando, Florida www.mallatmillenia.com
River Oaks District Houston, Texas www.riveroaksdistrict.com
Santa Monica Place, Santa Monica, California www.santamonicaplace.com
Scottsdale Fashion Square, Scottsdale, Arizona www.fashionsquare.com
The Shops Buckhead Atlanta, Georgia www.theshopsbuckheadatlanta.com
Tysons Corner Center, Washington, DC www.tysonscornercenter.com
Follow and Share with Jetsettersblog.