Ushuaïa Ibiza Beach Hotel Divorce Packages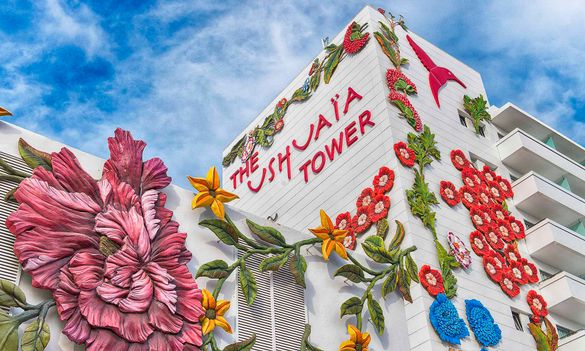 ---
Who said being single is not a cause for celebration? Ushuaïa Ibiza Beach Hotel, the iconic hotel-meets-party venue in Ibiza, is launching Ushuaïa Divorce Packages aimed at new singles and their friends.
The exclusive group package can be booked on the Ushuaïa Ibiza Beach Hotel website (theushuaiaexperience.com) and is available for stays from the start of the hotel's 2020 summer opening in May. The package includes a 'Party All Night Long' room for the party leader and Superior Club rooms for friends, a jacuzzi booking at The Ushuaïa Tower pool, a "Be Single" Finger buffet at the 'Party All Night Long' room terrace and a drink on the Up Sky Society rooftop terrace.
The group package is valid for reservations of a minimum of 11 rooms and a two-night stay. Prices are based on two sharing a room and start from £463 per person / per night*.
For more information and to book, visit: www.theushuaiaexperience.com/en/special-rates/ushuaia-divorce-package/
Located on the Playa d'en Bossa beachfront, Ushuaïa Ibiza Beach Hotel is best known for its hotel-meets-club vibe where guests have access to the best daytime parties in Ibiza – featuring world-renowned DJs such as David Guetta and Calvin Harris. Ushuaïa Ibiza Beach Hotel consists of two neighbouring properties: The Ushuaïa Tower and The Ushuaïa Club. The Ushuaïa Tower features luxury rooms and suites for those that prefer a discreet and exclusive Ibizan party atmosphere, whereas the rooms at The Ushuaïa Club are at the core of the party as they surround the main Ushuaïa Ibiza stage.
Ushuaïa Ibiza Beach Hotel is the first hotel to create a package targeted specifically at singles. The Spanish-based hotel created the new package based on the latest divorce statistics, in which 57.2% of Spanish marriages end in separation. For the UK, recent statistics show that searches for 'I want a divorce' rose by 230% in the first week of January 2020 compared to December 2019.Be Single by Ushuaïa Ibiza Beach Hotel Ushuaïa Ibiza Beach Hotel continues to position itself as a pioneer in the hospitality industry by continually creating packages that are geared towards specific booming trends and strong social demands. In doing this, Ushuaïa Ibiza Beach Hotel, owned by Palladium Hotel Group, strives to maintain excellent customer service and satisfaction.  For more information on the Ushuaïa Experience: www.theushuaiaexperience.com
*Based on staying in low season – 1st May – 14th June and from 15th September to 15th October). Prices during high season (15th June – 14th September) start from £547 per person / per night.
–       Ends –
About Ushuaïa Ibiza Beach Hotel:
Ushuaïa Ibiza Beach Hotel is a luxurious 415-room hotel comprised of two buildings: The Ushuaïa Club, featuring a world-renowned poolside stage, and The Ushuaïa Tower, offering breathtaking views of the Mediterranean. Ushuaïa Ibiza Beach Hotel is dedicated to providing the best outdoor entertainment coupled with a modern, cutting-edge hotel experience. Designed for the discerning traveller seeking the fun and entertainment associated with Ibiza, the hotel continuously raises the bar –from Swim-Up room options to daytime parties hosted by celebrated DJs, ensuring that the party never stops.  Its collection of dining options is unrivalled, from Ibiza's first premier steakhouse Montauk Steakhouse Ibiza and Minami Japanese Restaurant serving sushi and other Japanese delicacies, to The Oyster & Caviar Bar beside the pool and the relaxed The Beach by Ushuaïa Ibiza providing the perfect fuel for Ibiza party-goers, and the Italian Sir Rocco Beach Restaurant by Ushuaïa. Visit www.theushuaiaexperience.com
About Palladium Hotel Group
Palladium Hotel Group is a Spanish hotel chain with fifty years of experience. The chain has 48 hotels and more than 14,000 rooms in six countries: Spain, Mexico, Dominican Republic, Jamaica, Italy and Brazil, and operates 10 brands: TRS Hotels, Grand Palladium Hotels & Resorts, Palladium Hotels, Palladium Boutique Hotels, Fiesta Hotels & Resorts, Ushuaïa Unexpected Hotels, BLESS Collection Hotels, Ayre Hoteles, Only YOU Hotels, as well as licensed brand Hard Rock Hotels in Ibiza and Tenerife. The Palladium Hotel Group hotels are characterised by their philosophy of offering customers a high standard of quality in its products and services and excellent value. Palladium Hotel Group is owned by Grupo Empresas Matutes (GEM). www.palladiumhotelgroup.com
Follow and Share with Jetsettersblog.