Valencia Travel News and Top Ten Reasons to Visit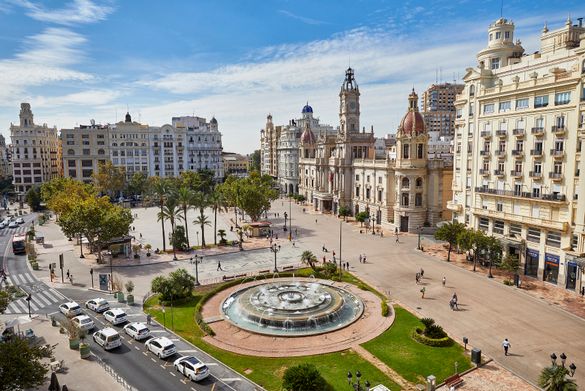 ---
1.VALENCIA RANKED TOP FOR EXPATS
The coastal city of Valencia has been ranked the best city in the world for expats in the annual Expat Insider Survey published by InterNations. Affordable healthcare, the cost of living and the agreeable climate are all factors that contribute to the city's top ranking.
Looking towards 2021, Valencia is also tapping into the growing trend of 'workcations'. Several properties are offering long-stay packages such as Hotel València Oceànic and Singular Stays whilst The Orange Guide offers special combinations for visitors including a work space, accommodation and Spanish lessons with four week packages starting from €1000.
2.NEW BOUTIQUE PROPERTIES
Valencia offers properties for all budgets. From beachfront bolt holes to converted historical palaces in the Old Town and more economical self-catering apartments.
In 2021, the city will welcome three new stylish hotel openings in the heart the Old Town.  
Only YOU Hotel València is the third property in the Only YOU portfolio which blends its urban lifestyle concept with eclectic and relaxed interiors by Lázaro Rosa Violán, located next to the city hall square.
Puerta Serranos Hotel blends modern Mediterranean elegance and charm with a highly desirable location, in the middle of Blanquerías street, next to the 14th century Torres de Serranos.
Axel Hotel València is a former historical manor house located in the nightlife area of the Carmen neighbourhood. The property combines history with clean and modern furnishings, a bar and restaurant, fitness area and terrace with swimming pool.
3.MULTIPLE UNESCO SITES & 25TH ANNIVERSARY OF LA LONJA UNESCO RECOGNITION
Valencia features three different cultural attractions on the prestigious UNESCO list: The Silk Exchange (Lonja de la Seda), the Water Tribunal (Tribunal de las Aguas) and the Fallas (spectacular annual festival featuring ephemeral art, fire displays and fireworks).
In 2021, Valencia will celebrate the 25th anniversary of World Heritage recognition of La Lonja (Silk Exchange). La Lonja is Valencia's historic market which was once home to silk traders and that thrived hundreds of years ago. Today, visitors to Valencia can visit La Lonja de la Seda free-of-charge and learn about the historic trade.
4.SPAIN'S FIRST MICHELIN STAR FOR COMMITMENT TO THE ENVIRONMENT
Valencia is a city with already stable foundations in the culinary world and deep-rooted traditions that have given rise to the most famous of Spanish dishes, paella. However, a number of innovative projects from renowned chefs and aspiring gastronomic entrepreneurs are building on the city's gastrotourism offering positioning Valencia as Spain's culinary capital for 2021.
On December 14, the Michelin Guide confirmed eight Michelin stars for Valencia's restaurant including a new recognition, a green star, for Ricard Camarena Restaurant for its commitment to sustainability and the environment. The first Michelin star in Spain awarded for environmental credentials noted the restaurant's efforts in terms of food miles with the kitchen garden located just 8km from the restaurant and traditional processes using no chemicals. Additionally, Camarena was recognised for minimising food waste via canned preservation; first tomatoes and then artichokes. Due to surplus crops, each year between 3000 and 5000 kilos or canned tomato and more than 1500 kilos of canned artichoke are incorporated into the restaurant's recipes. https://ricardcamarena.com/en/
5.SUSTAINABILITY CREDENTIALS  
Continuing with its sustainability credentials, Valencia has become the first city in the world to verify its carbon emissions from tourist activity. The city boasts five million square metres of gardens, notably the Turia Gardens and the Viveros, which act as the green lungs of the city absorbing carbon emissions; not to mention the 20 kilometres of European Blue Flag status beaches. Travellers are also able to explore the city in an environmentally friendly manner by making use of close to 150 kilometres of cycle paths and 40 cycle-priority streets. For visitors who are interested in finding out more about Valencia's sustainable development plans, the futuristic City of Arts and Sciences provides an eye-opening insight into what is capable at the cutting-edge of new technology and innovation.
6.WORLD CLASS EVENTS INCLUDING PREPERATIONS FOR WORLD DESIGN CAPITAL 2022
No matter which month of the year, there is always plenty going on in Valencia with a full agenda of cultural events. As a result of the city's longstanding design legacy, Valencia has been named the World Design Capital for 2022 by the World Design Organisation (WDO). As part of the special events programme, València will host the European Design Awards in June 2021.
Valencia's strategic positioning on the Spanish coast, as well as its well-established design expertise means it promises to deliver a programme that reflects its aspirations and commitment at local, regional, national and international levels. Valencia has impressive urban infrastructures that are directed towards coexisting with the natural and built environment. The City of Arts and Sciences is emblematic of Valencia and is one of the most important modern tourist destinations in Spain. The complex provides visitors with an insight into Valencia's cutting-edge design.
World Design Capital is a biennial designation celebrating cities that use design to improve economic, social and cultural life. The designation is also a unique opportunity to improve sustainable design approaches at regional and local levels. www.wdo.org
7. JUBILEE YEAR OF THE HOLY GRAIL
Sometimes great treasures are kept where you least expect them. The Chapel of the Holy Chalice in Valencia Cathedral is one such place. Since 1916, it has displayed the cup that has been the inspiration for many legends, artistic and literary works; and one of the most admired and acclaimed relics by the Catholic Church: The Holy Grail which since 1437 has been closely guarded in the repository of Valencia Cathedral.
Archaeological and historical data on the journey made by this relic to Valencia cathedral indicates that it is the vessel used by Jesus Christ at the Last Supper. Popes John Paul II and Benedict XVI officiated masses with the Holy Chalice of the Cathedral in their respective visits to Valencia in 1982 and 2006. In 2015, Pope Francis granted Valencia the celebration of the Jubilee Holy Year, which will be repeated every five years in the city of Turia, making it one of the seven holy cities of the world. On the last Thursday of October 2020, the second Jubilee Year of the Holy Chalice and for a year-long period (until October 2021) Valencia will welcome pilgrims who wish to obtain plenary indulgence in its Cathedral.
8. OPEN AND DIVERSE – VALENCIA IS GAY FRIENDLY
Valencia is proud to be sensitive and welcoming to all its visitors including the LGBT+ community. The city celebrates diversity and equality with a number of annual events. These include Mostra La Ploma; an annual film and cultural event (dates for 2021 still to be confirmed) based on the different realities of sexuality, gender and family diversity, and Valencia Gay Pride which takes place in June each year with a jam-packed calendar of celebratory events throughout the whole month.
Valencia has also put forward its candidacy as host city for the Gay Games 2026. This sporting event is based around the values of inclusion with a mission to promote equality amongst all participants. Despite the event's name, the Gay Games are not exclusive to the LGBTQ + community but are open to the participation of anyone regardless of sex, race or ethnic origin, disability, sexual orientation or religion. The event would last for 12 days between 27 May and 7 June 2026. The shortlisted host cities will be revealed in January 2021.
9. A SPORTS CITY & 2021 HOST OF WOMEN'S EUROBASKET
Thanks to its climate, its landscapes and its coastal location, Valencia offers one of Spain's most comprehensive sporting agendas both for spectators and for taking part. From marathons and triathlons, Moto GP and road Cycling to tennis tournaments such as the BBVA Women's Open, football featuring Valencia FC and Levante UD, golf and regattas such as the Her Majesty the Queen's Trophy organised by the Royal Yacht Club of Valencia, there really is something for everyone. In basketball, Valencia plays in the ACB League, the Spanish Women's League and the Euroleague. In 2021, visitors can enjoy a basketball game at the renowned Fuente de San Luis Pavilion and enjoy the exhilarating Women's semi-final and final of Eurobasket 2021 that will take place between 17 and 27 June.
10. IT'S INCREDIBLY CLOSE
Valencia is Spain's third largest city and an ideal short break destination from the United Kingdom. In less than three hours, UK travellers can be transported to this coastal city. Travellers will arrive to a city which boasts stunning contemporary architecture including the City of Arts & Sciences, a charming old quarter, white sand beaches, vibrant festivals and events, and a rich gastronomic heritage (including its status as the birthplace of paella). Outside of the city, the region is surrounded with verdant mountains, rice fields, freshwater lagoons, historic villages and a coastline stretching 125km and encompassing the Costa del Azahar (also known as the Orange Blossom coast) and the Costa Blanca.
For more information on Valencia as a visitor destination, please visit www.visitvalencia.com or contact Valencia@wearelotus.co.uk
Follow and Share with Jetsettersblog.