Victoria to Windsor by Vintage Steam Train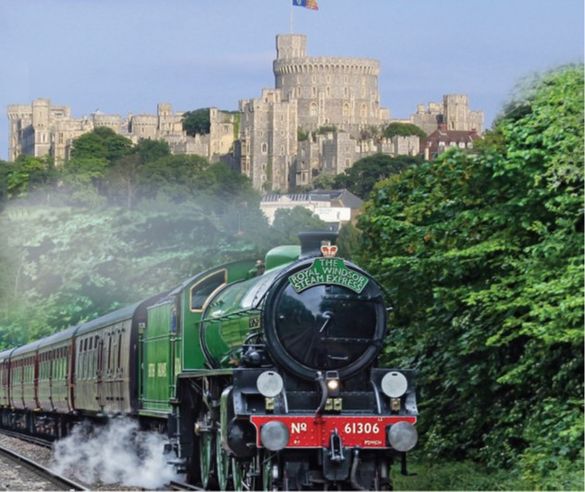 ---
A vintage train service every Tuesday from 1st June to 14th September this year (no service Tuesday 7th September) will offer steam-powered journeys in period carriages from London's Victoria Station to Windsor.
The first regular steam service from Victoria in over 50 years*, the Royal Windsor Steam Express will leave at 08.00, 11.00 and 14.00, usually powered by Mayflower, a British Rail locomotive built in 1948.
Tickets from £89pp for Pullman Style Dining include a glass of Champagne and Eggs Royale on the morning services or a Champagne afternoon tea on the 14.00 departure. First Class is £59pp including a complimentary tea or coffee table service. Standard seating is available at £39pp with snacks and drinks available to purchase.
Tickets on line or at the station on the day, subject to availability – same day return tickets on the steam service at £25pp Standard class only departing Windsor to London Victoria at 09.30 and 12.30.
Timetable : Tuesdays 1st June to 14th September 2021 – no service 7th September
08:00 – London Victoria arrives Windsor 09:30
11:00 – London Victoria arrives Windsor 12:30
14:00 – London Victoria arrives Windsor 15:30
www.royalwindsorsteamexpress.co.uk
To book please call 01483 209888 between
9am – 12.30pm on weekdays.
-ENDS-
For further information contact WixHill PR:
Tim Fordham-Moss / Pippa Evans
tim@wixhill.co.uk / pippa@wixhill.co.uk
+44 (0) 771 491788 / + 44 (0) 7545 522292
*The last timetabled steam service from London Victoria was on 8th. January 1964 to East Grinstead.
Editor's Notes:
Covid note : All on-train catering options and service will be guided, and possibly altered, to ensure compliance with the Covid-19 requirements that apply on the day of departure. The catering described is what we hope to offer.
All Steam Dream excursions are compliant with the current government guidelines on social distancing; hand sanitisers will be available in the carriages and lavatories; guidelines for passenger safety are sent with every e-ticket issued and prominent on the trains. Individual bookings that must be delayed due to Covid can be rescheduled to a later date with no amendment fee.
Gift Vouchers
Valid for a full year from date of purchase, gift vouchers must be booked before the voucher expires but travel can take place after this date. Gift vouchers start at £50.
Gift tickets can also be purchased which summarize the trip itinerary purchased without prices and come in a special presentation wallet.
About 61306 Mayflower
Built for the London & North Eastern Railway in 1948, 61306 Mayflower is one of two surviving B1 Class locomotives. Designed as mixed traffic locomotives capable of hauling express passenger trains as well as freight traffic, the B1s are powerful, go anywhere engines and worked across most of the UK rail network from East Anglia to Scotland.
Mayflower was built by the North British Locomotive Company in Glasgow but was delivered post-nationalisation and acquired the number 61306 by British Railways. She was first allocated to Hull Botanic Gardens Depot followed by a spell at Hull Dairycotes Depot before being finally transferred to Low Moor Depot, Bradford. She was the last B1 in service; her final trip was hauling the 'Yorkshire Pullman' from Leeds in September 1967.
Mayflower was immediately purchased for preservation and was initially based at Steamtown in Carnforth. She was fully restored for mainline operation and worked a number of rail tours in the 1970's. Acquired by Steam Dreams owner David Buck in 2014, she returned to the mainline in 2015 before being withdrawn for an extensive overhaul. Resplendent in the early British Railways apple green livery as she was originally given when delivered in 1948 she returned to full mainline operation in early 2019.
Mayflower has two cylinders, 6 driving wheels, a firebox grate area of 30 square feet and can operate at 75mph.
Carbon Offset
The Steam Dreams Rail Co., was the first rail charter to be carbon neutral. For the last ten years the company has offset annually the carbon footprint of all aspects of its operation.
About The Steam Dreams Rail Co.
The first tour left London for Salisbury in December 1999
22 years later, the company is proud to be offering day trips to more than 35 destinations, picking up passengers at over 100 stations across the UK every year
The Steam Dreams Rail Co. is now delighted to offer a number of multi-day tours around the British Isles as well as overseas tours including New Zealand in 2022.
The company has received a TripAdvisor® Certificate of Excellence every year since 2015, and was short-listed for Best Rail Holiday Provider in the inaugural Silver Travel Awards
Follow and Share with Jetsettersblog.