VIP Chalets welcomes the Tour de France back to Alpe d'Huez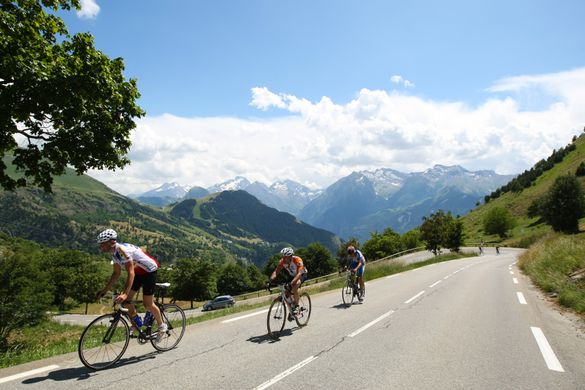 ---
As the Tour de France returns to the sunny resort of Alpe d'Huez for the first time since 2015, VIP Chalets is ready to accommodate keen fans who flock to the resort. Staying in the luxurious chalets for the days surrounding the race is the ideal way to celebrate the Tour and top up on that Vitamin D, as visitors take part in the wealth of activities available in the surrounding area.
The 12th stage of the Tour will set off from Bourg-Saint-Maurice and, 175 kilometres later, will end 1838 metres high at Alpe d'Huez on Thursday 19th July 2018. It is the challenging finale up the 21-hairpin bends – a stretch that measures 13.8 km at an incline of 8.1 per cent with the steepest section at 11.5 per cent – that makes Alpe d'Huez such an iconic destination for the race. This year looks to be even more exciting (to watch) since the competing cyclists are likely to exert themselves even more on that final stretch of stage 12, given that the next day from Bourg d'Oisans will be an 'easier' 169-km section of mostly downhill and flat terrain to Valence.
VIP Chalets' collection of luxury chalets make for the ideal place to stay to enjoy the thrills of the Tour. There are five chalets available within the VIP Chalets development situated around a cobbled courtyard at 2000m. The chalets are modern and feature touches of luxury within their traditional alpine frames. Situated just a few metres from the finish line, guests need not venture too far to cheer on the peloton as they take on the gruelling finale.
Chalets La Maison, Le Manoir and La Ferme, which sleep eight, 10 and 12 guests respectively, are priced from £100 per person per night for a minimum of three nights' self-catering on whole chalet bookings.
Chalets La Chapelle and Le Chateau are priced from £125 per person per night for a minimum of three nights' half board on whole chalet bookings. Room by room bookings are accepted in these chalets offering a chance to meet like-minded people in a sociable chalet experience. Both chalets have seven bedrooms; La Chapelle sleeps 14 guests while Le Chateau sleeps 15.
VIP Chalets resort staff will be on hand every day to ensure that guests get the very most out of their stay. If guests have any special requests, the resort staff will do their best to provide the service that guests are looking for.
Special offer: those booking a seven-night stay only pay for six nights.
For more information visit www.vip-chalets.com or call 0208 875 1957