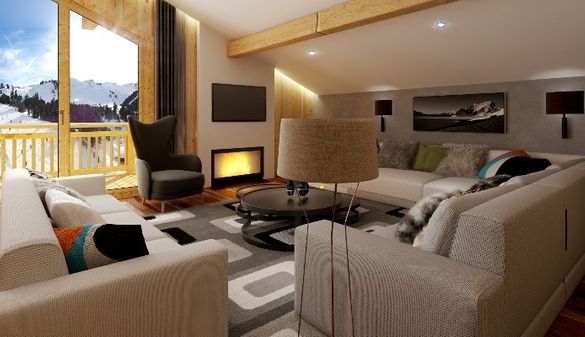 ---
Thirty years on from VIP SKI's pioneering beginnings, the British born luxury chalet operator is back. Keen to enrich more skiers, its core values are unchanged and its passion for ski is undiminished.
Andy Sturt, owner of VIP SKI, says: "I think that the relaunch of VIP SKI is a positive news story post-Covid and we are confident this is good news for the ski community. For anyone not familiar with VIP SKI, we operate more than 40 luxury chalets, CLUB Chalets and luxury ski hotels at the top of the mountain in five of the best loved ski resorts in France.  Our chalets are known for their luxury and exceptional locations, our service for its unrivalled attention to detail. Every one of our chalets and hotels are run by welcoming hosts, famous for their charming, attentive, yet unobtrusive service. We are very proud of what we do, and we really care about our clients' ski holidays.
"VIP SKI has always been associated with making sure guests experience the heart of a ski destination. Nothing on that side of things has changed. The chalets are the best there is in the affordable ski world today. We are keen to provide a luxury chalet experience and beyond in style".
VIP SKI does not include charter flights as part of the holiday arrangements anymore because fewer guests wished to fit in with the rigid flight times and fixed departure airport, preferring to make alternative plans with their own favourite airline or regional airport. VIP SKI understands the plethora of low-cost airlines and regional departures made this change inevitable. To move with the times and facilitate this change, and to give guests access to the full gamut of scheduled airline services available, VIP SKI has instead concentrated on the part of the journey that is hard and expensive to organise, getting from the airport to resort and back again.
A manned VIP SKI hospitality desk at Geneva – the airport with the most arrivals and departures to the UK – will be operated as VIP SKI's transport hub. And for those who would like to make use of the company's complimentary transfer service, VIP SKI is offering three scheduled buses up to, and down from, each resort at intervals every Sunday (seats only available by prior reservation). VIP SKI will also use the desk at the airport as a liaison point for those that have booked to travel to resort independently, and to aid all VIP SKI guests throughout the day.
Whilst VIP SKI's complimentary scheduled coach transfers from Geneva are comfortable, reliable, and efficient, VIP SKI recognises they may not suit everyone. Guests might worry about being inconvenienced by flight delays, waiting unnecessarily at the airport for others, or might wish to fly to Lyon, Grenoble or Chambery and take advantage of a flight route, timing and price better suited to them. VIP SKI has therefore negotiated with local taxi partners and subsidised the cost substantially to provide private taxi transfers at some incredible prices. The comfort and intimacy of a personal driver and vehicle to take a party straight from the airport terminal to chalet, and then back to the airport a week later, costs as little as £20 per person to anywhere in the Portes du Soleil or £40 per person to Val d'Isère and Les Arcs.
BEAR RESORT. Arc 1950 – NEW addition
Researched by our guests, designed by Andy, built by Luigi
Bear Resort is the culmination of seven years' design and development, during which VIP SKI has tried to create the ultimate ski experience. The new wing of Arcs 1950 blends seamlessly into the picturesque high-altitude village and offers a completely new level of comfort and convenience.
Luigi had developed Bellevarde Lodges for VIP SKI a few years before and mentioned to Andy over an espresso in 2014 that having since built the village of Arc 1950 for Intrawest, he had some land left over, could VIP SKI do anything with it! The rest is, as they say, history.
Andy consolidated everything that VIP SKI had learnt over 25 years into paper scale cut-outs (all very Blue Peter) with a sofa size and shape that was comfortable, a coffee table big enough for both a clutter of G&T glasses and a piste map, a dining space big enough for the cornflakes but not so wide you can't pass the wine, bedrooms for tall people and little people and bundles of storage. He also wanted to build something for everyone; guests can find rooms for couples, rooms for families and adjoining rooms for mum, dad and teenage kids, plus private suites for groups of every size. Andy says, "I've never had the freedom to design something from the inside out before, getting the small detail right and then seeing where the walls ended up, planning regulations normally cramp your every move and space, a new wing of Arcs 1950 was a completely unique opportunity to build the perfect ski homes for every type of guest". 
He then added a 30-bedroom hotel to the 12 apartments, together, of course, with all the toys, including a proper sized pool you can swim in, a spa with plenty of steam, piste-side kid's space, gym, cinema and small conference room. In the end the building ended up as a colossal 5000 square metres. Researched and refined by VIP SKI guests over 30 years, designed by Andy, and built by Luigi, at the giddying altitude of 1,950 m, VIP SKI's brand-new complex is located on the piste, next to the ski lifts and a short walk across the slope to the centre of the village.
Bear Lodge is the heart and soul of the new piste-side resort in the centre of Arcs 1950. It has 30 bedrooms along the side of the Baptiste Giabiconi blue piste and opposite the Marmottes and Bois de L'Ours chairlifts. Guests can reach out and touch the skiers from the balcony and ski away from the concierge-managed ski room and Intersport rental shop.
There are three types of bedrooms, each with bundles of storage room, comfy beds to lay your head, somewhere to charge your phone and plenty of light to read your favourite novel: twin rooms, family suites with twin beds and a den with bunk beds for the kids (half price) and pairs of adjoining rooms for Mum, Dad, bigger kids and/or a more generous budget.
There is a spacious lounge, Charlotte Perriand* inspired reception area, bar and dining room. There is also a proper size pool complex with sauna, steam room, Jacuzzi and massage suites, plus a gym, cinema, kids playroom and concierge ski room with rental shop.
A short walk across the piste is the completely charming and rather magical traffic free village of Arcs 1950. An extraordinary high-altitude intersection of pistes and 40 charismatic shops, cafés, bars and restaurants.
Bear Suites
Bear Suites are affectionately named after mythical bears from around the world and offer the intimacy of VIP SKI renowned and award-winning chalet service with the fabulous facilities of Bear Resort.
The suites share the same building as Bear Lodge and have between two and six bedrooms for groups of four to 12. Each suite has a private living and dining room, chalet host service and glorious balcony views. There are two types of bedrooms, twin rooms and family suites with twin beds and a den with bunk beds for the kids (half price). All rooms have a lot of storage, comfy beds, phone chargers and plenty of light to read.
In keeping with VIP SKI's style, there is an elegant reception and concierge, fancy fires, cool décor, and flat-screen TVs on all the bedroom walls. In short, VIP SKI engages the roaring 20s with its new signature property.
Prices: Bear Lodge on 5 January 2021 for a four-night stay starts at £754, otherwise £1,129 for seven-night on the 17 April 2021. Prices include cooked breakfast and dinner with choice on menu on 7 days and return transfers from Geneva Airport.  For more details visit: http://www.vip-chalets.com / 0203 892 4060
Founded on the principle that luxury should be affordable, VIP SKI is a boutique chalet brand that has grown steadily over 30 years to feature over 40 luxury chalets, CLUB Chalets and luxury ski hotels spread over five ski resorts in France. Throughout its history of service delivery, it has retained its hallmark sense of individuality and quality. Perfect for couples and families as well as groups of friends, the holidays can be personalised to individual tastes by the addition of services such as childcare and private transfers.
* "Charlotte Perrion's most significant work was Les Arcs 1600, 1800 and 2000, the French ski resort envisaged by a Perriand-led collective of architects, embodies this collaborative spirit. The project, which opened in 1968 and took shape during the 1970s, showcased many of her skills – not only as a visionary but also as an interiors, furniture and landscape designer – and it was she who proposed the resort's series of sinuous terraces, which would cleave to the mountain in waves, appearing to melt into the landscape. It encapsulated Perriand's lifelong belief that good design enables one to live a better life and should be available to all. "All her ideas about life, design and living came together at Les Arcs," McGuirk says. "As a resort, it was able to cater to mass tourism, but this was mass tourism of a high-minded sort, offering a certain lifestyle and access to sport and nature (always very important to her) that was available to all".


Follow and Share with Jetsettersblog.