Virginia's Blue Ridge Is Open for Groups and Meetings Business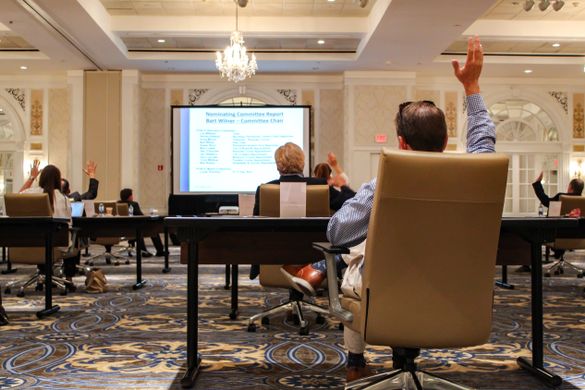 ---
ROANOKE, VA (June 29, 2020) – It's no secret that the meeting and events industry has been hit hard across the country. As The Roanoke Valley in Virginia's Blue Ridge begins to reopen, with social spacing measures in place, in-person meetings and events are starting to take shape. The team at Visit Virginia's Blue Ridge along with many of our partners are working to create a safe environment for attendees when they're ready to return and to assure planners the confidence in holding their next event.  Several businesses have adopted the Visit Virginia's Blue Ridge Stay Safe Pledge.
Reopening for meetings is a vital part of tourism.  Visit VBR aims to emphasize that Virginia's Blue Ridge is safe, welcoming, accessible, and open for business. To ensure the health and safety of guests and visitors at the region's iconic Hotel Roanoke & Conference Center, a comprehensive review of the physical building and operations of all departments has been assessed by the hotel, utilizing the latest scientific data and best industry practices from several resources.
Recently, the Roanoke Regional Airport Commission needed a location for upcoming meetings "…After touring the facility it was clear to us the Hotel Roanoke had the ability to deliver a quality conference. The conference rooms were set up for social distancing and had the latest work stations technology with comfortable seating," stated Jay Ball, Director of Facilities & Grounds with the Roanoke Regional Airport Commission.  Additionally, the Commission's Master Plan Advisory Committee meeting was held recently at the Hotel Roanoke. "The staff at the Hotel Roanoke did a great job of finding the right size room for us to use for the meeting while providing proper social distancing and technology which allowed for video conferencing capabilities for committee members unable to join in person. The location and amenities make for a great facility for hosting a conference that continuously exceeds participant's expectations," said Brad Boettcher, Marketing and Air Service Development with the Roanoke Regional Airport Commission.
The goal at The Hotel Roanoke & Conference Center is to provide top-level service, operations, and options to enhance the entire experience in this new age of hospitality. "Meetings and events will play a critical role in bringing teams back together in-person and charting a course for the future," said Brian Wells, General Manager of the Hotel Roanoke & Conference Center. "Reimagining our hospitality and infrastructure with creative meeting sets helps optimize healthy and hygienic practices while providing a setting that stimulates collaboration and innovation. The training programs have been redeveloped to include many new service techniques including new social distancing and sanitary procedures, as well as everyday service standards."
As a member of Hilton's CleanStay program, the hotel will build upon the already high standards of housekeeping and hygiene at the property, where hospital-grade cleaning products and upgraded protocols are currently in use.  This initiative creates a focus on cleanliness that will be visible to guests throughout their entire stay – in their guest rooms, restaurants, fitness rooms, and in other public spaces and provide guests with assurance and peace of mind when visiting.
"As the event environment changes, it is as important now more than ever to continue to create experiences that promote collaboration and engagement, with an energized and respected focus on health and safety," said Wells. "The team has designated a full listing of protocols and operations at each touchpoint, from the valet and front desk teams to food and beverage and back of the house teams, addressing and catering to the needed flexibility and vision necessary to accommodate the changing demands and safety of our meetings clientele."
A complete guide to operations and procedures at the hotel throughout the phased reopenings can be found at https://www.hotelroanoke.com/operations_guide/
Virginia is currently in Phase Two of the Commonwealth's Forward Virginia plan and will enter Phase Three on July 1.  The Visit Virginia's Blue Ridge team is here to support you in any way possible during these unprecedented times for the tourism industry. Whether hosting a small meeting or a city-wide event, our community is full of good neighbors.
Images available for editorial use, credit required.
#          #          #
About Virginia's Blue Ridge
Virginia's Blue Ridge is nestled in the heart of the Blue Ridge Mountains, providing a metro mountain mix of exciting outdoor adventure with refined culture.  Visit VBR is the official destination marketing organization for Virginia's Blue Ridge which includes the Cities of Roanoke and Salem and the Counties of Botetourt, Franklin, and Roanoke. The region is easily accessible via the Roanoke-Blacksburg Regional Airport (ROA), Interstate-81, and Amtrak's northeast regional route. For more information, go to www.VisitVBR.com.
About The Hotel Roanoke and Conference Center, Curio Collection by Hilton
The Hotel Roanoke & Conference Center has 330 luxuriously appointed guest rooms and a 63,000-square-foot, high-tech conference center. It is a joint project of Virginia Tech and the City of Roanoke and is flagged as a Curio Collection by Hilton, under the management of Benchmark Hospitality International. The Hotel Roanoke is listed on the National Registry of Historic Places.  To learn more, visit www.HotelRoanoke.com.