Visit Lake Michigan Town Virtually with Zoom Backgrounds of Ludington, Michigan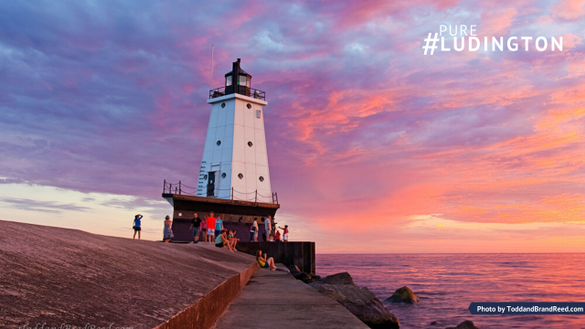 ---
LUDINGTON, Mich. – – The Ludington Area Convention & Visitors Bureau is making it easy to visit its Lake Michigan resort community in West Michigan virtually with custom video conference backgrounds.
Whether conducting a Zoom meeting with colleagues or virtual happy hour with friends, people stuck at home due to the COVID-19 pandemic can jazz up their video meeting backgrounds with one of six stunning Ludington themes.
"During this important time of staying home to stay safe, we want to transport you to our beautiful West Michigan region of unspoiled woods and water," said Brandy Miller, executive director of the Ludington Area Convention & Visitors Bureau. "Enjoy one of these breathtaking sights now, and plan a visit for later when we can travel freely again."
Following are the six Ludington background images available:
Here's how using the Zoom video communications platform:
Download a background below and save to your computer or mobile device.
Once you are in a Zoom meeting, click on the "up" (Ù) arrow in the bottom menu bar and select "Choose Virtual Background."
Press the small plus (+) sign and select "Add image."
Select the #PureLudington photo backdrop that you saved to your device.
Voilà – you are instantly transported virtually to #PureLudington!
For further instructions on setting up your virtual background, see Zoom's official guidelines.
About Ludington
Located on the shores of Lake Michigan with miles of beachfront and water access, the West Michigan town of Ludington offers a quintessential "Up North" Michigan experience. Ludington and Mason County deliver the perfect combination of unspoiled natural resources and unrivaled outdoor recreation with quaint, small-town charm – all within easy reach at the intersection of U.S. 31 and U.S. 10. For information on the Ludington area including lodging, events, and other tools to help plan a Ludington getaway, visit PureLudington.com, facebook.com/ PureLudington, @PureLudington on Instagram and @Pure_Ludington on Twitter; or call 800-542-4600.
Follow and Share with Jetsettersblog.