Visit the Syntopia in Spirit in Greece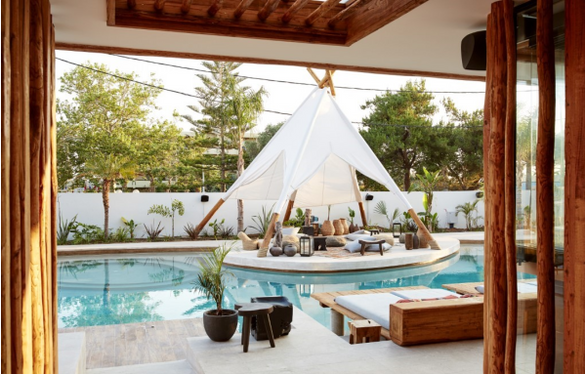 ---
No doubt, after all this is over and the global lockdown is lifted, you're going to need a well-rounded holiday where you can destress and nurture your mind. But for the time being, while we're all still stuck indoors, let us help your mind drift away to a distant destination to take your mind off the current climate. Come visit the idyllic Syntopia, Crete, in spirit with us – while an uplifting visit in person is not possible right now.
The Syntopia is defined by its carefree attitude and stylistic modernity. The hotel is perfect if you just need to unwind after all this is over, a place to nurture the mind and soul. There's a softening magic to the place. You'll feel at ease when you glimpse the hotel's natural aesthetic, especially when you find your suite built with a traditional blend of native wood and wicker, while internally furnished with warm timber charm and homely woven fabrics.
The comfortable atmosphere extends to the pool area, where beautiful cabanas surround the landscaped pool, inviting you to chill out in a rustic village for hours on end with a cool drink and the sun for company. The serene surroundings at the Syntopia are enhanced further by an auditory curation, lifting your spirits and creating a comfortable environment in which you can relax and reflect. Tribal and ritualistic sounds engage visitors in a mesmeric experience; gentle acoustic music fills the air; and cinematic audio segments add a unique flair to the ambience.
Relaxation isn't confined just to the pool. the Syntopia's spa serves to massage your calming experience further, thanks to a collection of decadent treatments, soothing yoga classes, sauna and hammam, in which you can submerge your tension.
But for those who've had enough of relaxing in total tranquillity at home, the Syntopia is also a place to stretch your legs, get active, and go on an adventure. Not only does the Syntopia itself host an array of exciting activities and events, such as weekly DJ sets with resident artists and live instruments played over fresh house music, or the raki, wine and cheese making sessions – the hotel is also situated right at Rethymnon's door, where an expedition awaits you.
In Rethymnon, you will find a world of traditional Greek culture and warmth, lined with rustic cobbled-streets and grand medieval architecture. The Venetian harbour is a treasure, with its Egyptian lighthouse watching over the city like a colossal guardian. While ascending the spectacular 16th century Ottoman fortress of Fortezza will provide you with breath-taking panoramic views of the city. Nature lovers will also adore the location, with the Kotsifou gorge serving as an ideal hiking site, as historical churches, intriguing ruins and magical wildlife grace your tour of the canyon.
Regardless of the hotel's natural beauty, The Syntopia is not the same without you, the guests. It's a massive shame that you cannot be welcomed yet this season. But with things seemingly on the mend and restrictions slowly lifting, it might be sooner rather than later that you get to visit The Syntopia physically – not just spiritually.
For more reasons to visit, check out: www.thesyntopiahotel.gr
About Syntopia:
Live the gypset life this summer at the Syntopia Hotel. Set minutes east of the town of Rethymnon with a golden beach just steps away.
Free spirits will feel right at home in the swanky collection of guestrooms, offering luxurious comforts while retaining the warmth of Cretan hospitality. Outdoors, wood, metal, and wicker combine with Aegean architecture to set a one-of-a-kind scene.
Hip, refined, and eccentrically charming, Syntopia exists to satisfy all your holiday needs. Whether you're traveling alone, as a couple, or with family and friends, it's the chic hippie heaven you've been waiting for.
Go on, feel free to explore #thesyntopialife.
Follow and Share with Jetsettersblog.