VIVA Cruises Four-Night Cruises in Germany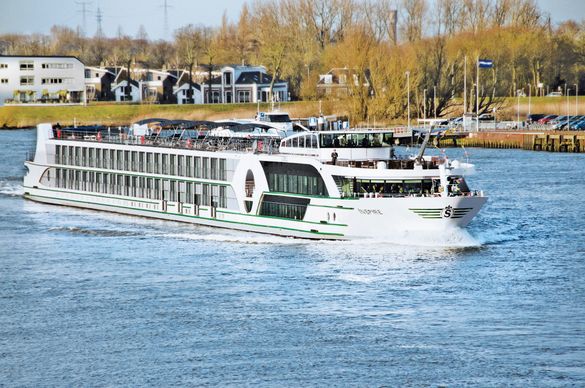 ---
River cruise specialist, VIVA Cruises, has launched new four-night cruises in Germany, which will be ready for the imminent summer season. Throughout July and August, two of VIVA Cruises' ships, MS TREASURES and MS INSPIRE, will embark on short itineraries as part of Germany's emergence from lockdown. All new cruises will feature all the latest safety and health measures on-board.
Departing and finishing in Frankfurt, MS TREASURES will be sailing along the Main River – the longest river lying entirely in Germany – to explore some of its main attractions. These include the towns of Wertheim (famous for its magnificent half-timbered building); the Bavarian city of Würzburg, surrounded by vineyards; and Miltenberg, home to a stunning old town.
On the other hand, MS INSPIRE will be exploring the German wine region of Rheingau, on a trip along the Rhine River. Leaving from Düsseldorf, renowned for its fashion industry and art scene, the "Experience Rheingau" itinerary will be visiting the idyllic small towns of Andernach and Boppard as well as Oestrich (one of the newer ports served by VIVA Cruises and a must-visit for wine lovers) and Coblenz, famous for the Deutsches Eck, where the Mosel river joins the Rhine.
Both itineraries can be booked from £400 per person in a twin cabin. Passengers will also receive a credit of £23 to spend on one of the excursion available on the cruises.
Andrea Kruse, COO of VIVA Cruises, says: "We are thrilled to be able to welcome guests back in our ships. As well as the short, four-night itineraries along the Main and Rhine rivers, we are launching our very first owned ship, VIVA TIARA, at the end of June, which is very exciting news too."
In light of Covid-19, VIVA Cruises has introduced new measures to further protect the health and safety of passengers and crewmembers. Some of these measures are:
Screening of guests before the start of the cruise by means of a comprehensive health questionnaire from the WHO (World Health Organisation) and compulsory temperature checks
Reduced number of passengers on board for optimal social distancing
Contactless check-in experience
Compulsory facemasks on board when walking around the ship
Table service for all meals (buffet services removed) and increase of table distance
Meals and activities will be arranged in time slots to lower the capacity of communal areas
Increased disinfections of public areas – cabins will be disinfected twice a day
Doctor on board for health checks and consultations for all guests and crewmembers
Further measures can be found from VIVA Cruises' parent company, Scylla, here.
All new itineraries will also include VIVA Cruises' signature VIVA All-Inclusive product, which includes full board, high-quality alcoholic and non-alcoholic beverages, minibar, beauty products from luxury cosmetic brand, Rituals, and all tips and gratuities.
For more information about VIVA Cruises, please visit: www.viva-cruises.com/en
Notes to Editors:
About VIVA Cruises
VIVA Cruises invites you to experience the very best of Europe, the way it was meant to be discovered – with good company, unique perspectives and award-winning service and amenities. Knowing that not all travellers are the same, VIVA Cruises has made it their mission to give customers greater ease, flexibility and choice. With decades of experience cruising to Europe's most popular destinations, they are proud to offer a cruise experience like no other, designed to enrich, inspire and renew. Following all the greatest rivers – Danube, Elbe, Moselle, Rhine, Rhône, Seine and the Main-Danube Canal – guests will delve into the heart of timeless towns and villages as well as the world's most thriving capitals. And, aboard their modern vessels, great travel experiences come to life, every bend of the river brings a new marvel and every moment on board brings more delights to be savoured.