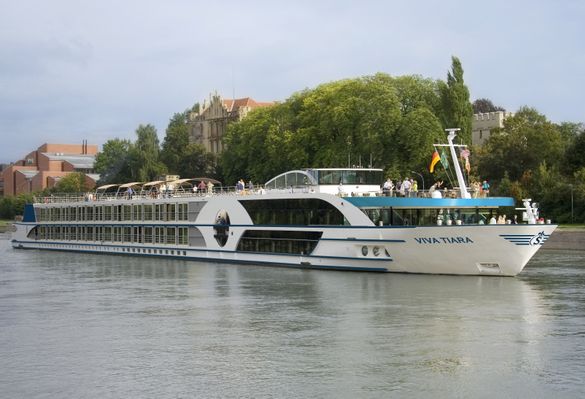 River cruise specialist, VIVA Cruises, is re-launching its flagship vessel VIVA TIARA in March 2020. The ship, currently under a comprehensive renovation, will become the very first ship owned by the young European river tour operator.
Formally operating for VIVA Cruises under the name MS SWISS TIARA, the ship will be thoroughly refurbished by the end of the current winter season. The renewed VIVA TIARA will feature 76 light-flooded outside cabins – most of them with French balconies – which can accommodate 153 passengers; all of the cabins will be completely redesigned with a fresh new look, using light a coat of paint. Public areas such as the restaurant, bar and wellness area will be also given a makeover.
In March 2020, VIVA TIARA will set off on its first two journeys along the Rhine from the German city of Düsseldorf. The first itinerary (15-20 March) will be sailing up to Amsterdam, going through windmills and tulip fields until reaching the famous canals of the Dutch capital. Its second voyage (20-25 March) will take passengers down the Rhine on an itinerary featuring the art and culinary delights of Cologne, castles and palaces of the Rhine Valley region and the fine wines of the Rheingau district. VIVA TIARA will be the only ship that will be operating all year round.
A five-night cruise along the Rhine on the newly-refurbished VIVA TIARA starts at £589 per person – including a cabin at the Emerald Deck and return flights from the UK. Further information on the package can be found on Baway Cruising.
"We are really looking forward to the launch of VIVA TIARA in March – the first of many ships sailing under the VIVA flag. We have invested heavily on its refurbishment and we are confident that its fresh new design will be enjoyed by the wide variety of guests we welcome on board," says Andrea Kruse, COO of VIVA Cruises. The river tour operator, which belongs to the renowned Swiss shipping company Scylla AG, first started its European river cruises in the 2018/2019 winter season, gaining great success ever since.
VIVA Cruises will be also offering its signature VIVA All-Inclusive product on board VIVA TIARA. This includes full-board with snacks, breakfast buffet, lunch and à la carte dinner; high-quality alcoholic and non-alcoholic beverages (including soft drinks, coffee specialties, tea, wine, cocktails and beers), minibar and beauty products from luxury cosmetic brand, Rituals. Tips and gratuities are also included.
For more information about VIVA Cruises, please visit: www.viva-cruises.com/en
About VIVA Cruises
VIVA Cruises invites you to experience the very best of Europe, the way it was meant to be discovered – with good company, unique perspectives and award-winning service and amenities. Knowing that not all travellers are the same, VIVA Cruises has made it their mission to give customers greater ease, flexibility and choice. With decades of experience cruising to Europe's most popular destinations, they are proud to offer a cruise experience like no other, designed to enrich, inspire and renew. Following all the greatest rivers – Danube, Elbe, Moselle, Rhine, Rhône, Seine and the Main-Danube Canal – guests will delve into the heart of timeless towns and villages as well as the world's most thriving capitals. And, aboard their modern vessels, great travel experiences come to life, every bend of the river brings a new marvel and every moment on board brings more delights to be savoured.
Follow and Share with Jetsettersblog.