Weird but Wonderful Sleeps in Canada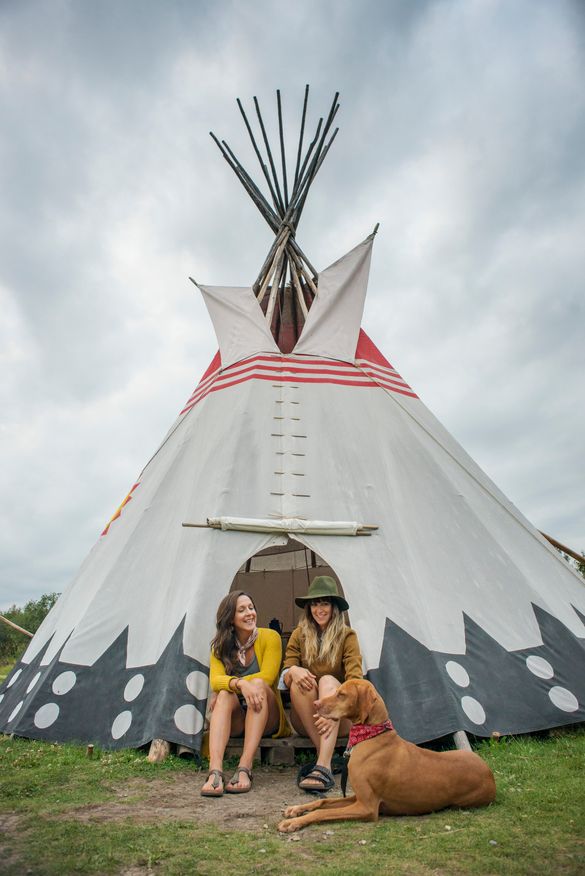 ---
More than just a bed for the night
Hotels are hot, inns are intimate, and cabins get you out into the country. But for unique, quirky, and fun, try a hobbit cottage or treetop orb. Who knew? Canada is dotted with cool, colourful, delightfully odd accommodations from coast to coast, whether offering an icy sense of place (Hôtel de Glace in Quebec, brrrrr) or weaving a narrative thread across the nation (see Parks Canada's oTENTiks, MicrOcubes and Ôasis pods, situated in parks and national historic sites around the country).
Now I lay me down to sleep: From geodomes and yurts to treehouses and train cars, read on for a sampling of Canada's quirkiest accommodations (your social media feed will thank you).
Dome-estic Bliss
● The Adventure Domes invite visitors to bed down in four charming, eco-friendly cottages set in the picturesque village of New Denver, British Columbia, a short walk from the shores of pristine Slocan Lake. Simple, stylish and spacious interiors offer a welcome retreat after a day of paddling, rock climbing or watching the sunset behind the snowfields of the Valhalla mountain range.
● Cielo Glamping Maritime in New Brunswick offers a getaway where guests can harvest oysters on a stand-up paddleboard, then retreat to a pearl-like dome for a luxurious sleep. Perfect for romantic sojourns, the domes boast luxe sheets and locally woven blankets, a skylight allowing for nighttime stargazing, handcrafted soaps and private wood-heated hot tubs.
● In Pleasant Bay, Nova Scotia, True North Destinations offers the province's only fivestar, eco-conscious, geodesic dome experience. Situated along Cape Breton's Cabot Trail coastline, the 10 domes boast ocean views and rooftop skylights for stargazing, along with private decks, fully equipped kitchenettes, and private hot tubs and pergolas. Its surroundings inspire each dome's design: for example, The Sea-Spray domes boast a nautical style that evokes the Nova Scotian fishing industry, with guests able to view lobster boasts and whale-watch from their decks.
Back in Time
● At Rocky Mountain National Historic Site in Alberta, visitors can camp in comfort in a Métis trapper tent, tipi or trapline cabin. Use your Fur Trade Camp Kit (included in the camping fee) to experience the fur trade lifestyle; inside you'll find bison hide, period cooking utensils, blow tube and flint/steel fire-starting kit, bannock mix, trapper's tea, spices, oil and soap.
● Spend the night in 1896 at Fort St. James National Historic Site in British Columbia. Stay in the luxurious Murray house, where the chief factor A.C. Murray once lived, or choose the staff house where packers and trappers overnighted while doing business at the Fort. Taste a traditional dinner – whether salmon, ribs, or stew and bannock – served by costumed interpreters; in the morning, wake to the rooster's crow.
Tent + Hut = Yurt
● With newly opened year-round yurt accommodations, Nature Space Eco Resort on Prince Edward Island beckons guests to escape from the everyday. The resort specializes in eco-yoga, with the goal of restoring the vital connection to the outdoors and bringing bodies and minds back into balance. Also available are kayoga (kayaking and yoga) and kayak-culinary excursions.
● Imagine staying in a handcrafted yurt on your very own private island. At Blue Rocks, Nova Scotia, a two-acre island awaits where visitors can stay in a cozy yurt complete with queen-sized bed, propane stove, kitchenette and deck. By day, kayak to a nearby seal colony, snorkel hidden inlets, explore tidal pools and cycle coastal roads; at night, sleep under the stars close to the picturesque Blue Rocks fishing village. Rock-a-bye, on the Treetops
● Situated on 90 acres of farmland in Terrace, British Columbia, Hidden Acres Farm & Treehouse Resort along the mighty Skeena River – is the perfect getaway for travellers seeking a family-friendly luxury hideaway. Five handcrafted treehouse-style cabins anchor the property, each equipped with a kitchenette, bathroom, electric fireplace and private balcony overlooking lush fields, mountains and wandering wildlife. A communal fire pit next to the cabins is the perfect spot to warm up, toast marshmallows and swap ghost stories as the sun goes down.
● With five TreePODS (geodesic domes in the trees), Treetop Haven on Prince Edward Island is an all-season wellness destination—an idyllic escape in the forest. Surrounded by ocean, beaches and trails, the TreePODS – perched nine feet from the ground – boast private wraparound decks, hot tubs and barbecues, offering the perfect home base for an all-encompassing nature retreat.
● Indulge in the nostalgia of childhood at Les Refuges Perchés in Mont-Tremblant, Quebec. Here, all-season treehouses hide in the leafy forest of the Laurentians, on either side of Lac du Cordon. Fully equipped for a multi-night stay, the treehouses are completely off-grid, which means visitors can fully unplug and focus on the tranquillity of the surrounding wilderness. The wood stove-heated treehouses feature sunny balconies and outdoor fireplaces, with outhouses a short walk away.
To the Lighthouse
● Drift off to the sound of crashing waves after witnessing a spectacular sunset at the West Point Lighthouse Inn & Museum on Prince Edward Island – the only functioning lighthouse accommodation in North America. Built in 1875, the lighthouse became a 13-room inn in 1987. Today, 12 rooms overlook the Northumberland Strait and stunning red sands of the beach, with 11 offering walkout decks.
● At Mingan Archipelago National Park Reserve in Havre- Saint-Pierre, Quebec, stay at a lighthouse outfitted with 50s décor. Indulge in local treats and cocktails, browse an exhibit regaling the history of the lighthouse and slip into a restful sleep to the sound of lapping waves.
Midnight Trains to Dreamland
● The Train Station Inn, situated in historic Tatamagouche, Nova Scotia, offers a unique bed and breakfast experience in century-old train cars. The surrounding village is rich in Canadian history, once serving as a trade route. The original Tatamagouche Train Station was restored in the 1980s with furnishings reflecting its railway past, while each of the seven original cabooses became deluxe accommodations.
● In Cochrane, Ontario, the Station Inn welcomes overnight guests to the Ontario Northland train and motorcoach station. The station's contemporary rooms feature workstations, blackout curtains and amenities like high-speed internet, while offering direct access to the Polar Bear Express train, the uniquely Canadian Tim Horton Museum and other central attractions.
Readers wanting more information should go to www.explore-canada.co.uk

Follow and Share with Jetsettersblog.