Welcome Beyond : Give the Gift of Escapism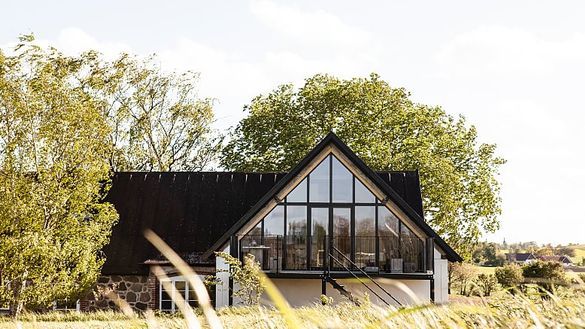 ---
The design gurus at Welcome Beyond, the go-to company for design-minded folks looking for extraordinary holiday accommodation, have for the first time launched new gift experiences. Welcome Beyond gifts are redeemable on any Welcome Beyond hotel or private house rental booking, across over 240 one-of-a-kind properties in 43 countries.
With an extra-long validity of 24 months from purchase, and plenty of properties currently offering super-flexible cancellation policies, a Welcome Beyond gift is a great way to treat a friend or loved one to an unforgettable future escape of their choosing, whilst supporting the travel industry at a critical time.
To purchase, simply visit www.welcomebeyond.com, choose to give a gift with a monetary value from 50 Euros up to 5,000 Euros, and the gift will be sent via email for you to share personally. A Welcome Beyond travel consultant will help the lucky recipient with their booking. As always, Welcome Beyond offers their best price guarantee, complimentary extras on arrival, and no booking fees.
From Greek island retreats for two to rambling Italian villas, and from alpine lodges to modernist beauties, Welcome Beyond's handpicked collection of holiday properties is as varied as it is beautiful. Start dropping hints now!
Here's some inspiration for future travels with Welcome Beyond…
For your loved one:
Rural Italian idyll: Dimora delle balze, Sicily, Italy
Dimora delle Balze is a 19th-century farm estate that's been transformed into a hotel, with 11 uniquely designed rooms, a swimming pool and a wellness area. When you step into Dimora delle Balze, you are transported to another time. But there are also touches of the contemporary, with many of the furnishings custom-designed. Dimora delle Balze is located seven kilometres from the UNESCO World Heritage-listed town of Palazzolo Acreide and enjoys a wonderfully romantic countryside setting.
Welcome Beyond (www.welcomebeyond.com) offers nightly rates at Dimora della Balze from 400 Euros, based on two sharing, including breakfast.
A Minimal Micro-cabin retreat for two: Monocabin, Rhodes, Greece
Monocabin has everything you need, and nothing you don't! Designed to create an easy transition between outside and in, the property makes the ideal spot from which to explore, with over 300 beaches and plenty of sporting activities for an active, affordable break.
Welcome Beyond (www.welcomebeyond.com) offers nightly rates at Monocabin from 139 Euros, sleeps two people. Minimum three night stay.
For your foodie friend:
Explore Sweden's foodie haven: TypeO Loft, Skåne, Sweden
TypeO Loft is a luxurious slow living one-room bed and breakfast located in the southern Swedish region of Skåne and Österlen. A 10-minute drive or 20-minute bike ride will take you to several beautiful sandy beaches that stretch for many kilometres, with scarcely any people on them. The area is also becoming known as a culinary destination and was recently listed in the New York Times as a gourmet "place to watch".  TypeO is located in what's been referred to as the "Riviera of Sweden" due to its unique light that's attracted many artists throughout history.
Welcome Beyond (www.welcomebeyond.com) offers nightly rates at TypeO Loft from 140 Euros per night, sleeps two people, including breakfast. Minimum stay two nights.
Explore an ancient acetaia: Il Borgo del Balsamico, Emilia-Romagna, Italy
A seriously magical property surrounded by charming gardens. A highlight of staying here is visiting the owner's ancient acetaia to see how their traditional Reggio Emilia balsamic vinegar DOP and Modena balsamic vinegar IGP are made. The house was built in the 1700 and has been restored to create a charming, romantic place to stay. The interior style of Il Borgo del Balsamico comes directly from the owners passion for antique and modern vintage furniture. Rent the property by the room or take over the whole thing.
Welcome Beyond (www.welcomebeyond.com) offers nightly rates at Il Borgo del Balsamico from 120 Euros, based on two sharing, including breakfast.
For architecture aficionados:
Mid-century modern goals: Villa Abruzzo, Abruzzo, Italy
Villa Abruzzo is located in the far north of the Italian province of Abruzzo, surrounded by olive groves and vineyards and in close proximity to the Adriatic coast. Featuring a natural stone façade, the LA mid-century design blends in wonderfully with its enchanting and almost untouched natural surroundings, with the large, floor-to-ceiling windows paying additional tribute to the landscape. It is a wonderful retreat from which to explore this little-known part of Italy. The property is close to the snow-capped mountains where wild horses roam, as well as being just a short drive from the beach.
Welcome Beyond (www.welcomebeyond.com) offers nightly rates at Villa Abruzzo (sleeps six) from 1,140 Euros, minimum stay seven nights.
Live in an architectural masterpiece: Saddle Peak House, Los Angeles, USA
A secluded retreat in the Santa Monica mountains, overlooking the Pacific Ocean, Saddle Peak House offers a sublime place within the wild part of southern California. This house explores several oppositional relationships – heavy vs. light, transparent vs. opaque, rooted vs. floating – that combine to create a harmonious sense of balance and an intimate experience of nature.
Welcome Beyond (www.welcomebeyond.com) offers nightly rates at Saddle Peak House (sleeps eight) from 926 Euros, minimum stay three nights.
For families:
Alpine adventures: Wallis Heidenhaus, Wallis, Switzerland
Wallis Heidenhaus is a typical Heidenhaus in the village of Ernen that was built between 1424 and 1454. It's one of the oldest surviving houses of this kind in the Goms region. and has been beautifully preserved, now comprising two apartments. It's ideal for families –  children will love checking out the animals in the village, including the goats and donkeys that live right next door.
Welcome Beyond (www.welcomebeyond.com) offers nightly rates at Wallis Heidenhaus from 139 Euros, based on two sharing an Apartment. Minimum stay seven nights.
Explore wild Bavarian countryside: Ansitz Hohenegg, Bavaria, Germany
A traditional Allgau mountain resort property restored by local craftsmen using authentic materials, Ansitz Hohenegg mixes tradition and modernity to offer contemporary living in the wild Bavarian countryside.
Welcome Beyond (www.welcomebeyond.com) offers nightly rates at Ansitz Hohenegg from 129 Euros, based on two sharing, including welcome package.
For nature lovers:
A rural Renaissance wonder: Gut Üselitz, Rügen, Germany
Gut Üselitz is a 16th century Renaissance manor with seven beautiful holiday apartments to rent. It's located in the south of the island of Rügen, in north east Germany. As one of the island's oldest buildings, it has been reconstructed into an elegant estate, which is surrounded entirely by water. It's a remote and idyllic place. There are no televisions here, but binoculars are in every room – a nature lover's paradise.
Welcome Beyond (www.welcomebeyond.com) offers nightly rates at Gut Üselitz from 70 Euros, based on two sharing, Room Only.
Beachlife and birdlife: Hotel Stelor, Gotland, Sweden
Situated at the very end of a small village on Gotland Island, Sweden, in the Baltic Sea, staying at Hotel Stelor feels like you are very far away from everything else. A small, rustic, countryside boutique hotel that was originally a Gotlandic farmhouse from the 1700s, the hotel has seven luxurious rooms.
Gotland has so much charm, with long, sandy beaches, and a strong sense of culture. Ingmar Bergman lived here, as well as a lot of other creative people who still live and work here, like shoemakers and painters. The hotel is surrounded by water, with a lake in the back and the Baltic Sea in front. It's only a five-minute walk to the nearest beach, but if you want to go to a bigger beach, within 10 minutes you can reach Gotland's biggest sandy beach by bike. This is a great location for keen bird watchers – the lake attracts eagles and lots of other sea birds.
Welcome Beyond (www.welcomebeyond.com) offers nightly rates at Hotel Stelor from 220 Euros, based on two sharing, including breakfast.
Welcome Beyond is a global collection of holiday houses, b&bs and boutique hotels, all with unique architecture and design at their heart. They feature properties in over 43 countries around the world at all price points and to suit every holiday vibe.
@welcomebeyond
-e
Follow and Share with Jetsettersblog.