Wellness and Tranquillity at Jumeirah Beach Hotel's New Talise Spa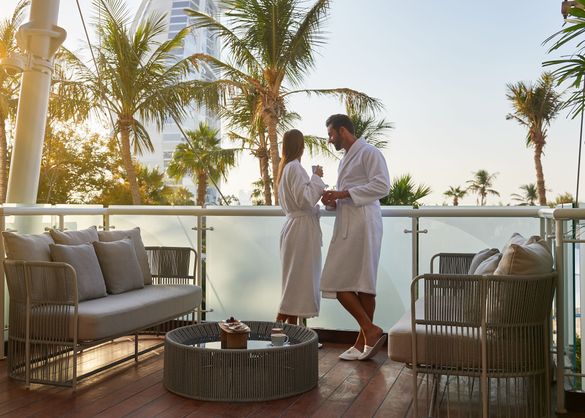 The new Talise Spa at Jumeirah Beach Hotel has opened its doors, offering guests a sensory journey across the breath-taking coastline of the United Arab Emirates. Inspired by its proximity to the ocean, the stunning space features a menu of specialised treatments and exclusive products that have been sourced to aid the retreat from everyday life into an oasis of serenity.
Dedicated to delivering genuine results, the highly skilled team at Talise has singled out a collection of prestigious brands and exclusive products. Aromatherapy Associates, a range guided by a holistic philosophy, Ling New York, which taps into Asian beauty secrets, and marocMaroc, which features a collection of reinterpreted ancestral beauty customs with modern formulas for Hammam treatments, are among the luxurious collections that guests can take advantage of.
The spa is also the first in Dubai to feature 111SKIN, a revolutionary brand straight from London's renowned Harley Street by cosmetic surgeon, Dr. Yannis Alexandrides. Leveraging over 20 years of surgical experience, Dr. Yannis curated advanced medi-spa products for precision skincare treatments, to protect, heal and restore courtesy of 111SPA/CLINIC.
Speaking of the partnership with the Talise Spa at Jumeirah Beach Hotel, Dr. Yannis commented: "The brand combines the results of 111 Harley St. with the luxury of 111SKIN, offering a selection of face and body experiences that address all skincare concerns. We are so thrilled to have found a home in Jumeirah Beach Hotel, which shares in our values of luxury, wellness and relaxation".
With a menu that offers bespoke treatments to soothe the body and soul, Talise Spa has something for every wellness need. From the signature collection, the "Journey of Senses" is the perfect choice for a truly relaxing experience, whilst for those who seek the healing powers of CRYO therapy, the menu features the Elite 111CRYO Collection, enriched by the specialised products by 111SKIN. This bespoke collection includes focused treatments and stimulating sport massages, scientifically proven to release tension and revive muscles.
The facilities, situated on the first floor of Jumeirah Beach Hotel, feature 1,200 sqm dedicated to soothing the senses, with ten treatment rooms crowned by the VIP double suite with en-suite Hammam area. Each detail of the design was inspired by the calm sensation of waves on the seashore, forming graceful lines and soothing spaces to draw guests into their personal haven. Here, visitors may take advantage of the luxurious spa facilities, framed by subtle tones of beige and beautiful white marbles, or choose to relax post-treatment on the stunning spa terrace, overlooking the ocean.
To complement the spa, the new cutting-edge lifestyle and wellness club, The J Club, and FIKA, the newly opened restaurant by Chef Izu Ani, contribute to transform Jumeirah Beach Hotel into the go-to spot for every wellness need. Situated just next door to Talise, The J Club offers best-in-class gym equipment and fitness programmes, while FIKA is the perfect spot for guests to relax and enjoy a "clean indulgence" from the innovative menu.
Speaking of Talise Spa, Jason Harding commented: "We are delighted to open our new Talise spa here at Jumeirah Beach Hotel. We are very confident this will not only enhance our guest experience but attract local residents of Dubai. The spa aims to redefine wellness by combining the wisdom of traditional holistic therapies and result-driven treatments with the scientific power of the purest natural ingredients for bespoke face and body treatments".
Talise Spa at Jumeirah Beach Hotel is open from 09:00am until 09:00pm daily. In order to enjoy the facilities, guests must reserve a minimum of a 60-minute treatment.
For bookings or further enquiries, please contact:
Phone: +971 4 406 8821
Email: JBHTaliseSpa@jumeirah.com
About Jumeirah Group:
Jumeirah Group, the global luxury hotel company and a member of Dubai Holding, operates and manages a world-class portfolio of 15 properties in the Middle East, including the flagship Burj Al Arab, 5 properties in Europe and 4 in Asia with 10 properties currently under construction around the globe.
Follow and Share with Jetsettersblog.