Wellness Series at Niyama Private Islands, Maldives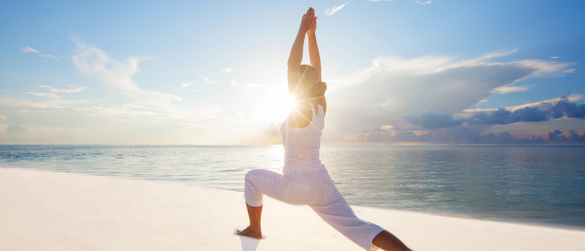 ---
Niyama Private Islands Maldives is delighted to announce its upcoming Wellness Series which will see wellness specialists from across the globe take up residency at the resort. The series, which begins in September and runs through to January 2019, will offer a variety of treatments exclusively to Niyama guests. From reiki and sound bowl therapy to vitamin injections and non-surgical facelifts, both spiritual and physical enhancements can be found at this tropical island paradise.
Holistic Therapy with Muayad Najemeddin, 29th September – 26th October 2018
Holistic therapist, Muayad Najemeddin will be at Niyama this autumn sharing his global experience and healing energies. Muayad helps clients immerse into relaxation by tailoring each therapy to their lifestyle to release stress and uplift vibrations. Guests will be able to treat body and mind with Meditative Yoga whilst listening to the sounds of the Indian Ocean and partake in a private healing and energy purification sessions with vibrational treatments such as Tibetan Singing Bowl Therapy and Reiki, an ancient Japanese technique to reduce stress levels.
Beverly Hills IV Therapy with Deborah Alessi, October 2018
Launching in October, the private island's DRIFT Spa, in collaboration with Beverly Hills IV Therapy, will provide guests with a range of IV therapy formulations including Detox, Fat Burn, Hydration, Jet-Lag, Anti-Aging and Vacation Booster. IV Therapy is a safe, immediate and effective solution to many health concerns and helps to support optimal health and wellness, with benefits lasting for at least seven days post-treatment. The therapy delivers nutrients directly into the blood stream for optimum results. Deborah Alessi, CEO of Beverly Hills IV Therapy, says that the therapy "allows guests to receive all of the vitamins they need to strengthen the immune system, clear toxins and hydrate."
IV Therapy Treatments are priced from £196, with treatments taking around 45 minutes. A free consultation and medical history review is carried out pre-therapy. For more information, please visit www.niyama.com/en/drift-spa
Yoga and Wellness with Jade Wood, 22nd October – 22nd November 2018
Certified Yoga teacher from the School of Sacred Arts in Ubud and Biodynamic craniosacral Therapist, Jade Wood, will be at Niyama Private Islands Maldives from 22nd October – 22nd November to offer her inimitable teachings in wellness. Jade works with the whole body, starting with a craniofacial massage, using an aromatic, organic essential oil blend of rose geranium, frankincense and rosemary. Combined with lymphatic drainage, acupressure and craniosacral head holds, the stagnant energy from the body is lifted, leaving an overwhelming sense of calmness. Each private or group session encourages the release of tension patterns within the rest of the body through the Feldenkrais method. Being an all-round practitioner of somatic movement, Jade draws on the disciplines of yoga, conscious visualisation, dance and touch in order to connect the body with how we relate to life within it.
Non-Invasive Cosmetic Treatments with Dr. David Alessi, 20th December 2018 – 8th January 2019
Dr. David Alessi, renowned Beverly Hills plastic surgeon to the stars, will be returning to Niyama to offer his regenerating, non-invasive treatments in the tranquillity of the turquoise paradise. Dr. Alessi is the founder and medical director of the Alessi Institute for Facial Plastic Surgery, Beverly Hills. Guests can experience a rejuvenating non-surgical facelift with the Maldives' only licenced cosmetic surgeon. In just minutes, faces are smoothed, tightened, lifted and revitalized through a signature combination of Botox, hyaluronic fillers, and Kybella – the first and only USFDA-approved injectable to dissolve fat cells under the chin that redefines and shapes the jawline and chin, achieving a more youthful complexion.
Niyama Private Islands proudly supports Face Forward, a charity founded by Dr. Alessi and his wife Deborah, providing reconstructive surgery and emotional support for victims of domestic violence around the world. Along with the reconstructive surgery, Face Forward partners with local community centres to provide victims of abuse with counselling, housing, jobs and legal assistance.
Guests who pre-book/purchase their treatments before 1st December 2018 will receive a 20% discount.
Drift by Niyama offers cutting-edge beauty and wellness in a stunning overwater-garden setting. Offering the Maldives' only Intraceuticals facials, revitalising Anne Semonin and Gentlemen's Tonic treatments, and beautifying at The Salon by Pedro Sanchez, the sanctuary is also home to a continual roster of visiting practitioners jetting in from around the globe. For more information visit niyama.com/en/niyama-spa or contact spa@niyama.com
Cast away, together. Find a very private setting for intimate, one-of-a-kind experiences. With twin islands Play and Chill, Niyama offers the luxury of choice, catering to your holiday desires and letting you live large in a world unto yourselves.
At Play: Feast in the treetops. Hang ten on some of the world's best surf breaks. Float into the infinite horizon or dive offshore through the kaleidoscope of the reef. Kick things up a notch in villas set on white sands and tailored to adventurous honeymooners, active couples and style-savvy families.
At Chill: Revel in a peaceful moment within the cocoon of Drift Spa by Niyama. Indulge in culinary heaven 500 metres out to sea or dine ashore in wild Africa. Soothe your soul to the slow rhythms in overwater studios. Lounge against the flowing oceanscape in an underwater lounge.
*Niyama Private Islands was named fourth in the 2017 Condé Nast Traveller Readers' Choice Awards for Top Resorts of the World.
02076373220
Follow and Share with Jetsettersblog.