What's Happening in Santa Fe in 2022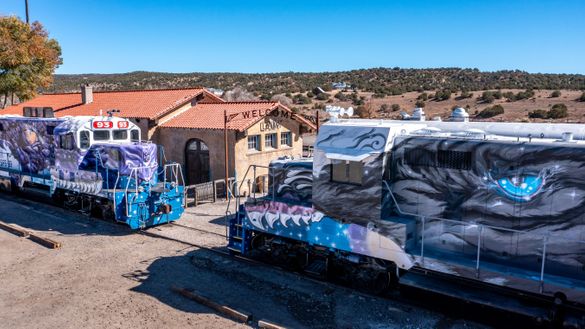 NEW & COMING ATTRACTIONS

RAILYARD RENAISSANCE: The Santa Fe Railyard District gets more exciting by the day and is shaping up to be the must-explore contemporary center of Santa Fe. New attractions based in the Railyard include:
SKY RAILWAY ADVENTURE TRAIN – Hop aboard Sky Railway, Santa Fe's new adventure entertainment train, for rides focused more on the journey than the destination. Two former Santa Fe Southern Railway engines and several historic passenger cars have been restored and reimagined by a team lead by Game of Thrones author, George R.R. Martin, and feature visuals that reference his work in the form of a graffiti art inspired dragon and wolf. The fantastical rail adventures roll merrily along an 18-mile stretch of track, dating back to the 1880s, between the Santa Fe Railyard depot and the Lamy depot. Adventure rides range from holiday themed experiences to murder mysteries, from sunset cocktail rides to after dark stargazer express runs. Learn more at SkyRailway.com.
NEW MEXICO MUSEUM OF ART VLADEM CONTEMPORARY – Under construction now; Scheduled to open in August 2022
Just one block away from the Santa Fe depot building, the New Mexico Museum of Art will expand into a second location called the Vladem Contemporary. The new 35,000-square-foot exhibition space housed in a former 1930s brick and steel warehouse, will feature contemporary and post-war artwork and allows for large scale installations, multimedia projects and performance-based works that are all central to New Mexico's 21st century artistic practice.
Learn more at media.newmexicoculture.org/release/1345/new-mexico-museum-of
ADDITIONAL NEW BUSINESSES CALLING THE SANTA FE RAILYARD HOME IN 2022: Altar Spirits craft distillery and tasting room, Nuckolls Brewing Co. tap room and beer garden, La Lecheria craft ice cream, Built Design interior/home décor shop.
MARK YOUR 2022 CALENDARS FOR NEW AND RETURNING EVENTS
INDIGENOUS CELEBRATION 2022 – A yearlong spotlight on Native American art and culture
North American Indigenous art, both traditional and contemporary, dominates gallery exhibitions and event programming every August in Santa Fe. Indigenous Celebration 2022 (IC22) is a collaborative initiative to highlight the exceptional Indigenous Artists and venerable Indigenous art and culture events and institutions that make Santa Fe the world's most notable destination for Indigenous American Art.
In 2022, Santa Fe will host major milestones of Indigenous art and culture including the centennial market of the Southwestern Association for Indian Arts (SWAIA) Santa Fe Indian Market, the 100th year of the School for Advanced Research (SAR) Indian Arts Research Center (IARC) Collection, the 85th anniversary of the Wheelwright Museum of the American Indian, the grand opening of two groundbreaking galleries at the Museum of Indian Arts and Culture, the 60th anniversary of the Institute of American Indian Arts (IAIA) and the 50th anniversary of the IAIA Museum of Contemporary Native Arts plus the first-ever Art Indigenous Santa Fe contemporary Indigenous art gallery show. Find a list of IC22 events and learn more at indigenouscelebration22.org.
INAUGURAL SANTA FE LITERARY FESTIVAL – MAY 20-23, 2022
The first multi-day Santa Fe Literary Festival is scheduled for May 2022, with a notable lineup of literati from near and far scheduled to descend on The City Different for an exchange of ideas on important societal issues and to simply escape into great stories. Over 40 events and sessions will include a keynote address from Colson Whitehead, literary walking tours, panel discussions, and lunches with influential chefs and food writers. Notable participants include John Grisham, Sandra Cisneros, Joy Harjo, George R.R. Martin, Douglas Preston and more. Learn more at sfliteraryfestival.org.
ART INDIGENOUS SANTA FE – INAUGURAL EVENT, AUGUST 18-21, 2022
Art Indigenous Santa Fe, a cutting-edge Contemporary North American Indigenous Art Fair, will debut in Santa Fe, New Mexico in August 2022, in connection with the Santa Fe Indian Market. The new gallery focused art show will feature sculpture, painting, photography, installation and performance from worldwide galleries who regularly exhibit contemporary Indigenous artists from the United States and Canada. Learn more at swaia.org/art-indigenous.
MAJOR ANNUAL EVENT DATES FOR 2022:
• Native Treasures Art Market – May 27-30
• Currents New Media Festival – June 17-26
• Santa Fe Opera 2022 Season – July 1-August 27
• International Folk Art Market – July 6-10
• Santa Fe Art Week – July 11-15
• Traditional Spanish Market/Contemporary Hispanic Market – July 23-24
• 100th Santa Fe Indian Market – August 20-21
• 98th Burning of Zozobra – September 2
• Fiesta de Santa Fe – September 3-11
• Santa Fe Wine and Chile Fiesta – September 21-25
• Albuquerque International Balloon Fiesta – October 1-9
• Canyon Road Farolito Walk – December 24

Follow and Share with Jetsettersblog.