What's Happening in Southern Oregon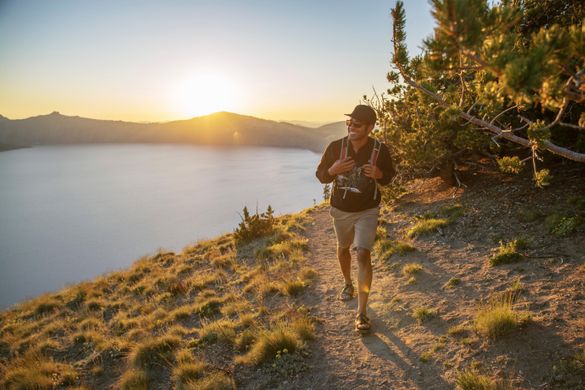 Fall is a special time in Southern Oregon, as the days are still warm and the nights are crisp. For those who want to get outside and enjoy the region's spectacular scenery, it's a perfect time to visit the vineyards during harvest season, or take a hike under foliage colored in hues of chardonnay and pinot noir. When winter arrives, things slow down, providing more time to connect to people, cultures, food and music. It might feel like places such as Crater Lake or Mt. Ashland become even more alive as they turn into a winter wonderland of awe-inspiring views. Here's a peek at what's happening now in Southern Oregon:
What's New
Troon Vineyard Receives Organic Certification
Troon Vineyard recently became the first estate farm in Oregon and the second winery in the world to become Regenerative Organic Certified™️. Regenerative agriculture is a way of farming that reverses climate change through rebuilding soil organic matter and restoring biodiversity. Founded in 2018, the Regenerative Organic Certification is a revolutionary new certification that champions farmers who go above and beyond in the three pillars of this certification: soil health, animal welfare, and social fairness. By attaining this certification, Troon Vineyard is helping to address long-term solutions to climate change and some of the biggest agricultural issues of our time. All Troon wines are made from Biodynamic® certified grapes spontaneously fermented with indigenous yeasts and no additives of any kind.
New Routes Offered to Southern Oregon's Medford Rogue Airport
The Rogue Valley International-Medford Airport has added a direct flight to Reno/North Tahoe through ExpressJet Airlines' "air-hotel-adventure" leisure brand, aha! Flights will begin on Sunday, October 31, 2021, and will operate each Tuesday, Thursday and Sunday, Return flights will operate on the same days. aha! is offering an introductory, limited-time launch fare of $49 each way.
In addition, America's first new mainline airline in nearly 15 years is now offering service between the Los Angeles region and Southern Oregon. With everyday low fares, Avelo Air now flies nonstop between Rogue Valley International-Medford Airport (MFR) and Hollywood Burbank Airport (BUR).
New Lodging Options for Medford
Medford can be an ideal home base for exploring the vast diversity of things to do Southern Oregon's Rogue Valley. New hotel offerings include:
A new 111-room Compass by Margaritaville Hotel is coming to Medford with an expected opening slated for early 2022. Capturing the Margaritaville state of mind, while delivering fresh, up-scale, and vibrant designs, Compass Hotel Medford will feature plush and comfortable, island-inspired accommodations and amenities signature to the branded concept in an attentive but laid-back ambiance. Relaxed and casual dining and drinking spaces will offer flavors and entertainment that transport guests to paradise. Bringing the fun and flavor of their full-scale resorts to a more boutique concept, Compass Hotel Medford will be the first Margaritaville venue in Oregon.
My Place Hotel opened in Medford summer 2021 and is ideal for both short-term and long-term travelers. Rooms feature pillow top mattresses, microfiber bedding, and a variety of soft and firm pillows. For added convenience, all extended stay rooms offer their own My Kitchen, which includes a full-sized refrigerator, a two-burner cooktop, and a microwave.
Fairfield Inn & Suites recently opened in downtown Medford, conveniently located off I-5. With eastern views of the Cascade Mountains and western views of the Coastal Range foothills, this pet-friendly hotel is just steps from the newest dining choices and shops and just minutes from US Cellular Community Park. The hotel highlights creative and flexible unconventional spaces including expansive guest areas providing space for gatherings, lounging, or fresh air by the outdoor firepit.
Spence Mountain Adds Trail Additions in Klamath Falls
Klamath County has expanded the network of trails on Spence Mountain, adding more diverse riding experiences for mountain bikers of all skill and fitness levels. Spence Mountain has more than 40 miles of trails including the newest addition, Speed King, a flow trail that can be accessed from South Ridge Trail. Speed King was created to be a wide, smooth, one-way downhill trail, with lots of jumps and berms for maximum fun.  The master plan is to add over 60 miles of biking trails to enjoy.
Bar Run Golf & RV Resort Opens in Roseburg
Built along the Umpqua River, the newest golf course from Pacific Northwest golf course designer Dan Hixson has opened 10 holes of the new course, which was created to be a  challenging golf experience. Golfers and recreation enthusiasts can currently reserve a limited space to play and enjoy food and drinks until the entire course, plus an RV Resort, opens in 2022.
New Flying Tours of Crater Lake National Park and Klamath Basin
Catch a bird's eye view of the deepest lake in North America with Crater Air. Crater Air is a small family-owned and operated company offering scenic Klamath Basin Air Tours that provide passengers with beautiful views, historical insight, and commentary of many wonderful sights. Tours may include the Upper Klamath Lake, Klamath River Canyon, Mt. McLaughlin, Klamath River and Aspen Butte, as well as the iconic Crater Lake. Other offerings include a Romantic Sunset Flight and Aerial Photography Flights which are designed to provide photographers with spectacular aerial views.
Spring Creek Restoration in Klamath County
Spring Creek at Collier Memorial State Park is known for its pristine waters and epic kayaking opportunities and more people are wanting to enjoy Klamath County's uncrowded public lands. Improvements for the area will include an ADA accessible natural stone launch area for water users to safely access Spring Creek from the Day Use area within Collier Memorial State Park, kayak racks, improved pathways, fencing and gates, and informational kiosks with directional, stewardship and cultural messaging.
Rogue Picnics Offers Unique Curated Meals
Southern Oregon is a picknicker's dream. From its many parks, forests, lakes and wineries, it's the perfect place to enjoy the fall weather while social distancing in the great outdoors. Rogue Picnics is creating luxury picnic experiences, while collaborating with wineries, restaurants, and other businesses for those who want a special meal. The company will set up plush pillows and table settings, along with baskets of fresh Southern Oregon produce for a ground feast at your special location or one of their hand-selected wineries or private outdoor venues. Special holiday meals are also offered.
New Ashland Restaurants
Ashland is a foodie hot spot, with award-winning restaurants that are all about fresh, seasonal and sustainably prepared food. Here's some of the newest offerings:
From the creators of popular MÄS restaurant, raw bar NAMA by chefs Joshua Dorcak and Luke VanCampen recently opened in Ashland. Menu items include a selection of raw oysters, ice bentos and sushi handrolls, as well as sake and Rogue Valley wine.
Osteria La Briccola recently opened at with one of the top patios on the Plaza in downtown Ashland. Chef Davide Ghizzoni's wide range of pasta is all made in-house, including gnocchi, spaghetti, pappardelle, penne, tagliatelle and bucatini, and many recipes are learned from his grandmother.
Skout Taphouse and Provisions is a new creekside gathering spot located near Lithia Park, and comes complete with vintage travel trailer. The pub features more than 60 craft brews, hard ciders and kombucha, all on tap, and craft cocktails, as well as menus items such as theRisk it for the Brisket
Mt. Ashland Joins Indy Pass
Mt. Ashland is joining the Indy Pass partnership, beginning the 2021-22 winter season. The Indy Pass is the fastest-growing multi-mountain pass partnership in the world and features ski resorts in all regions of the US. The fiercely independent mountains, many of which are family owned and operated, offer smaller crowds, welcoming atmospheres and authentic, old-school vibes. There are a total of 66 resorts in the US and Canada currently participating in the Indy Pass partnership.
Fall Foliage
For a great place to see fall foliage in Southern Oregon, follow the Rogue-Umpqua Scenic Byway from Gold Hill east of Grants Pass north toward Crater Lake, and then head west through Glide to the Umpqua Valley. The route takes you past several volcanic peaks, rushing rivers and plenty of fall color in the Umpqua National Forest. The Upper Klamath Basin is filled with dramatically colored deciduous oak trees, as well as red alder, bigleaf maple and quaking aspen. For hiking to spots with Instagram worthy views of the brilliant oranges, reds and golds that color the landscape, try Roxy Ann Trail in Prescott Park up to Roxy Ann Peak in Medford,  the iconic Table Rocks, or Fremont-Winema National Forest. The 93 acres of forested canyonland in Ashland's Lithia Park is a utopia of fall color, with local deciduous trees, European beech, Japanese snowbell and eastern flowering dogwood. For those who are warmed by a glass of wine, follow Applegate Valley Wine Trail and sip and peep at the pumpkin spice-colored leaves.
Winter Activities
Southern Oregon caters to all types of travelers with plenty of fun cold weather activities. With majestic views of Mt. Shasta, Mt. McLoughlin, and all of the surrounding natural beauty, Mt. Ashland provides terrain for skiers and riders of every ability. The ski area, which opens on December 18, is located on 200 acres on the highest mountain in Southern Oregon's Siskiyou range. Cross country skiing is a great way to explore the backcountry of Diamond Lake, Crater Lake, and Lake of the Woods Resort. Try your hand at snowshoeing through the white wilderness of Crater Lake National Park or Siskiyou Summit. For those who want an exhilarating adventure, Diamond Lake Lodge offers snowmobiling. Outdoor Ice skating is available at Ashland Rotary Centennial Ice Rink in or Bill Collier Ice Arena at the Running Y Ranch. Kids will love sledding at Table Mountain, located within the Cascade-Siskiyou National Monument. Animal lovers will enjoy winter birding in the Klamath Basin, an area full of lakes, vast wetlands and the Pacific Flyway – a major route for migratory birds from Alaska to Patagonia in South America.
Fall and Winter Events
Oregon Shakespeare Festival, through January 2022
Founded in 1935, the Oregon Shakespeare Festival (OSF) is in its eight-month season with works that include Shakespeare as well as a mix of classic, musicals and world-premiere plays. OSF's play commissioning programs have generated works that have been produced on Broadway, throughout the American regional theatre, and in high schools and community theatres across the country. OSF believes in the inclusion of diverse people, ideas, cultures and traditions that enrich the work they present on stage. Through Oct. 9, see Fannie, a passionate rallying cry—part spiritual revival, part political call to action—defines what it means to be a true revolutionary. OSF's first holiday special, It's Christmas, Carol, featuring Dickens, the Marx Brothers, Shakespeare, and dinosaurs (yes, dinosaurs) will be showing from Nov. 22- Jan. 2.
Art Along the Rogue, October 1-3, 2021
Stroll Grant's Pass as the streets become colorful murals to celebrate local artists and musicians during this chalk street painting festival with music and food. See some of the best street artists in the nation create their magic before your eyes, enjoying a variety of art displays and activities. Children can let their creativity flow and join in on the fun by painting their own square.
Winter Wings Festival, February 18-20, 2022
The Klamath Basin Audubon Society produces the annual Winter Wings Festival celebrating the largest wintering population of bald eagles in the lower 48 states as well as the abundance of all the birds that make the Klamath Basin home, which typically range from 130 or more. As the oldest birding festival in the West, the goal is to educate visitors on the importance of the Klamath Basin in the Pacific Flyway, a major north-south route of travel for migratory birds in the Americas, extending from Alaska to Patagonia.
Oregon Chocolate Festival, March 4-6 2022
The Oregon Chocolate Festival welcomes chocolate lovers with events like the Spa Chocolate Cocktail Party and Chocolate Winemakers dinner. Learn more about your favorite superfood in chocolate and wine paring workshops and educational sessions, and guests can even work off the calories at Charlie's Chocolate 5k and 10K Run/Walk.
Oregon Cheese Festival, March 13-14, 2022
The Oregon Cheese Festival at Rogue Creamery is a farmer's market-style event supporting the Oregon Cheese Guild, featuring cow, sheep, and goat cheese from Oregon and Western U.S. creameries. Enjoy pairings of fine Southern Oregon wine, craft beer, ciders, assorted beverages, local artisan crafts, and great food under large, heated tents. Sample and purchase local, artisan cheese, specialty foods, beer, wine, and cider from over 100 vendors.
Travel Southern Oregon
Beautiful Southern Oregon is home to Crater Lake, The Oregon Shakespeare Festival, the wild Rogue River and historic towns where visitors can Do Something Great in five distinct regions: Crater Lake, Rogue Valley, Umpqua Valley, Klamath Basin, and the Southern Oregon Outback.
Southern Oregon's abundance of outdoor activities, arts and culture, culinary delights, wine and unique lodging offer inspiring experiences for wine lovers, theatergoer, history buffs, and outdoor enthusiasts alike. You'll be surprised to find more than 150 wineries that grow the greatest variety of grapes in the state, five National Park assets and even a high desert in the vast Oregon Outback.
For more information about Southern Oregon, visit us online or follow us on Facebook (Travel Southern Oregon), Instagram (@travelsouthernoregon), and Twitter (@southernoregon).

Follow and Share with Jetsettersblog.