What's Hot in Aspen + Snowmass this Summer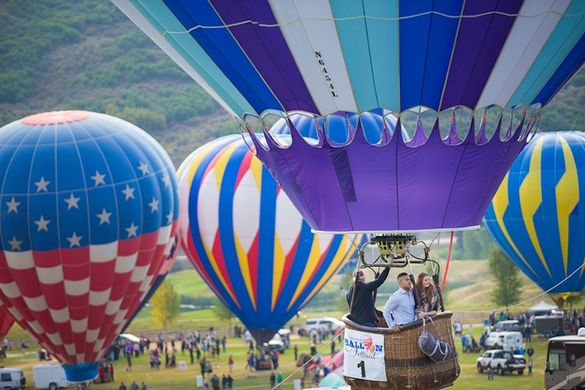 ---
Combining world-class arts and culture, adventure, mountain beauty and the charming Aspen downtown, a spring, summer or autumn holiday in the Colorado destinations of Aspen & Snowmass is incomparable.  Now, it is even easier, and more affordable, for British travellers to experience the wealth of activities on offer with the launch of more direct, and great value, flights from London to Denver. To top it off, there is huge range of accommodation options to suit all budgets.
GETTING TO ASPEN & SNOWMASS HAS NEVER BEEN EASIER
Norwegian Air has just launched a direct London Gatwick to Denver flight route with fares from £500 and United Airlines launches new daily nonstop service between Denver and London Heathrow (LHR) beginning March 24. There are also one-stop connections between London Heathrow and Aspen-Pitkin County Airport (ASE) on both American and United Airlines through hubs including Dallas-Fort Worth, Chicago-O'Hare, Los Angeles International, Houston, and San Francisco International.
During the summer, American Airlines offers nonstop flights from Manchester to Chicago, while United Airlines offers nonstop flights from Edinburgh to Chicago, both of which easily connect to or from ASE. Aspen is located 3 miles and Snowmass is located 6.5 miles from Aspen-Pitkin County Airport; most hotels offer complimentary airport transfers.
America As You Like It offer a 7 night holiday to Aspen and Snowmass from £1575 per person including return flights from London to Denver on Norwegian, car hire, 4 nights at the Hotel Jerome in Aspen and 3 nights at the Westin Snowmass. Price based on 2 people sharing. For more information contact 020 8742 8299 or visit www.americaasyoulikeit.com
Here is a snapshot of what is new & notable in Aspen & Snowmass for 2018:
HOTEL NEWS 
Hotel Jeromewill add six new keys in a new building adjacent to the historic Aspen Times building in June 2018. The new rooms will allow Hotel Jerome to attract multi-generational families with the new units also able to be configured as two three-bedroom suites. The Aspen Times building will house an old-fashioned barber shop as well as an entrance to a subterranean speakeasy-style bar.  Hotel Jerome will also be unveiling a new space in June, which will open onto the courtyard and offer 735 square feet of event space, designed to accommodate weddings, meetings, and social events.
Limelight Hotel in Snowmass – Fun, laid-back luxury with an energetic vibe, Limelight Hotel, opening in November 2018, will feature 99 hotel rooms, an indoor/outdoor lounge area, a five-story climbing wall open to the public – the largest of its kind in the state – a fitness centre, kids' room, and outdoor spas and deck.
Aspen Meadows Resortwill open a new Pavilion and renovated Reception Center in June 2018. With stunning views of the surrounding mountains from Aspen Mountain to Aspen Highlands to Buttermilk, the new Pavilion will incorporate a modern design aesthetic from Jeffrey Berkus Architects, while preserving key elements of the present architectural work. The addition of the Pavilion will provide an all-weather venue and outdoor deck space for events, weddings, and meetings accommodating up to 100 more guests. A new outdoor deck will be added to the existing Meadows Restaurant.
W Aspen and The Sky Residences at W Aspenis slated to open by spring 2019. The new hotel and residences are being designed by Nemaworkshop in partnership with local firm Rowland + Broughton Architecture and W's in-house design team, offering 88 guestrooms and 11 W-branded fractional residences. Conveniently located at the base of Aspen Mountain, the development will also feature a 12,000 sq. ft. rooftop bar and pool, which will be open to the public with expansive views of Aspen Mountain.
Upcoming: Located at the base of Snowmass Ski Area in the heart of Snowmass Village, Colorado, Snowmass Base Village (SBV) is a $600 million mountain-resort development – the largest currently under construction in North America. This approximately 10-year project will add lodging, residences and amenities to the world-class mountain and resort. Completion of the first phase of construction, is slated for November 2018, and includes the Limelight Hotel, ski-in/ski-out residences, public events plaza, and community building.
OUTDOOR ADVENTURE 
NEW! The Lost Forest fully debuts in Snowmass this summer. The Lost Forest is a new on-mountain activity center featuring the Breathtaker Alpine Coaster, which opened in December 2017 and features a 5,700 foot track that winds through the trees at speeds of up to 28 miles per hour, the Canopy Run Zipline which includes a three hour rappelling and zipline tour with 8 ziplines up to 90 feet off the ground, and the Treeline Trail Challenge Course – a high ropes course offering five different paths at five different difficulties, and takes you 40 feet into the air. The Lost Forest opens on June 22, 2018. A new Rugged Ascent Climbing Wall adds to the fun in late August 2018.
NEW! We-Cycle Aspen's local bike sharing program, will now offer the first 30 minutes of every We-Cycle ride fare free to all riders. We-Cycle launched in 2013, making Aspen the first-ever resort town to have an official bike-sharing programme.
NEW! New Biking & Hiking Trails – Snowmass Bike Park continues the trail expansion that began last summer. For 2018, a new 4.8 mile intermediate trail from the top of the Elk Camp Chair will be constructed, along with a new expert jump trail on the lower section of the mountain. These new additions are slated to come online in late summer. Snowmass Bike Park is open until dusk on select Tuesdays throughout the year, giving guests the chance to experience new trails at different times of the day. Hikers can enjoy new alignments for the Rabbit Run and Sierra Loop trails in the Elk Camp area this summer.
FOOD & WINE NEWS
Marble Bar Aspen, a Marble Distilling Co. concept and tasting room, opened over the winter season inside the Hyatt Residence Club Grand Aspen. The new bar serves up Colorado craft cocktails made with local Marble Distilling spirits, and farm-to-table small bites. (415 E. Dean St.)
NEW! Aspen Brewing Company has moved into a new space with a spacious patio on Galena Street with views towards Aspen Mountain. The new tap-room called Aspen Tapserves small bites for lunch and dinner, features select liquor and wines, and of course serves Aspen Brewing Company beer. (121 S. Galena St.)
NEW! Maker + Place recently opened Local Coffee House, a new coffee shop inside the part retail, part design creative space. Local Coffee House offers coffee as well as small bites for breakfast and lunch, all affordably priced under $10. Local Coffee Shop customers can order coffee or food in advance through their app for a swift and easy experience. (315 E. Hyman Ave.)
NEW! Gorsuch Ski & Cafe opened over the winter 2018 season on gondola plaza. With a charming patio with a warm fire, cozy shearling-covered chairs, and a large joiner's table, Gorsuch Café has become a new favorite hangout spot. The café offers coffee drinks and breakfast, lunch and après-ski snacks, including select wines and beers. (555 E. Durant Ave.)
COMING JUNE 2018! A new speakeasy is opening in Aspen! The Hotel Jerome will convert the historic Victorian-era Aspen Times building into an old-fashioned barber shop as well as an entrance to a subterranean speakeasy-style bar opening in June 2018. (330 E. Main St.) 
Austin-based eatery Clark's Oyster Bar will expand with a new location in Aspen in June 2018.  The unnamed Clark's expansion will serve up seafood dishes, burgers, and more. (517 E. Hyman Ave.)
Local resident and restaurateur David Roth is opening Oakville Grocery Aspen, a new restaurant featuring farm-first products serving up breakfast and lunch. Oakville Grocery will also offer specialty items for purchase including locally made breads, meats, cheese and more.  (201 E. Main St.)
Francesca's Empanadas debuted in Snowmass this winter and features various flavours of empanadas, done in the traditional Argentinian style, as well as croissants, coffee, and more. Located next to Aspen Sports on the Snowmass Village Mall, Francesca's is ideal for a grab and go breakfast, lunch, or quick bite to eat.
Elk Camp Farm-to-Table Tuesdays, a series of farm-to-table dinners in partnership with local farmers, return for summer 2018  in conjunction with Bonus Bike nights, dusk riding in the Snowmass Bike Park.
KIDS & CULTURE NEWS
Anderson Ranch offers 140 art workshops each summer in 8 artistic disciplines. New for this summer are Tech Workshops for kids and free guest faculty lectures on Tuesdays and Sundays from 3rd June – 18th September. The Visiting Artists Programme returns with free lectures open to the public.
Destination Hotels recently began partnering with Babierge, which lets parents rent all the baby gear they need on site, so they don't have to worry about packing or travelling with it.
COMING SOON! bauhaus 100: Aspen (Jan.-Aug. 2019) To celebrate the history of the Bauhaus in Aspen, there will be a nine-month schedule of activities orchestrated by many organizations from the Aspen Instituteto Anderson Ranch Arts Center to the Aspen Historical Society. While plans are being finalized, they will kick off in January 2019 and continue through August 2019 and will include activities during Aspen Ideas Festival's 2019 festival, an Aspen Institute symposium in early August, a Bauhaus-themed Wintersculpt during Winterskol, art exhibitions and more. Bauhaus artist Herbert Bayer designed the Aspen Institute's campus which includes Bayer sculpture's, landworks, tapestries, paintings, photography and more. 
NEW!O2 Aspen relocated to a new space in downtown Aspen in Feb. 2018. The new yoga and Pilates studio includes a street level retail space, three basement-floor spa treatment rooms yoga and Pilates space located upstairs with ample nature light and beautiful mountain views, and O2-to-go healthy cuisine. (408 S. Mill St.) 
NEW!Well-known designer Cynthia Rowley opened a new space in Aspen over the winter 2018 season. The new pop up sells women's fitness wear, swimsuits, shoes and accessories. (601 E. Hyman Ave.)
NEW!Sweaty Betty opened in downtown Aspen over the winter season. The British retailer specializes in women's activewear and has over 50 shops worldwide. (529 E. Cooper Ave.)
2018 SUMMER CALENDAR HIGHLIGHTS
Aspen & Snowmass both boast an array of events and festivals all summer long with musical performances around town and on mountain, culinary and art festivals, sporting events and more. Following are some headline events for summer 2018, with an even more extensive list available on request:
Snowmass Free Concert Series, June 9-August 16 – On 10 consecutive Thursdays and two bonus Saturdays (June 9 and July 21) throughout the summer, Snowmass hosts a weekly free concert series on Fanny Hill, showcasing genres of music ranging from reggae, to soul, to funk, to rock. 2018 marks the 27th year of the Snowmass Free Concert Series.
Snowmass Rodeo, June 13-August 22 –The Snowmass Rodeo celebrates 45 years of operations this summer, making it the longest continuously running rodeo in Colorado. The Snowmass Rodeo takes place on Wednesdays, rain or shine, throughout the summer.
Food and Wine Classic in Aspen, June 15-17 – The nation's premier culinary event returns to Aspen with world-renowned celebrity chefs and wine experts. The three-day weekend includes tasting events, cooking classes, cooking demos, wine and interactive seminars, and the daily grand tastings.
Aspen Summer Words, June 17-22 – Aspen Summer Words welcomes visitors and locals alike to celebrate writing and writers in Aspen for a week in June. Various workshops will be held with renowned authors and teachers including Peter Ho Davies, Tom Perrotta, J. Courtney Sullivan, Heather Harpham, Margot Lee Shetterly, Tina Change, and more. New this year, Aspen Words will offer a juried narrative nonfiction workshop as well as a beginner's writing workshop. 
Aspen Institute Aspen Ideas Festival June 21-30 – The 14th annual Aspen Ideas Festival is divided into three sessions over ten days. Spotlight Health returns to the festival as the opening segment June 21-24, followed by festival 1 June 24-June 27 and festival 2 June 27-June 30. A variety of additional programmes, tutorials, seminars and discussions confront guests with stimulating issues throughout the festival.
Jazz Aspen Snowmass June Festival June 22- 30 – The Jazz Aspen Snowmass June Festival includes four nights of headline concerts from world-class musicians at the Benedict Music Tent, an expanded JAS Café Downstairs Series, and a free nightly lawn party on the music festival grounds.
Aspen Music Festival & School, June 28 – Aug 19 – Aspen Music Festival and School, regarded as one of the top classical music festivals in the United States, will celebrate its 70th anniversary this summer, as well as a school with more than 600 classical music students from around the country and the world. The eight-week summer season includes more than 400 classical music events—including concerts by orchestras, solo and chamber music performances, master classes, lectures, and children's programming. Aspen Music Festival and School's 2018 season will be a summer of celebration focused around Paris, City of Light. Concerts throughout the season will allow patrons to delve into works by Parisian composers and inspired by the French capital. This season also marks the 25th anniversary of Harris Concert Hall.
AdventureOUT Snowmass, July 4-8 – AdventureOUT Snowmass brings the LGBT community together for a weekend of summer adventure, from hiking to biking, to white water rafting. AdventureOUT Snowmass features a different spin on the Aspen Gay Ski Week Experience, with an emphasis on building community and getting out into nature. AdventureOUT benefits local nonprofit, AspenOUT.
Yoga on the Mountain in Snowmass, July 27-29 – The second annual Yoga on the Mountain, presented by Power Yoga Retreats, returns to Snowmass, this time in July, for a three-day festival celebrating yoga, music, and nature. The weekend schedule includes restorative yoga classes, advanced asana workshops, children's yoga, and focused sessions on mudras, mantras, bandhas and breath work – all mixed with meditation, presentations, and discussions.
Jazz Aspen Snowmass Labor Day Festival, Aug 31- Sept 2 – The Jazz Aspen Snowmass Labor Day Festival will take place in the Snowmass Town Park. Acts for this year's festival include Zac Brown Band, Lionel Richie, Jack Johnson, Fitz and the Tantrums, Michael Franti, Gary Clark Jr. and more.
Snowmass Balloon Festival, September 7-9 – The 43rd Annual Snowmass Balloon Festival, a long standing Rocky Mountain tradition, fills the sky with eclectic balloons, as 30 pilots launch their hot air balloons into the air at sunrise. The Night Glow Balloon Show on Saturday evening provides an up-close-and-personal experience to these mega balloons and chat with their pilots.
Aspen Filmfest, September 25-30 – Aspen Film's 40th annual FilmFest is a six-day-long festival with a focus on documentaries. Filmfest audiences are among the first in the country to see award-worthy and acclaimed independent films.
– Ends –
ABOUT ASPEN, COLORADO
Aspen, Colorado is a world-class destination with outdoor adventures from skiing to biking, with a flair for arts and culture, all year round. Aspen truly is a unique diamond nestled in the rough of the Rocky Mountains that has a knack for bringing big city features to international guests in a way that defies ordinary. The town has embodied Mind, Body and Spirit, which together is called today "The Aspen Idea". This idea drives the internal energy of Aspen.
For further information, please visit www.aspenchamber.org
ABOUT SNOWMASS VILLAGE, COLORADO
A renowned winter playground and vibrant mountain community just 9 miles from downtown Aspen, Snowmass consistently ranks as one of the best ski areas in the world and was listed as the #4 resort in the west by SKI Magazine in 2018. Celebrating 50 years of operations during the 2017/2018 ski season and part of Aspen Snowmass, Snowmass Ski Area offers guests 3,332 acres of multi-level terrain and boasts the second largest vertical drop in the United States. 95% ski-in/ski-out lodging, over 35 restaurants, numerous shops and boutiques, a bounty of off-piste activities, and a friendly, small town feel beckon visitors year-round.
For more information and a complete calendar of events & activities, please visit www.gosnowmass.com
Follow and Share with Jetsettersblog.