What's new in Alpe d'Huez grand domaine Ski for Winter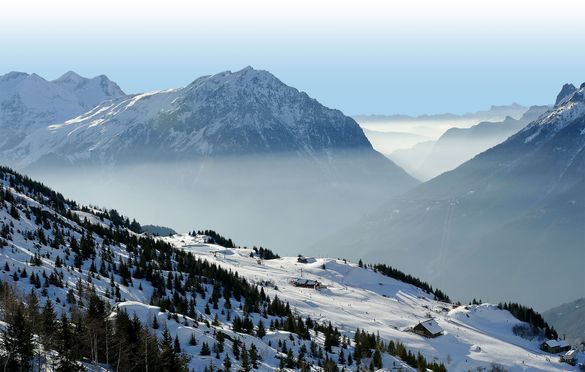 ---
Comprising Alpe d'Huez, Auris-en-Oisans, Villard Reculas, Oz-en-Oisans, Vaujany, Le Freney and La Garde, skiers will find Alpe d'Huez grand domaine Ski nestled in the French Alps less than an hour from Grenoble airport. The extended ski area offers 250km of pisted slopes to explore in addition to copious off-piste possibilities.
This winter, the internationally-renowned resort of Alpe d'Huez will attract thousands of revellers when Tomorrowland festival takes centre stage in the ski area's calendar. Skiers staying in the surrounding resorts of Vaujany, Oz-en-Oisans, Auris-en-Oisans and Villard Reculas will be able to enjoy the music and events in addition to appreciating the authenticity of the traditional alpine villages.
As well as boasting a diverse range of slopes for all levels of skier, covering varying terrain and dramatic elevation differences, Alpe d'Huez grand domaine Ski also caters to non-skiers. Research carried out by LHM Conseil suggests that, while the number of bed nights in ski resorts is generally increasing, not all of these visitors are choosing to ski when they're there. For example, despite skiing being a popular holiday option for senior tourists, more and more choose to accompany their families to the Alps to enjoy the atmosphere, but refrain from partaking in traditional winter-sports. Additionally, some parents with young children may journey to the Alps but alternate with each other between skiing and babysitting. With this in mind, discerning holidaymakers look for resorts with more facilities and activity options than they did in the past; Alpe d'Huez grand domaine Ski is an ideal location for this and has added to its offering this winter with new activities and events.
News for Winter 2018-19:
Tomorrowland
From 9 to 16 March 2019, the entire resort  of Alpe d'Huez grand domaine Ski will be taken over and transformed into Tomorrowland Winter, a festival and fantasy wonderland for 30,000 music lovers from around the world. Just like the summer edition in Belgium, Tomorrowland will be pulling out all the stops to offer guests the ultimate festival experience.
There will be a variety of stages around the resort for shows during the day and a mainstage at the foot of the ski slopes for evening performances;  non-skiers can access the slopes on elevators using their festival lift passes to watch top music acts such as Afrojack, Martin Garrix and Lost Frequencies.
Accommodation for the festival is available across Alpe d'Huez grand domaine Ski in Auris-en-Oisans, Villard Reculas, Oz-en-Oisans and Vaujany. Festival-goers staying in one of these surrounding villages can easily reach Alpe d'Huez and the festival with their lift pass. When the lifts close at 7pm, free shuttle buses will bring them back to their accommodation until the evening shows end at 2am.
During the four days of the festival itself, there will be no link to Alpe d'Huez from the satellites villages for those without a Tomorrowland pass. While guests staying in Auris-en-Oisans or Villard Reculas will be restricted to skiing in those resorts, skiers in Oz-en-Oisans or Vaujany will have the Oz-Vaujany ski area with 75km of slopes to explore.
Renovation of the Montfrais gondola in Vaujany
After 30 years of loyal service, the Montfrais gondola is having a makeover. The cabins, in typical 80s design, will give way to brand-new six-seater cabins which will be brighter and more spacious, allowing families and friends to reach the beautiful area of Montfrais, and its excellent beginner slopes, in optimum comfort. The mechanical and electrical systems will also be fully upgraded and access to the Montfrais sector (kindergarten, restaurants, heated picnic room, beginners area) will now be free for pedestrians.
www.vaujany.com
Redevelopment of ski lifts in Vaujany
The flawless interconnection of the cable car and two gondola lifts in the village of Vaujany is almost unique in France. The architectural ensemble dates back to the creation of the station and was in need of being modernised so, after the replacement of the Enversin d'Oz gondola last year, it was the cable car station's turn to be revamped. The embarkation plaza will be enlarged at the Montfrais gondola and the construction of two bridges will allow new residences and people with reduced mobility to gain access to the ski lifts. End of work: December 2018.
www.vaujany.com
Sky-high panoramic dinner in Vaujany
Last year's inauguration of the new Enversin d'Oz gondola piqued interest of visitors to Vaujany, especially thanks to its sleek cabins designed by Porsche. After 30 years transporting skiers from Oz to Vaujany, the former Enversin lift was dismantled and its replacement, constructed by BMF Bartholet, now allows 1200 to 2000 people per hour to make the three-minute journey back to Vaujany village. This winter, the pleasure of gliding through the snowy summits will be increased as a privileged few will be able to share a fondue in the gondola as they travel. This culinary journey surrounded by wintery landscapes will take place on Tuesday evenings in January and March (except Tuesday 5 March).
(Prices TBC – compulsory registration at the tourist office)
www.vaujany.com
New ski-in, ski-out Hotel Eterlou in Oz-en-Oisans
Chalet Eterlou, ideally located in the hamlet of Pré Genty and facing the Belledonne massif, has transformed into a charming hotel this winter. The new hotel enjoys a privileged position less than 200m from the slopes. The hotel comprises five fully-equipped rooms including two family rooms with a cabin to accommodate two additional people. The reception room, where breakfast is served, is a large room with a fireplace and television and a relaxation area, equipped with games and books for evening entertainment. After skiing, the sauna and jacuzzi make ideal treats for relaxing moments.
Hotel Eterlou costs from €88/£79 per double room per night.
Route des Chalets, Station de l'Olmet – 38114 Oz-en-Oisans Tél. +33 (0)4 76 80 79 55
www.oz-en-oisans.com
Further developments to Vaujany
Vaujany will be adding new covered and free car parks in the centre of the village, close to shops, services and lifts. The resort will also be opening a new library, new museums, an amphitheatre with cinema, theatre and conference room, as well as new shops and new accommodation. Work is expected to be finished by the start of 2019.
www.vaujany.com
Symphon'Ice in Oz-en-Oisans – 26 and 27 January 2019
For two days in January, Oz-en-Oisans will host an ice climbing rally where the entire resort will be centred around the promotion of winter climbing activities and mountain safety. Workshops will be offered including ice climbing, dry tooling and a choosing mountain routes. For those learning from scratch to developing skills, everyone can discover ice climbing. Security workshops will also be set up so that all practitioners can explore the mountains unfazed. All workshops will be supervised by mountain guides.
Prices TBC
www.oz-en-oisans.com
Free-Ski Test in Oz-en-Oisans – 23 and 24 March 2019
In March, Oz-en-Oisans will host its first Free-Ski Test: a weekend dedicated to previewing new 2020 equipment with full-scale tests on piste and off the beaten track. Supervised by a mountain guide, on piste or off-piste on accessible, technical and fun routes, participants will live skiing to the full as they test the latest equipment. Highlights will include the Free Rando outing at sunset which will leave unforgettable memories in the minds of skiers. An outlet village will also be available with representatives from 10 flagship brands of European free-skiing including K2, Rossignol, Dynafit, La Sportiva and Salomon who will be on hand to reveal the 2020 kit to attendees. The two-day event is open to all but is recommended to advanced skiers who are confident off-piste.
www.oz-en-oisans.com
Snowshoe festival in Auris-en-Oisans – January 2019
Introductory Day for those wanting to try snowshoeing, with organised walks and reduced-cost rental of equipment.
www.auris-en-oisans.com
New marked Nordic walk in Oz-en-Oisans
A new marked Nordic walk is available in the Oz-Vaujany area to discover and practise Nordic walking on snow in a beautiful setting. This route has been specially designed to allow nature lovers to progress and evolve smoothly on the Plateau des lacs at 2000m above sea level. The loop of the Alpette has little elevation and is accessible to all from seven years old. The route starts at the pedestrian track in front of the mountain restaurant L'Alpette chez Passoud. It begins with a regular climb and continues on a hilly plateau around the lakes to meet up with a track at the foot of the ice falls before returning to the bottom of the wall of Les Rousses where walkers will join the pedestrian trail until they're back at the starting point. Length of the trail: 5km, altitude difference: 100m, maximum altitude: 2167m. Participants can access the trail with Oz-en-Oisans's pedestrian package and by taking the Alpette gondola lift.
www.oz-en-oisans.com
Events in Alpe d'Huez grand domaine Ski:
French Elite Skating Championships at Vaujany ice rink – 13-15 December 2018
Those who enjoy the ice skating during the Winter Olympics don't have to wait until 2022 to watch it on their screens. As part of their holiday in Vaujany they can spectate professionals taking to the ice in the resort's rink. Short track, dancing on ice, synchronised skating, figure skating and ballet will all be included in the programme.
www.vaujany.com  www.ffsg.org
International Gala: Ice Stars – 16 December 2018
This gala will feature talented skaters from an international stage and will be televised and broadcast on French TV during the end of year holidays.
www.vaujany.com
Cooking with winter plants workshop in Auris-en-Oisans – 15 December 2018
In this workshop, holidaymakers will discover the local plants that can be found growing wild during the winter time. They will learn how to identify these plants, and how to cook with them.
www.auris-en-oisans.com
Mountain Safety day – 15 December 2018
What better time than the beginning of the season to discover or revise the basics of mountain safety? Making fresh tracks, finding powder fields, entering corridors; the pleasures of off-piste skiing are endless, but more so when the risks are understood and respected. For the mountains to remain enjoyable, skiers will be able to take part in workshops held in Oz-en-Oisans where they'll practise detecting avalanche victims and learn from demonstrations with an avalanche dog and rescue team.
Oz-en-Oisans tourist office 04 76 80 78 01 www.oz-en-oisans.com
French Curling Championships – 1-3 February 2019
Vaujany will host the French Curling Championships at its ice rink in the resort's sport centre.
www.vaujany.com
Cafe-theatre festival in Auris-en-Oisans – February 2019
The second edition of the festival, with a dozen theatre troupes in competition and an exceptional gala evening ending the week of comedy and conviviality.
www.auris-en-oisans.com
Nordic Days – 13 and 14 April 2019
Nordic Days will return to Oz in April offering late-season visitors the opportunity to discover Nordic walking, cross-country skiing or snowshoeing. Holidaymakers will have the opportunity to try out these disciplines to appreciate another way to walk in nature or to challenge themselves on a course of 6 or 12 km. Holidaymakers will enjoy a festive weekend with concerts and a colour party.
Oz-en-Oisans 04 76 80 78 01 – www.oz-en-oisans.com
Other activities:
Sunset skiing in Oz-Vaujany
An original activity to enjoy skiing in the last rays of sun. A route reserved for experienced skiers, which will take on a magical aspect with the glow of the setting sun of the Dome of Petites Rousses at 2800m altitude until the Villette via the Alpette, or 1450m descent supervised by trackers of the ski area Oz- Vaujany.
SPL – 04 76 11 42 70 www.vaujany.com
Discover new Nordic walking experiences in Oz-en-Oisans
Visitors to Oz-en-Oisans can discover each of the Nordic disciplines and make their stay in Alpe d'Huez grand domaine Ski a fitness break. Every week, ESF will offer six half days of activities on the Plateau des Lacs: introduction to Nordic walking on snow, snowshoeing and cross-country skiing.
Price: from 80 € for four sessions, ski pass included
www.esf-ozenoisans.com
Cross-country skiing
Accessible from the gondola at Oz-en-Oisans, the Nordic ski area is 2,100 m above sea level in an exceptional setting. Here, the calm and the simple crunch of the snow provide a feeling of well-being and total escape. The first course, The Poutran Loop, is a 10 km route that allows visitors to admire the view of the Taillefer, overlooking the resort of Alpe d'Huez. This course is possible in 1 hour 30 minutes. The second course, Circuit des Lacs, measuring 20 km is reserved for the most athletic holidaymakers.
Price: 7 € / person, access by gondola
Oz-en-Oisans 04 76 80 78 01 – www.oz-en-oisans.com
Freeriding in Villard Reculas
What was once a small agricultural mountain village connected to its neighbours by one small road – that was only accessible in the best weather conditions – is now a charming, traditional ski resort in Alpe d'Huez grand domaine Ski. Connected to Alpe d'Huez by just one lift, Villard Reculas allows for a more peaceful descent of the slopes, away from the hustle and bustle. Those wishing to escape even further can explore the un-groomed areas of Villard Reculas when they take to the new designated freeride area in the forest.
www.villard-reculas.com
Learn the secrets of piste-bashing
At the end of the day, when the last of the skiers have left the slopes and night starts to fall, the piste-bashers assemble. As they compact and reprofile the snow, regardless of the weather conditions, their meticulous work ensures the safety and enjoyment of skiers the following day. Every Tuesday and Thursday, the piste-bashers open their doors and reveal their secrets to curious holidaymakers.
Free activity, booking required at the tourist office.
Oz-en-Oisans Tourist Office 04 76 80 78 01 – www.oz-en-oisans.com
Take a break from it all at Vaujany's spa
From hydro-massage to hot stone massage and balneotherapy to reflexology, Vaujany's spa area is the place to heal those aching muscles after skiing or, for non-skiers, to make the most of the peace and quiet on holiday.
www.vaujany.com
Snowshoeing in Villard Reculas
When the slopes close at around 5:30 pm, visitors can put on their snowshoes and take a gentle walk around the untouched areas of Villard Reculas.
Equipment : sticks, boots or moutains shoes, water, warm clothes, flashlight. Prices : 20 € snowshoes includes / 16 € without snowshoes Informations : ESF Villard reculas – 00 33 (0)4 76 80 40 01 – www.esf-villard-reculas.com
Work up an appetite with night snowshoeing in Oz-en-Oisans
For more adventurous explorers, Oz-en-Oisans offers a night snowshoeing experience above the resort. Groups will set out at dusk on a course drawn largely off-piste with an instructor from the International Ski School and will make their way through the natural environment, bordered by pine trees and a stream. The activity requires hikers in good physical condition and, after working up an appetite trekking through the serene woodland, the group will arrive at the mountain restaurant Le Chalet d'Oz, where raclette, fondue or tartiflette will delight hungry stomachs.
Price: 45 € / person including supervision, loan of headlamps and meal (starter, main course, dessert, drink). Departs at around 5pm.
Information: ESI Skiaoz – info@skiaoz.com +33 (0)6 07 30 12 74 – www.skiaoz.com
Discover ski touring
Ski touring offers a fabulous opportunity to ski in untouched areas of snow, in contact with nature.
Hikers will discover the mountain at its wildest and will have access to unforgettable descents. Combining effort and pleasure, this activity, usually practised by advanced skiers, is accessible to all in good physical condition on comfortable on red slopes.
Price: from 80 € / person for half a day. Outings in groups of 3 to 6 people.
Bureau des guides Alpe d'Huez 04 76 80 42 55 – www.guidesalpedhuez.com
Practise your skills at Vaujany's snow park
Situated in the area of Montfrais, and accessible by the Montfrais gondola, the snow park is a fantastic place for discovering new tricks, jumps and jumps in a safe environment.
www.vaujany.com
Sliding engines in Oz-en-Oisans
Airboard, snowscoot, trike, dual, yooner … Oz-en-Oisans is the paradise of sliding machines. Visitors to Oz-en-Oisans can try these alternative sliding machines for free every Wednesday and Friday afternoon on the snow front in the resort. Lots of fun guaranteed.
Oz-en-Oisans 04 76 80 78 01 – www.oz-en-oisans.com
Services and offers
Savings on spring skiing
During springtime on Saturdays in Oz-en-Oisans, the prices melt: an adult day pass costs € 31.90 instead of € 53.50 on the Alpe d'Huez Grand Domaine Ski area, a reduction of more than 40%. Skiers just need to register online and look out for the discounts displayed on Tuesdays at www.oz-vaujany.com
All-inclusive skiing and childcare for little ones
In Oz-en-Oisans, children are well looked after. When conditions become too cold for tiny tots, they  can take advantage of the day care to play quietly with friends. When the sun's out and they want to enjoy the sun and snow, then can learn to slide with ESF's instructors. Oz-en-Oisans wants children to enjoy their stay. The package is open to children from 3 years.
Information: childcare centre 04 76 80 75 06 garderie@oz-en-oisans.com
Rates: from 225 € for 6 half days, from 314 € for 6 full days.
Save 20% on an early booking at Residence Chalet des Neiges in Oz-en-Oisans, France
Located at the foot of the slopes in family-friendly Oz-en-Oisans in Alpe d'Huez Grand domaine ski, Chalet des Neiges consists of five traditional, Savoyard style chalets in a quaint woodland setting which offers a halcyon foreground to the Belledonne Massif in the distance. The ski-in, ski-out residence benefits from being at the heart of the pedestrian centre of Oz-en-Oisans meaning guests have convenient access to the town's shops, restaurants and ice rink. The self-catered residence features a heated indoor pool, sauna, steam room, fitness room and delivery of breads and pastries to the apartment each morning. Those who book before 1 October 2018 can save 20% on stays from 15 to 22 December 2018 and from 5 January to 16 February 2019. Bookings made before 15 January 2019 can save 15% on arrivals between 9 March to 27 April 2019.
Sample price: A seven-night self-catered stay, arriving 15 December 2018, costs from £623 per apartment that sleeps up to four people (reduced from £778 saving 20%). Book by 1 October 2018 to save 15%.
www.chaletdesneiges.com +33 4 79 39 02 90
Oz-en-Oisans www.oz-en-oisans.com
For more information on the resorts in Alpe d'Huez grand domaine Ski visit:
Oz-en-Oisans: www.oz-en-oisans.com
Auris-en-Oisans: www.aurisenoisans.com
Villard Reculas: www.villard-reculas.com
Vaujany: www.vaujany.com
SATA: www.sataski.com
SPL Oz/Vaujany: www.oz-vaujany.com