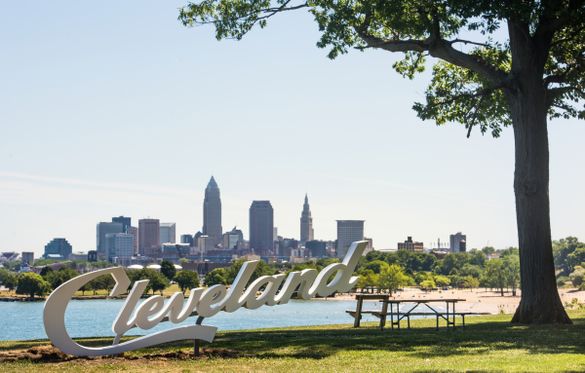 ---
In 2018, Cleveland's one-of-a-kind offerings for visitors continue to expand. Complementing the city's unmistakable vibe that blends sophistication, grit and a "come as you are" attitude, this year's not-to-be-missed events and newest attractions and exhibits include:
FRONT International: Cleveland Triennial for Contemporary Art
"Yayoi Kusama: Infinity Mirrors" exhibit at Cleveland Museum of Art
A reimagined Hall of Fame exhibit at the Rock & Roll Hall of Fame
A record-breaking roller coaster at Cedar Point, the Roller Coaster Capital of the World
An all-new Children's Museum of Cleveland; and
InCuya, the first music festival to be held in Downtown Cleveland.
NEW ATTRACTIONS, EXHIBITS AND EVENTS
This year, visitors to Cleveland can be inspired by the journey of Rock & Roll Hall of Famers, listen to a world-class orchestra while picnicking in a national park or explore 150 years of regional history. Here's a look at many new exhibits, attractions and events.
ARTS AND CULTURE
FRONT International: Cleveland Triennial for Contemporary Art
An exhibition comprised of artist commissions, performances, films, and public programs, FRONT International will blend Cleveland's rich reputation for classic art with modern works of art from more than 50 local, national and international artists. From July 14 to Sept. 30, 2018, visitors to Cleveland can discover an inspiring series of cultural exercises exploring the theme of "An American City," with creative expression from artists working in various mediums and inspired by the collective memory and landscape of Cleveland. This global triennial exhibition will take place at multiple venues in the region including the Cleveland Museum of Art, Museum of Contemporary Art Cleveland, Transformer Station, the West Side Market and in public spaces.
Cleveland Museum of Art
Yayoi Kusama: Infinity Mirrors
Connoisseurs of contemporary art and those in pursuit of thought-provoking experiences can immerse themselves in an illusion of infinite space at Cleveland Museum of Art from July 7 through Sept. 30, 2018. Visitors can examine seven of legendary Japanese artist Yayoi Kusama's captivating "Infinity Mirror Rooms," including "Where the Lights in My Heart Go," which is exclusive to the exhibition's presentation in Cleveland.
Visitors can literally play games with up to 20 pieces of the Cleveland Museum of Art's collection in the new ARTLENS Gallery. Through cutting-edge, touchscreen-free interactives, including gesture-sensing projections that respond seamlessly to body movement and facial recognition technology, guests can even create original artwork in the ArtLens Studio.
Children's Museum of Cleveland
Excitement, enrichment and inspiration await during an afternoon of creative play at the new Children's Museum of Cleveland. From thinking like scientists to embracing their inner artists to designing, building and exploring a pretend city, kids can write their own script in this open-ended learning environment. Families can get hands-on in the new Wonder Lab with water tables and magnetic walls; create their own masterpiece in the Arts & Parts room and discover their own adventures throughout this former Millionaire's Row mansion, the stately Stager-Beckwith home.
Museum of Contemporary Art Cleveland
Board games, mythology and entrepreneurship collide in Simon Denny's, The Founder's Paradox, running now through June 10 at the Museum of Contemporary Art Cleveland. Exhibition visitors will explore emergent business philosophies from the technology sector through the visual language of board games.
Cleveland History Center
Visitors to Cleveland can quickly garner a sense of place at the recently opened Cleveland Starts Here® exhibit at the Cleveland History Center. Stories from the 1790s to today fill the exhibit galleries, with rarely seen images, films, art and historical artifacts. From the first Cleveland map and early survey tools to LeBron James' 2016 NBA Championship shoes, Cleveland Starts Here® tells the stories of the triumphs and tragedies that define the city, helping visitors understand the social, creative, economic, political, and cultural history of Northeast Ohio.
Great Lakes Science Center
Interacting with NASA artifacts just got easier for visitors to Great Lakes Science Center's NASA Glenn Visitor Center. Guests can explore the interior of the Skylab 3 Apollo Command Module with 360-degree panoramas, see the inside of a hydrogen rocket engine and navigate an Apollo capsule like an astronaut through augmented reality and other digital features in the Center's new mobile app.
MUSIC
InCuya Music Festival
Music lovers looking to ditch mud fields and fancy arenas as concert venues should pack their bags for Cleveland's inaugural InCuya Music Festival. On Aug. 25-26, headliners New Order, The Avett Brothers, SZA and AWOLNATION join a mix of other national and local recording artists to celebrate the origins, diversity and evolution of rock on Downtown Cleveland's expansive greenspace, Malls A & B. The festival in Cleveland's vibrant city center will be a cross-genre, multi-generational, collaborative and uniquely Cleveland event.
Rock & Roll Hall of Fame
No matter the level of rock 'n' roll knowledge, the reimagined and recently opened Hall of Fame experience takes visitors on an induction-themed voyage focused on the transformative power of rock. From the 2018 Inductees exhibit to a memorial section dedicated to inductees that have passed away, guests can roam throughout the third floor of the museum and immerse themselves in the stories of rock's greatest artists before or after engaging with the thousands of artifacts and other exhibits at the Rock Hall.
Shine a Light: New Acquisitions and Spotlight Artifacts
The new Shine a Light: New Acquisitions and Spotlight Artifacts exhibit hall will leave even previous Rock Hall visitors wanting more. It showcases several of the Rock Hall's newest acquisitions, many of which were donated by the artists themselves. This spring, guests will find Jerry Lee Lewis's piano, an outfit worn by P!nk, drumheads from Tré Cool and a guitar donated by Robert Lamm of Chicago on display. Frequent updates to the space will highlight touring artists, national holidays, important dates in music history and inductees' birthdays.
Visitors get a front row seat to performances from their favorite Rock Hall inductees in the Power of Rock Experience. Starting with short cuts from induction ceremony presentations, the experience continues with an immersive 12-minute film by Academy Award-winning director Jonathan Demme featuring legendary Rock Hall Induction performances and concludes with an opportunity for guests to be interviewed by inductees like Smokey Robinson and Alice Cooper in the "Say It Loud" story booths.
Cleveland Orchestra
Guests can relax on the lawn as they enjoy the melodic tones of the world-renowned Cleveland Orchestra. Celebrating the 50th year of the Blossom Music Festival, the Orchestra's 2018 summer season includes an array of both classical and pop culture concerts for anyone seeking a music-filled night under the stars. Highlights include: Mozart and Brahm's "Symphony No. 4," performed by the Cleveland Orchestra and conducted by Herbert Blomstedt; six-time Tony Award-winning star, Audra McDonald, singing some of Broadway's favorites; and from a galaxy far, far away, the music of "Star Wars: A New Hope."
OUTDOORS AND RECREATION
Cedar Point's Steel Vengeance
In 2018, yet another new record-breaking roller coaster will bring thrills to visitors to Cedar Point, The Roller Coaster Capital of the World. Taking over the track of the old Mean Streak coaster, Steel Vengeance will be the world's first steel-on-wood hybrid roller coaster to stand over 200 feet tall.
Cleveland Metroparks Zoo: Asian Highlands (June 2018)
In June 2018, Asian culture will be on display in the middle of Cleveland's urban zoo. The new Asian Highlands exhibit at Cleveland Metroparks Zoo will house the zoo's snow leopard, red pandas, takin species and, one of the most endangered big cats on Earth, the Amur Leopard. The habitat will
blend Central-Chinese-influenced architecture, stone work that incorporates elements of Asian civilization and a diverse array of natural elements found in the regions of Asia where the exhibit's inhabitants reside when in the wild, while giving guests unobstructed views of the animals.
RENOVATIONS
Cleveland's latest updates to infrastructure and public spaces not only enhance the visitor experience but also the city's landscape. Recent projects include:
Ritz-Carlton, Cleveland (October 2017)
A newly transformed Ritz-Carlton, Cleveland honors Cleveland's past and its continued unbreakable spirit with experiences inspired by tradition and décor that reflects the surrounding beauty. Ready for travelers following a major renovation to its 206 rooms and fitness area, guests can also enjoy the new TURN Bar + Kitchen, which features dishes and drinks that reflect Cleveland's cultural diversity and draw from the locale.
NEW RESTAURANTS & BREWERIES
Cleveland's booming culinary scene blends the more than 100 diverse ethnicities found throughout the city. New ventures include:
Larder (April 2018)
Known for his innovative work in foraging and fermentation, Chef Jeremy Umansky brings house-made breads, pastries, fermented root beer and locally sourced dairy, eggs and produce to the Ohio City neighborhood this spring. A perfect option for visitors who prefer homestays and the opportunity to make-your-own-meal, this new delicatessen, Larder, is in the historic Ohio City Firehouse.
Marble Room Steak and Raw Bar (September 2017)
Visitors can enjoy a feast fit for a king at the new Marble Room Steak and Raw Bar, located in the historic bank lobby of the Garfield Building in Downtown Cleveland. The fine dining menu features prime steaks, seafood and a robust raw bar in a space punctuated with cathedral ceilings and marble pillars and floors.
Brewnuts (September 2017)
Delicious and addictive beer-flavored doughnuts from Brewnuts, a doughnut-themed bar in the Detroit Shoreway neighborhood, are a must for visitors to Cleveland. More than just the corner bakery, Brewnuts also offers beer and cocktails and a comfortable space for visitors to hang out.
Thirsty Dog Brewing Co. East Bank (2017)
Full flavor, delicate balance, texture and aroma combine to make beer a complex and enjoyable experience at Thirsty Dog Brewing Co.'s new Cleveland brewpub. Located front and center along the Flats East Bank riverfront promenade, visitors can nosh on locally made sausages, fresh angus beef burgers, house-smoked meatloaf or a Cleveland-made kielbasa and pierogi platter while watching freighters navigate Cleveland's infamous Cuyahoga River.
Bad Tom Smith (Dec. 2017)
Bad Tom Smith Brewing owner John Vojtush and founder/head brewer Sean Smith brought their Cincinnati-based brewery "home" in December 2017. The Northeast Ohio natives built their brewery & taproom, located in the Ohio City neighborhood, on the idea that a comfortable setting plays a prominent role in enjoying a craft beer. In addition to the full lineup of Bad Tom Smith's core beers, visitors will find four taps that rotate between drafts from its homebrewer's program, collaboration beers, and experimental brews. Tap room bites, as well as dishes from nearby restaurants complement the beer list.
Southern Tier (Spring 2018)
When Southern Tier Brewing Company opens its innovation brewery and tasting room in Downtown Cleveland's Gateway District this spring, visitors can wet their whistle with new 'Cleveland Brew'd' local specialty beers or any of Southern Tier's seasonal and year-round varieties. Beer enthusiasts and thirsty travelers alike will have a street-level tasting room and a barrel-aging basement lounge to choose between for what Southern Tier promises will be a unique tasting experience.
To keep up-to-date on new developments and activities, please visit www.thisiscleveland.com, download the Destination Cleveland app or follow us on Twitter, Facebook, Instagram or YouTube.
###
ABOUT DESTINATION CLEVELAND: Destination Cleveland is Cleveland's convention and visitors bureau. This private, non-profit organization's mission is to drive economic impact and stimulate community vitality for Greater Cleveland through leisure and business travel. Cleveland welcomes 18 million visitors annually. For more information, visit thisiscleveland.com.
Follow and Share with Jetsettersblog.