What's New in Colorado This Summer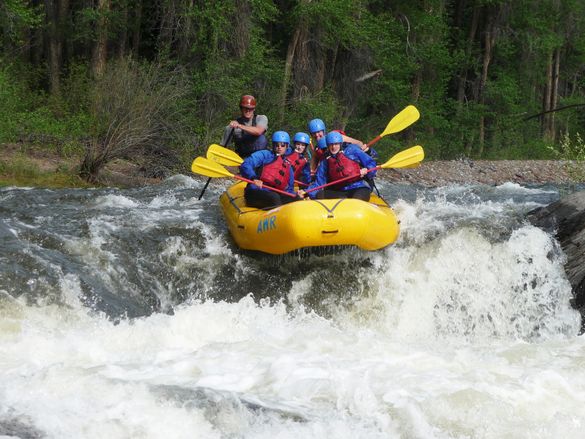 ---
Summer 2018 is shaping up to be an exciting season in Colorado, following the launch of daily direct flights with United from London Heathrow to Denver this month. Boasting 11 national parks, 58 mountain peaks and dozens of alpine lakes, a selection of new tours and activities offer visitors a range of new ways to take in the great outdoors, with new accommodation options and anniversary celebrations across the state.
New tours and adventures:
Grab a bike and try out gravel grinding, across Colorado: Gravel grinding – road biking on dirt roads – is becoming one of the fastest growing trends in cycling, especially since bikes have become more accessible to visitors in Colorado, thanks to a number of cycling schemes. Now a variety of cycle companies are offering bikes which are specifically made for gravel grinding, perfect for the versatile landscape of Colorado. San Juan Huts will be offering a 2-3 day adventure over the course of a 165-mile dirt road ride starting at Grand Junction, Colorado and finishing in Moab, Utah. This route will be available from 1st May –1st June 2018. Denver-based Rodeo Labs has also commenced free 'Rodeo Rallies', encouraging visitors to explore areas of Colorado that are rarely seen on two wheels. A variety of routes are available for all abilities.sanjuanhuts.com / rodeo-labs.com / colorado.com
See the sights with City on the Side tours – Denver and Estes Park: Explore Travellers can explore Colorado with the wind in their hair during a sidecar tour with new tour company, City on the Side. Riding in a classic Russian Ural cT sidecar motorcycle, four routes allow visitors to choose a tour which suits them, from an Essential Denver City Tour to a Peak to Peak Tour of the stunning Estes Park. Each tour operates daily, with the Denver City Tour running three times every day. This is the latest activity solidifying Colorado's reputation as a year-round destination for adventurers and adrenalin seekers.cityontheside.com / colorado.com
Venture on a multi-day hiking trip with llamas – Vail: Colorado is full of adventures waiting to happen and there has been an increase in the number of people wanting to explore the great outdoors by pack, including backpacking, packrafting, bikepacking and even llama packing. Llama packing is the most recent addition to this trend and Paragon Guides now offers multi-day hiking trips with llamas, whose inquisitive nature makes them the perfect companions for off road hikes. Routes include a five-day trek between Vail and Aspen, with a shorter Colorado Trail Traverse which explores part of the 10th mountain hut division. paragonguides.com / colorado.com
Take a Spirits Trail with Colorado Distillers Guild – across Colorado: Alongside Colorado's status for outdoor adventure, the state has a pretty good reputation when it comes to beer and spirits. So much so, the Colorado Distillers Guild is launching a Spirits Trail in 2018, featuring more than 50 participating distilleries from the state. The Spirits Trail offers visitors the chance to learn and taste their way through the amazing spirits being created throughout Colorado, which are created using the high quality spring water in the region. There's even added incentive to visit all 50 distilleries on the trail as the first 24 individuals to visit all participating distilleries and collect a stamp will receive a signed bottle from each location – now that's the spirit!
Heli Fly Fishing with Anglers – Vail: Travellers can try their hand at one of the more unique activities in Colorado and take to the sky with Minturn Anglers as Heli Fly Fishing is introduced for summer 2018. Unlike any other fishing trip, this gives fly fishing fans the opportunity to get an aerial view of Vail Valley's vistas before landing at Minturn Anglers private ranch for a quiet day of fly-fishing. Minturn Anglers also offers guided fly-fishing combined with paddle boarding. minturnanglers.com / colorado.com
Hang from the trees in the Lost Forest – Snowmass: Visitors to Aspen and Snowmass this summer can get lost in the latest adventure offering, the Lost Forest. The forest, hidden on Snowmass Mountain, will be home eight ziplines and two sky bridges high above the treetops, where adventurers can hang in the trees for three hours during a guided experience. Also in the Lost Forest, visitors will find a rugged ascent climbing wall which includes an auto-belay, allowing both beginners and those familiar with climbing to safely ascend dozens of routes. gosnowmass.com / colorado.com
New openings:
Royal Gorge Cabins have added four new glamping tents – Canyon City: Offering new accommodation for those who enjoy the great outdoors but aren't particularly fond of leaving behind home comforts, Royal Gorge Cabins in Canyon City – which opened in 2017 – is adding four new glamping tents and nine luxury cabins to its offering just in time for summer 2018. Guests won't be short of things to do either, as the resort already offers white-water rafting on the Arkansas River and guided Jeep tours to learn and discover the unique history of the area. royalgorgecabins.com / colorado.com
TPC Colorado, Colorado's first golf course in 10 years – Lonetree: As one of the USA's ultimate golf destinations, Colorado has over 300 courses for golf visitors to enjoy. This summer will see the opening of the new TPC Colorado; the state's first ground-up golf course development in nearly 10 years. Located near the banks of Lonetree, this 800-acre golf community has an 18-hole championship golf course and clubhouse for visitors to enjoy in the surrounds of the Rocky Mountains. tpc.com/colorado/ / www.colorado.com
The Jacquard Hotel – Denver: Opening in July 2018, The Jacquard will be one of only two Autograph Collection Hotels in Colorado and a statement of luxury in gateway city, Denver. Offering tailored experiences in the heart of the Cherry Creek neighbourhood, The Jacquard boasts a rooftop where guests can choose to swim, relax during sunrise yoga, or enjoy the panoramic views of Denver and the infamous Rocky Mountains whilst sipping cocktails. thejacquard.com / visitdenver.com / colorado.com
Urban food halls – Zeppelin Station and The Dairy Block, Denver: The urban food hall trend is continuing throughout Colorado and its gateway city, Denver in particular. Zeppelin Station is opening to the public on 12th March and will have a variety of street food vendors from around the US, including Denver's Vinh Xuong Bakery and Boulder's Fior Gelato offering their best selection of tasty bites on a ground level market hall. There will also be multiple bars to quench everyone's thirst after the difficult decision of choosing what to eat first. Elsewhere in Denver, The Dairy Block anchored by The Maven Hotel, is due to open in summer 2018 as home to some of the area's most creative makers and businesses, including the Milk Market food hall from acclaimed chef, Frank Bonanno. visitdenver.com / colorado.com
Events and anniversaries:
Broadway in the Rockies celebrates its 50th anniversary – 8th June: The Rocky Mountain Repertory Theatre of Grand Lake features rotating professional actors and musicians every week in this incredible venue. The opening night for their 2018 season is 8th June as the theatre begins an exciting summer programme to mark its 50th anniversary, with grand event, Cabaret, featuring a full 16-piece orchestra taking place on 21strockymountainrep.com/ colorado.com
70th Annual FIBArk Festival – 14th – 18th June: The First in Boating on the Arkansas (FIBArk) is the nation's oldest white-water festival. Taking place from 14th – 18th June in Salida, the festival focuses on white-water boat races, and welcomes paddlers from around the world to compete. Visitors can expect to see kayaks, tubes and rafts floating down the river during the weekend, with six tempting hot springs dotted throughout the area to take a dip in. It's not only the races and water activities which draw the crowds to FIBArk with a variety of events on dry land, such as live music, mountain bike races and parades also taking place over the weekend. fibark.com / colorado.com
The Broadmoor is celebrating its 100th birthday – July 2018: The legendary AAA five-diamond resort, The Broadmoor, is celebrating its 100th birthday in style this year. Renowned for its golfing facilities, throughout July The Broadmoor is celebrating 100 years of golf excellence by providing golfers with a special '19th hole' menu in the newly renovated Golf Club Grille, as well as hosting The Broadmoor Invitational from 22nd – 27th Visiting golfers can also book a special "Golf With a Legend" package featuring Hale Irwin. thebroadmoor.com / colorado.com
25th Telluride Blues and Brews – 14th – 16th September : The 25th Annual Telluride Blues & Brews Festival is taking over the mountain town of Telluride, Colorado from 14th – 16th September for a weekend of music, craft beer, comedy, yoga, art and entertainment, with tickets now on sale. Set against the incredible backdrop of the Rocky Mountains, revellers can enjoy an eclectic mix of music appealing to all tastes, such as funk, jazz, rock, soul and indie. This year the festival is adding a fundraiser dinner to the line-up which includes a special studio recording with a festival artist at mountainside recording studio, Studio in The Clouds, to support the Music Maker Relief Foundation. This family friendly festival also has a number of outdoor activities to try out while in the mountain surrounds of Telluride, including hiking, jeep tours and mountain biking.
Further information can be found at www.colorado.com
Consumer social media  handles www.facebook.com/coloradoukireland & www.twitter.com/coloradoukeire
Follow and Share with Jetsettersblog.