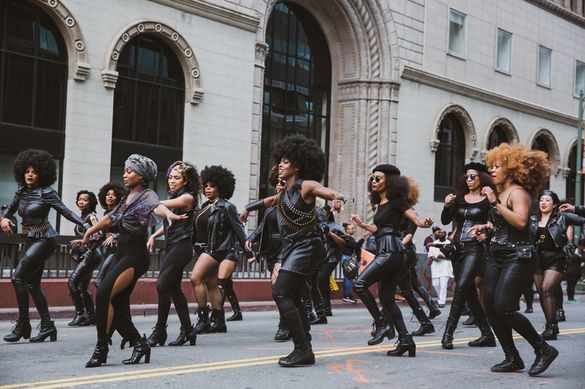 ---
New Developments
Oakland Becomes the First City in U.S. with Electric Scooters for People with Disabilities 
Scooter company Lime partnered with the City of Oakland's Department of Transportation to launch first-of-its-kind, seated scooter pilot program for riders with disabilities to make travel and commuting more convenient. The accessible model – only available in the Bay Area for now – adds an adjustable bicycle-style seat on the standing platform of the scooter and widens the handlebars. The new scooter is intended for riders who are not comfortable or unable to stand for a long time and/or have limited capacity for walking. www.oaklandca.gov/news/2020/oakdot-and-lime-launch-first-ever-e-scooter-pilot-program-designed-for-riders-with-disabilities
1,000 Electric mopeds Now Available for Rent in Oakland
The Oakland Department of Transportation and shared-vehicle company Revel launched 1,000 mopeds in January 2020 as another form of mobility around the city – adding to the already-popular electric scooters currently used throughout major California cities. Oakland officials said the city will be Revel's first market on the West Coast and the company's service area will cover the entire city. gorevel.com/oakland/
The Bay Area's Hottest New Food Destination Slated to be Two-Story, 40k sq' Market Hall 
A new two-level food hall opening Summer 2020 in Jack London Square – a short BART or Ferry ride from San Francisco – is set to be the Bay Area's hottest new food destination. The 40,000-square-foot market hall named Oakland Assembly will feature novel food and beverage purveyors, which currently include ventures by many of the Bay Area food scene's most notable names, including Reem Assil, Preeti Mistry, Satoshi and Sachi Kamamae, Anthony Kresge, Matt Horn, Abram Plaut, and Tomoharu Shono, and John McEnery IV and Antonio Crema. This is the largest market concept by the developers who also launched the popular San Pedro Square Market in San Jose and the Abbott Square Market in Santa Cruz. www.jacklondonsquare.com
Pro Football Stays in East Bay as Panther Season Begins March 2020
Football legend and Oakland-native Marshawn Lynch is making sure pro-football stays in Oakland: He's co-founded the Oakland Panthers, one of the 13 new Indoor Football League (IFL) teams made up of professional football players, many of whom go on to play for the NFL. Hosted at the Oakland Arena, the Oakland Panthers season kick-off starts Saturday, March 14, offering affordable family entertainment in Oakland. Go Panthers! www.oakland-panthers.com
Food & Drinks
Oakland's First Alcohol-Free Bar Now Open
Oakland's 'Pill Hill' area – two blocks north of Koreatown – is now home to a fun, non-alcoholic environment that offers an alternative to the bar scene. Bizzy's includes options for delicious mocktails, non-alcoholic versions of classics like Old Fashioned's, beer, and juice shots as well as bar food snack options like pretzels, cheese puffs and more.  www.bizzysdrybar.com
Award-Winning Roaster Red Bay Coffee Expands to Los Angeles
Adding to their existing four locations, Oakland's Red Bay Coffee recently opened a new location in Los Angeles. Red Bay's new Jefferson Park location will clock in at 11,000 square feet and plans to open in Spring 2020. The new location will also serve as an art gallery, a venue to host private events, latte art classes, weddings, and new product launches. Red Bay Coffee's new roastery is located in Fruitvale, Oakland.
Vegan? Vegan-Curious? Oakland Vegan Foodie Tours Now Available 
Oakland is a vegan hub, from Asian food and soul food to Mexican cuisine and more. On a new tour by Plant-Based Vegan Sistah, guests will sample food from full-vegan menu restaurants, as well as experience non-vegan menus to learn how to eat vegan everywhere.
34 Taps at the New Modern Times House of Perpetual Refreshments In Uptown
Southern California's Modern Times Beer opened a new location in Oakland. The San Diego favorite is in a prime location, just a few blocks from Lake Merritt. This new brightly-colored brewery will be featuring seasonal and special release beers on its 34 taps, house-roasted cold brew coffee, and nonalcoholic options.
www.moderntimesbeer.com/tasting-room/oakland
Neapolitan Pizza Place Magpie Opens In Trendy Temescal 
Serving over 12 Neapolitan-style pizzas, Magpie is Temescal's newest upscale-casual pizza spot. The eatery will also serve beer, wine, and a dozen ciders on tap, and features a Happy Hour Monday through Friday from 3-6 p.m. with all taps a dollar or more off. www.magpieoakland.com
Arts & Culture
From America's Oldest Black Bookstore to Today's Black Trendsetters: All the Ways to Experience Black History and Black Joy in Oakland
Not only does Oakland play a unique role in America's Black History – as the birthplace of the Black Panther Party – but the city is a modern-day incubator for black-owned businesses that are at the forefront of inclusivity, sustainability, and retail. For Black History Month specifically, Oakland will see Black Panther history tours, museum exhibits, and the 3rd annual Black Joy Parade. See the Visit Oakland press release for full events and experiences: drive.google.com/open?id=15WNI_QzJ2VXBNbSwXPxIUba5IaZpyYbx
New HBO Film Documents Oakland's Youth Dedication to Dr. Martin Luther King, Jr. 
HBO is set to air a documentary, premiering February 18, celebrating Oakland's annual oratorical festival honoring Dr. Martin Luther King, Jr.: "We Are the Dream: The Kids of the Oakland MLK Oratorical Fest". The festival is just one of the oratorical competitions that happen across the U.S. The film follows students from schools across Oakland through their months of rehearsal and eventually leading up to the 40th annual festival. www.ousd.org/mlkoratorical
Oakland Through Maps of Food Trucks, BART and Dating Apps
Mobile technology has made one thing certain: most people will never get lost anymore. The Oakland Museum of California is hosting Feb. 14-28, 2020 an exhibit of Oakland and California-specific maps. In You Are Here: California Stories on the Map, guests can see a diverse range of maps from environmental surroundings and health conditions to community perspectives and creative artworks.
museumca.org/exhibit/you-are-here-california-stories-map
Events
Inside the Black Panther Archives: An Evening with Fredrika Newton: February 12
As a rank and file member of the Party and life partner of Black Panther Party founder, Mrs. Fredrika Newton's story is filled with triumphs and challenges. On Feb.12 she will be hosting a free evening at Oakland's New Parkway Theater, where she will be sharing her personal archives via a moderated conversation with journalist Damien McDuffie.
www.eventbrite.com/e/inside-the-black-panther-archives-an-evening-with-fredrika-newton-tickets-91685641221?aff=ebdssbdestsearch
Ice Cream Tour Walking Tour for Valentine's Day: February 14
This year Local Food Adventures is celebrating the most important loves in our lives – our families! A special one-hour ice cream tour takes guests on a sweet adventure through Oakland's Rockridge neighborhood, making this day even more memorable for every member of your family: kids, parents, grandparents, and caregivers. In addition to three ice cream desserts and a fun guided tour, all guests will receive a special heart-shaped treat from La Farine Boulangerie Patisserie to take away and enjoy later … or on the ride home. www.localfoodadventures.com/food-tours/ice-cream-tour/
Black Joy Parade and Festival: February 23 
The free day-long, family-friendly Black Joy Parade and Festival is a celebration of the Black experience and its influence on cultures past, present and future. Now in its third year, the Black Joy Parade is filled with marching bands, costumes, dance, art and more. In the lead up to the main event, there will also be a variety of free community events including a 'Feed The Hood' lunch bag distribution on Feb.16, an 'Oakland Impact Brunch' featuring former Black Panther Party member Dr. Saturu Ned and Black Joy Parade founder Elisha Greenwell, and an Official After Party featuring Afrobeats, Hip Hop and R&B music to cap off the weekend. www.blackjoyparade.org
Follow and Share with Jetsettersblog.