What's New in Sonoma County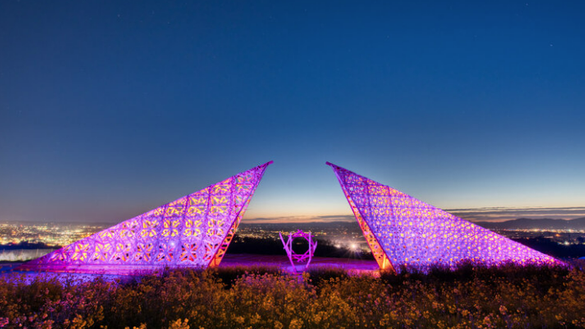 County Fall 2021 is Sonoma County Tourism's quarterly and seasonal news release announcing new accommodations, culinary experiences, destination trends and general news. To see the latest stories, please visit www.sonomacounty.com/whats-new, which will be updated regularly to announce what's new as they happen.
Fall in Sonoma County is known for showstopping fall foliage, with our natural woodlands and vineyards brimming with vibrant and picturesque hues of oranges and yellows. This fall, we are seeing a return of events, including the Wine & Food Affair, the Día de los Muertos exhibit at the Museum of Sonoma County, pumpkin patches, guided hikes, and more at www.sonomacounty.com/sonoma-events.
Home Away From Home: New in Accommodations
The Sunset House at River's End Restaurant & Inn
The Sunset House at River's End Restaurant & Inn on the Sonoma Coast is a new 2 bedroom/ 2.5-bathroom rental unveiled during the beginning of the pandemic, complete with a chef's kitchen, pool table, living room, private deck, a 5-person hot tub, and cascading ocean views. This secluded riverfront vacation home in Jenner precedes two additional luxury house rentals expected to launch at the end of October.
The Stavrand Russian River Valley
The Stavrand Russian River Valley is a new luxury retreat set on the 6-acre Guerneville estate previously occupied by the Applewood Inn. The hotel's 21 unique guest rooms are located in the historic 1922 Belden House designed by John Carl Warnecke, the Cazadero House, and the Armstrong House. Some rooms offer amenities like outdoor cedar hot tubs and gas fireplaces, others provide skylights and jacuzzi tubs. Each stay includes a gourmet hot breakfast, a minibar welcome gift, evening aperitif, portable lanterns for late night strolls, bicycles, and kayaks to explore the natural surroundings, and chef-centric culinary experiences for guests.
Mine + Farm: The Inn at Guerneville
Mine + Farm: The Inn at Guerneville is modernized from a 1906 farmhouse, previously the Sonoma Orchid Inn, set on 2.5 acres in the Russian River Valley. Husband and wife duo Suzanne and Bryce welcome guests to their modern approach to the bed and breakfast, offering nine dog-friendly guest rooms with private bathrooms and 24-hour access to the communal lounge, dining area and guest kitchen/market. Amenities include artisan made bedding by Parachute, Turkish bath towels, an outdoor hot tub, and welcome herbs.
Art House Santa Rosa
Art House in Santa Rosa Downtown is a new-build 36-room boutique hotel located in the walkable Cherry Street Historic District. Art House offers a mix of studios and two-bedroom apartment style guest rooms with high ceilings, large kitchens with bar seating, and in-unit laundry. The ground floor welcomes guests with a lobby and art gallery lounge area.
The Highlands
Local chef and entrepreneur Crista Luedtke and Basecamp Hotels founder Christian Strobel acquired Guerneville's historic Highlands Resort this summer, reintroducing the property as The Highlands. The resort is LGBTQ and straight friendly, adding a Coyote Camp with brand new canvas scout tents for glamping excursions, furnished with comfy king beds and all the fixings. While the cabin rooms feature hot tubs, coyote camping guests are fully immersed in the natural surroundings with outdoor showers. Freshly baked muffins, quick breads, and scones welcome guests in the lobby.
New in Art, Culture & Outdoors
EARTHseed Farm
EARTHseed farm is Sonoma County's first Afro-Indigenous farm. Owner Pandora Thomas practices permaculture, which designs ecological systems based on Indigenous wisdom to curate healthy and resilient natural systems. Over 4,000 fruit trees, native and medicinal plants, and wild critters call EARTHseed home. On Saturdays, the farm is open to the public for U-Pick by appointment, which are offered week-to-week.
Art in Paradise
Paradise Ridge Winery is home to a sculpture garden filled with large-scale art, and the family-owned winery welcomed new pieces to its 155-acre property and vineyards. The Empyrean Temple is a new 40-foot sculpture on the property, originally meant for the cancelled Burning Man Festival in 2020. A new 30-foot Welcome Tower stands tall to welcome visitors with a gold leaf crown and 24 reclaimed doors scavenged from San Francisco's neighborhoods. While on private property, the site is open and free to the public on a simple walk-in basis daily 10 to 4:30.
New Carrington Ranch Park
The Sonoma County Regional Parks is previewing their newly acquired property set on 335 rolling acres on the Sonoma Coast, Carrington Ranch Park. On preview days, the public is invited to enjoy a self-guided hike on the property and learn more about the master planning process that will lead to the park's permanent opening. At that time, the park will provide a critical segment of the 1,200-mile California Coastal Trail and link to public lands to the north and south.
New Sky Lupine Trail offers Peak Taylor Mountain Experience
The Sonoma County Regional Parks have completed a new trail that leads to the top of Taylor Mountain Regional Park and Open Space Preserve: The Sky Lupine Trail. As part of ongoing improvements to the park, the new route replaces the much-used Eastern Trail's straight-up climb with a pleasant meander, which reduces erosion, provides greater ease of travel, and offers a more scenic trip to the 1,400 foot summit. The park's 1,100 acres include sweeping grasslands, oak woodlands, several creeks, and provide a habitat for a variety of wildlife. From the summit, visitors can see central Sonoma County, the Laguna de Santa Rosa, the Coast Range, the Mayacamas Range and other North Bay Landmarks.The parkland was used for ranching for many years and cattle grazing continues in the park
New in Food & Wine
New Michelin Winning Restaurant
A somewhat surprising one-star addition is Barndiva, a Healdsburg barn and restaurant popular for weddings, only because it's been open since 2005 without gaining significant attention from Michelin. SingleThread in Healdsburg holds onto its three Michelin Stars.
New Michelin Bib Winning Restaurants
Three Sonoma County restaurants are the latest additions to the California Michelin Guide's Bib Gourmand category, restaurants recognized for value and high-quality food. Khom Loi in Sebastopol and Sonoma's FolkTable and Valley restaurants — all opened during the pandemic — were tapped for the culinary honor. They join Sonoma County Bib Gourmand recognized restaurants and eateries including Glen Ellen Star, Ramen Gajin, El Molino Central, Bravas, Chalkboard, Ribisi, Stockhome, and Diavola.
Bacchus Landing
Siblings Monica and Francisco Lopez, along with their parents Al and Dina Lopez, began work on Bacchus Landing in 2015. It includes five separate tasting rooms for small, family-owned producers, including their own Aldina Vineyards wines, Dan Kosta and the Lagasse family's AldenAlli, 13th & Third, Dot Wine, and Montagne Russe. The Market coffee, deli and artisanal food shop provides locally sourced food to enjoy throughout the day and a food truck rounds out Friday night events. There are picnic areas, gardens, and bocce courts on this 3-acre property.
The Matheson
The Matheson is a new tri-level, expansive modern restaurant opened by Dustin Valette in a building once owned by his great grandfather as a bakery and community space. The main floor features a wine wall with 88 allocated and approachable wines on self-service taps, a sushi bar helmed by Chef Ken Tominaga, artisanal craft cocktails, and a menu celebrating coastal and regional flavors. The Mezzanine floats above the kitchen and houses a reserve wine locker and dining room. Roof 106 is an elevated cocktail bar and garden lounge with views of the Healdsburg Plaza.
 SingleThread's Wine Spectator Magazine's Grand Award and Worlds50Best Honor
The 3-Michelin star restaurant, SingleThread, received the prestigious Wine Spectator Magazine's Grand Award for its 2,600-bottle wine list. Joining only 96 other restaurants in the world that "show an uncompromising, passionate devotion to the quality of their wine programs," Single Thread's sommeliers include Alexandria Sarovich, Christopher McFall, Jonny Bar, Spencer Chaffey and Kelly Eckel. In its fifth year in business, SingleThread has cracked the Worlds50Best restaurants list, coming in at number 37 this year.
Chefs Charlie Palmer & Nate Appleman join Bricoleur Vineyards
Bricoleur Vineyards opened the doors to its 40-acre estate in Windsor last spring, offering food and wine pairing experiences and dinners. James Beard Award-winning chefs Charlie Palmer and Nate Appleman join the winery as Culinary Advisors, collaborating on philanthropic dinners and events and enhancing the current offerings. The sustainably farmed estate also has expansive culinary gardens, fruit trees, olive groves, chickens and honeybees in addition to its 21-acres of vineyards.
Little Saint to Open This Fall
A new restaurant and arts gathering place will open in the old 10,000 square foot SHED building, offering farm to table food with a community atmosphere where visitors can share innovative ideas and appreciation of the arts and music. Designed and directed by Ken Fulk, Little Saint will host live music events and live talks with local leaders and artists.
Missed Renovations and Upgrades
Charles M. Schulz Sonoma County Airport (STS)
Conveniently located just minutes away from the nearest wineries and restaurants, the Charles M. Schulz-Sonoma County Airport (STS) is constructing a solar photovoltaic (PV) energy system that will provide shade for the long-term parking lot in early 2022. With 2,010 planned panels, the project will power 100% of Airport Operations with clean energy. During this time, STS has launched street parking and valet services to travelers. Daily nonstop flights include: Alaska® Airlines to Burbank, Los Angeles, Orange County, San Diego, Portland, and Seattle; American Airlines to Phoenix, Dallas and Los Angeles; Avelo Airlines (new) to Burbank and Las Vegas; and United Airlines to Denver and San Francisco. All Airlines offer a wide-range of connecting flights to destinations across the continental U.S., Mexico, and beyond. STS also recently partnered with The Good Traveler, the world's first aviation-focused carbon offset program, to offer passengers a way to reduce the carbon footprint of their travels.
The Sea Ranch Lodge
The Sea Ranch Lodge has opened the doors to its culinary and artisanal offerings after a multi-million-dollar renovation. The Dining Room delivers a rugged refined dining experience complimented by stunning panoramic views of the Pacific Ocean and a menu celebrating fresh local harvests. The Bar + Lounge offers a cozy social environment with fireside cocktails and small bites. The Café serves health-conscious breakfast and lunch, and at The General Store, there are treasures crafted by local makers and a selection of literature highlighting the history and culture of The Sea Ranch.
Farmhouse Inn's Wellness Barn
The Farmhouse Inn welcomed new Spa & Wellness Director Irisha Steel and announced the opening of the Wellness Barn. The new spa offers a range of holistic experiences for guests, including massages with warm basalt stones and cool gemstones, sea salt exfoliations with wild mustard seeds and costal redwood mists, healing sound therapy, energy balancing and meridian point massages, and more. The thoughtfully curated menu of mind-body treatments are inspired by the natural surroundings of the Russian River Valley.
Jordan Winery & Estate's Chateau Suites
John Jordan decided the pandemic downturn was the perfect time to embark on an eight-month makeover of the winery's opulent accommodations. It marks the first major renovation of the chateau suites since their debut more than 40 years ago in 1979. Interior designer Maria Haidamus transformed the suites while preserving the architectural integrity and design features, including the magnificent wood-beam ceilings, the arched doorways and the hexagon tile floors imported from southern France nearly 40 years ago. Rare antique furniture and decorative objects from the Louis XV period, collected by matriarch Sally Jordan, are now joined by neoclassical and renaissance pieces from the Louis XVI and Louis XIII periods—two eras that John Jordan admires for their symmetry and elegant carvings.
Anaba Wines
Anaba Wines joined forces with clean energy company SolarCraft last year to install 465 solar panels to its newly built production facility and Vintners House Tasting Room. The new system will produce renewable electrical energy at 243,960 kWh annually and contribute to carbon sequestration. Anaba Wines was the first Northern California winery to utilize wind power in 2019, and now generate nearly 100% of their electricity needs through wind and solar power. Their new fall programming includes yoga classes, wood-fired pizzas, bocce ball, and more.
New Tasting Room at Rodney Strong
Rodney Strong Vineyards introduced a brand-new tasting room, featuring an elegant, Sonoma County farmhouse feel. Experience three new tasting flight experiences, which can be paired with wine country's signature apps and meals, including cheese and charcuterie plates sourced from local purveyors. Upstairs, guests can enjoy a brand new self-guided tour.
Where to go in 2022
The Madrona Manor renovations led by Jay Jeffers are underway, and the 22-room hotel with a Michelin-starred restaurant will relaunch as The Madrona with fantastical animal motifs blended with natural woodlands and antiques in early 2022.
NASCAR returns to Sonoma Raceway with the Toyota/Save Mart 350 in 2022, and race fans will get the first glimpses of Sonoma Reimagined as the complex undergoes a major modernization.
Cyrus in Geyserville is Top Chef Masters' winner Douglas Keane's highly anticipated restaurant, set to open in fall 2022.
###
About Sonoma County Tourism
Sonoma County Tourism is the region's official Destination Stewardship Organization. Through a multi-channel sales and marketing program, the organization promotes Sonoma County as a global visitor and meetings destination, where diversity thrives, and everyone is welcome. Leveraging the region's unmatched assets, wine, culinary, wellness and sustainability continue to define its character. Pre-pandemic, tourism generated $2.3 Billion in visitor spending, $194 Million in tax revenue and employed more than 23,000 Sonoma Countians. Post-pandemic, SCT will work with partner businesses to rebuild the tourism economy, regain critical revenue and re-establish a vibrant workforce. For more information, visit www.sonomacounty.com

Follow and Share with Jetsettersblog.