What's New in Sweet Home Alabama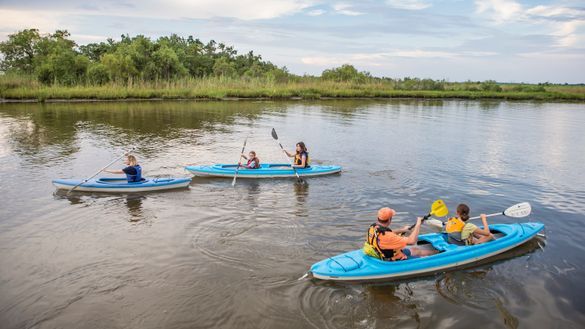 ---
The Muscle Shoals Sound Studio in Northwest Alabama has reported record breaking international visitors. Executive Director Debbie Wilson says 2019 international visitor attendance is running at an all-time high of 25%.  "We have seen growth in both over all visitor attendance and in the percentage of our visitors coming from other countries, Wilson said. "It's great to know that people around the world come to a remote area of Alabama to see where artist created some of the greatest hit records."
Muscle Shoals Sound Studio at 3614 Jackson Highway in Sheffield, Alabama was formed in 1969 by four session musicians called The Muscle Shoals Rhythm Section and nicknamed "The Swampers"in the song Sweet Home Alabama.
The musicians had left Rick Hall's nearby FAME Studios in Muscle Shoals to create their own recording facility. Over the years, artists who recorded in Muscle Shoals area studios included The Rolling Stones, Aretha Franklin, George Michael, Wilson Pickett, Willie Nelson, Lynyrd Skynyrd, Joe Cocker, Levon Helm, Paul Simon, Bob Seger, Rod Stewart, Tamiko Jones, and Cat Stevens.
The four small adjacent cities; Florence, Muscle Shoals, Tuscumbia and Sheffield, form the Shoals area. Three of the cities have a population of less than 10,000. The largest city is Florence with approximately 40,000. In the 1960s, the area was self-proclaimed as "The Hit Recording Capital of the World."  Today there still remains several recording studios, the most famous, FAME Studios and Muscle Shoals Sound Studios both record and give public tours.
Jean-Michel Cousteau's Ambassador of the Environment Program to start in Gulf Shores, Alabama
The City of Gulf Shores and the Gulf Coast Center for Ecotourism & Sustainability City have announced development is underway in partnership with Jean-Michel Cousteau's Ocean Futures Society for a world class environmental education and ecotourism program; Ambassador of the Environment.
The first phase of the program started in 2019 with local school age children in grades 4-12.  Spring 2020 is the target date for programs available for students and adults worldwide.
The program utilizes access the new State Park Learning Campus facility, as well as sites throughout the state park, including the pier, the Interpretive Center, the Nature Center, Lake Shelby, the beach and the Hugh Branyon Back Country trail system.
Gulf Shores Mayor Robert Craft has described the center as being similar to the highly successful NASA Space Camp located in Huntsville with a focus on learning about the environment and how to take better care of it.
"The program will bring students, teachers, tourists, business groups, and academic groups from around the country to participate in activities that support ecotourism and sustainability, and promote the stewardship of our natural resources," city documents state.
For more information, contact Travis Langen, Executive Director, Gulf Coast Center for Ecotourism & Sustainability at info@gulfcenter.org or visit gulfcenter.org.
400,000 first-year attendance for new Montgomery museum and memorial  
The National Memorial for Peace and Justice and Legacy Museum operated by the Equal Justice Initiative received 400,000 visitors in its first year of operation. The memorial is part of the U.S. Civil Rights Trail.
The National Memorial for Peace and Justice acknowledges an era of racial terror in the United States when thousands of African Americans were lynched and publicly tortured, sometimes in the presence of thousands of people.  Designed with hundreds of six-foot, Corten steel monuments aligned in a structure that sits above the city of Montgomery, the Equal Justice Initiative memorial features new sculptures from African and African American artists that explore slavery, segregation, and contemporary issues of racial inequality.  The memorial includes a monument for every county in America where a racial terror lynching took place.
A few blocks away from the memorial, EJI opened The Legacy Museum: From Enslavement to Mass Incarceration, which explores slavery, lynching, segregation, and mass incarceration in America on a site where enslaved people were once warehoused.  Located a few steps away from what was once one of the most prominent slave markets in America, and from a port and rail station that trafficked thousands of enslaved black people in the mid-19th century, the new narrative museum offers ground-breaking, interactive content that takes visitors on a journey through our nation's difficult past.
Eagle Cottages at Gulf State Park become newest member of National Geographic's Unique Lodges of the World program
The Eagle Cottages at Gulf State Park are the newest member of National Geographic's Unique Lodges of the World Program. Eagle Cottages become the 7th in the U.S. with only 55 lodges in the program worldwide.
The National Geographic Unique Lodges of the World is a collection of Lodges that invite guests to discover some of the most treasured places on the planet while helping to protect those places for future generations. Each property is hand selected and must share a strong commitment to sustainable practices and to protecting natural and cultural heritage. The guest experience at each lodge must be intimate and exceptional while inspiring guests to connect with the destination in a meaningful way and also to play a part in safeguarding it for future generations.
Eagle Cottages at Gulf State Park is a collection of 11 cottages contributing to ADCNR's commitment to define Gulf State Park as an international benchmark of environmental and economic sustainability demonstrating best practices for outdoor education, recreation and hospitable accommodations.
"I could not be more excited about Eagle Cottages becoming part of the National Geographic Unique Lodges of the World collection. This is an affirmation of Gulf State Park, the Department of Conservation and the State of Alabama. Teaming with National Geographic will help highlight the natural resources, culture, and heritage of our state and it will benefit the people of South Alabama. National Geographic is a way to further expose all that we have to offer in Alabama including the Mobile-Tensaw River Delta, the Red Hills Salamander habitat, the Grand Bay National Wildlife Refuge, the Bon Secour Wildlife Refuge and many other unique treasures. Sustainable tourism is the fastest-growing segment of tourism and will be a game-changer for our state," says ADCNR Commissioner Chris Blankenship.
For more information please see www.eaglecottagesatgsp.com.
Alabama State Parks earn 18 TripAdvisor awards for a record year
Alabama State Parks earned a record of 18 TripAdvisor.com Certificate of Excellence Awards for 2019.
These honors only go to about 10 percent of the attractions listed on the travel website and a record of 10 Alabama State Parks earned TripAdvisor Hall of Fame honors.
"We are very proud of all of our parks that received this recognition, especially because it is based on visitors' impressions. It's exciting that our parks received three first-time Certificates of Excellence and that Cheaha State Park was inducted into their Hall of Fame after earning a certificate for the fifth straight year. It is impressive that we have been able to maintain these positive impressions with guests even during periods of renovation and repairs to many parks' amenities. It's truly a positive reflection on the attitude and performance of these parks' staff and leadership," said Greg Lein, Director of the Alabama State Parks Division of the Department of Conservation and Natural Resources.
To qualify for a Certificate of Excellence, an accommodation, restaurant or tourism experience must maintain an overall TripAdvisor rating of at least four out of five, have a set minimum number of reviews and have been listed on TripAdvisor for at least 12 months. Certificate of Excellence winners for five straight years earn Hall of Fame recognition.
For more information please see www.alapark.com.
U.S. News & World Report names Alabama's top hotels for 2019
U.S. News & World Report analyzed hotels across Alabama and named its Top 15 List. The top two hotels in Alabama were along Mobile Bay:  Battle House Renaissance Hotel & Spa and the Grand Hotel Golf Resort & Spa. Seven of the top 15 hotels are part of the Resort Collection along Alabama's Robert Trent Jones Golf Trail.

Alabama's Top Ranked Hotels for 2019
The Battle House Renaissance Mobile Hotel & Spa – Mobile *
Grand Hotel Golf Resort & Spa – Pt. Clear *
Grand Bohemian Hotel Mountain Brook, Autograph Collection – Mountain Brook
Marriott Shoals Hotel & Spa – Florence *
Fort Conde Inn – Mobile
The Westin – Huntsville
Renaissance Birmingham Ross Bridge Golf Resort & Spa – Hoover *
Wind Creek Casino & Hotel – Atmore
Wind Creek Wetumpka – Wetumpka
Elyton Hotel, Autograph Collection – Birmingham
Renaissance Mobile Riverview Plaza Hotel – Mobile *
Renaissance Montgomery Hotel & Spa at the Convention Center – Montgomery *
Auburn Marriott Opelika Resort & Spa at Grand National – Opelika *
The Admiral Hotel – Mobile
Perdido Beach Resort – Orange Beach
*These seven hotels are part of the Resort Collection on Alabama's Robert Trent Jones Golf Trail, along with the Marriott in Prattville.
"It is an honor to named Alabama's top hotel by U.S. News & World Report," said Margo Gilbert, general manager of the Battle House Hotel. "First opened in 1852, the Battle House has been welcoming guests from around the world to downtown Mobile for generations," said Gilbert. "Our hotel was magnificently restored 12 years ago and maintains a balance of historic charm and the services expected by today's travelers. Whether watching a Mardi Gras parade from our front doors or planning a meeting of international executives or hosting a group of golfers playing the RTJ Golf Trail, we maintain an exceptionally high standard for taking care of our guests. This accolade from U.S. News & World Report is the result of our exceptional team of hospitality heroes and to our owners, the Retirement Systems of Alabama."
For the complete U.S. News & World Report list see https://travel.usnews.com/Hotels/Alabama-r51/.
Stay at Zelda and F. Scott Fitzgerald's former home

High atop the native magnolia trees sits a quaint two-bedroom apartment housed in the former home of Jazz Age celebrities F. Scott & Zelda Fitzgerald in Montgomery. The home is the last of four still standing that the couple resided in through the years; the rest are private residences, and this is the only dedicated museum to F. Scott & Zelda Fitzgerald in the world. The family lived here from 1931 until 1932, writing portions of their respective novels, Save Me The Waltz and Tender Is The Night during their time in Montgomery. After the family moved, the home was subsidized into four apartments.

Over the past year, the Fitzgerald Museum has been actively furnishing and preparing the vacant two-bedroom apartment located on the second floor of the home for a new writer's residency and an Airbnb lodging space open to the public.
The two-bedroom apartment features modern amenities, a full kitchen, and a half bath.  The master bedroom includes a Queen-sized bed; the secondary bedroom includes two Twin-sized beds. There is a separate living room, dining room, and sun porch- all with views of the sprawling magnolia tree on the front lawn. Guests have access to a complimentary tour of the museum, located in the downstairs portion of the historic Craftsman style home.
Guests are also shown other local Fitzgerald landmarks. Zelda, a Montgomery native, grew up one neighborhood over in historic Cottage Hill and was said to have danced in the Court Square fountain.
Zelda Sayre was a native of Montgomery and remained here until her marriage to Scott in 1920. Their courtship in Montgomery would mark the beginning of the 'Jazz Age'. They would return several times and live here from 1931 until the spring of 1932. Her father's death would propel her from Montgomery to the Phipp's Clinic in Baltimore and Scott & Scottie would soon follow. This would be the last home that the Fitzgeralds lived in as a family.
She would eventually return after Scott's death in 1940 and live on Sayre Street, just a few blocks down from her childhood home on Pleasant Avenue, with her mother until 1946. Eventually, their daughter Scottie would return to Montgomery in 1975 and live here until her death in 1985. She has three surviving children; her two daughters continue to control the Fitzgerald Trust today. www.thefitzgeraldmuseum.org.
Alabama Tourism to launch The Year of Natural Wonders in 2020
Alabama's abundant water, varied ecosystems, dense forests and geology come together to create a land that is immensely biodiverse. In fact, Alabama contains more variety of animals and plants than any state east of the Mississippi River. To celebrate this variety of nature and natural areas, the Alabama Tourism Department has designated 2020 as the Year of Natural Wonders.
Make a vacation out of these wild treasures.
Sugar-white Gulf Coast beaches line the southernmost points of Alabama. The ultra-fine particles of quartz were washed down from the Appalachian Mountains and deposited into the turquoise waters thousands of years ago. Today, visitors explore 32 miles of sandy strands, including those shared with nesting sea turtles. Volunteers flag the nests every year to help sunseekers avoid crushing the turtles' eggs. From May to October, walkers may be lucky enough to witness a "boil," when an underground nest of baby turtles hatches at the same time, emerges from the sand and makes its way to the water.
Just north of Mobile Bay spreads the 260,000-acre Mobile-Tensaw Delta, the second largest wetland of this kind in America. Rivers from the north flow into the flatlands and creep into lakes, marshes, and bogs. The twists and turns of the delta's rivers, creeks and tributaries house cypress swamps and bottomland hardwoods teeming with deer, turtles, and alligators. More than 300 species of birds have been documented in the area. Much of the delta is remote and best explored by water, but you don't have to venture into its deepest reaches to see its natural beauty. At the Five Rivers Delta Resource Center in Spanish Fort, you can view exhibits about the local flora and fauna, watch a nature film, and enjoy a view of the water from the decks. Stop into the Cypress Gift Shop to browse a selection of nature-related gifts, unique jewelry and wood crafts made by local artisans, such as Randi Evans.
Alabama's longest free-flowing river, the Cahaba, features an annual spectacle so special it has a festival named after it. On the third Saturday in May, the town of West Blocton celebrates the white, graceful Cahaba Lily with guided tours during the Cahaba Lily Festival. The flower blooms in May and June and is found in only three southern states. It requires a specific habitat of swift-moving water and lots of sun, which is exactly what the rocky shoals of the Cahaba River provide. While the Cahaba River sustains the largest population, notably in large stands and smaller clumps, the lily also can be found in running shoals of Hatchett Creek and the Tallapoosa River.
At the foothills of the Appalachian Mountains rises Alabama's highest natural point, Mount Cheaha, at 2,407 feet above sea level. In the fall, the mountain's mix of oak and hickory trees interspersed with pines puts on a show of fall colors to rival those found in more northern states. Check it out from the 26-mile Talladega Scenic Drive, taking Highway 281 near Heflin, Alabama, until the road ends at Adams Gap Road and Forest Service Road 600. This route travels over the summit and through the Talladega National Forest, passing rural landscapes filled with rock outcroppings and rolling hills. Stop at Cheaha State Park for excellent views and to officially note the U.S. Geological Survey's high point marker in front of Bunker Tower, one of several stone buildings built by President Franklin Roosevelt's Civilian Conservation Corps (CCC). On a clear day, you can see for miles from the top of the observation tower. Down below, poke around the CCC museum to learn about the men who helped establish Cheaha State Park.
Northeast Alabama also harbors the Little River Canyon, a U.S. National Park site designated a National Preserve by public law. Formed by the erosion of water over millions of years, the canyon's rock bluffs drop to more than 600 feet in some spots. The Little River, which flows atop Lookout Mountain and through the canyon, provides recreation for hikers, anglers, and paddlers. Little River Falls marks the beginning of the canyon and is one of the highlights of the area, particularly after recent rainfall. Although not usually associated with mountainous terrain, a bog exists in the canyon and garners interest for endangered green pitcher plants that grow here. This carnivorous plant traps insects in its tube-shaped leaves and digests them with enzymes. If you come across one, consider yourself lucky, and take only pictures. Learn about more of the canyon's assets at the Little River Canyon Center located on Highway 35. The building houses exhibits, a theater and National Park Service staff who can answer questions and recommend hikes and observation areas.
Cathedral Caverns has been open to visitors since 2000 when it was declared a state park after purchase from a private owner. Although the above-ground amenities should not be ignored—camping, hiking, and gem mining—the real draw here are underground. Step into the caverns' 126-foot-wide entrance, accessible to wheelchairs, and embark on a 90-minute, guided tour of karst topography—sinkholes, underground streams, and caves etched into area limestone. The tours, available year-round and multiple times per day, lead to one of the largest stalagmite columns in the world. At 45 feet tall and 243 feet in circumference, it is appropriately named "Goliath." Other formations include a "frozen waterfall," a "pipe organ" and "cave bacon." A stop here is particularly welcome on hot summer days since the caves' temperature hovers around a refreshing 60 degrees.
For a natural wonder above ground, visit Natural Bridge in Winston County. As its name implies, the rock arch spans 148 feet and 60 feet high to connect two landmasses, resulting in the longest natural bridge east of the Rocky Mountains. The landmark formed as the sandstone washed away and left iron ore behind. Due to safety concerns, visitors cannot walk across the bridge, but you can observe its magnificence from below after paying a small entrance fee. Take a picnic and hike the one-mile loop. While in the area, keep your eyes open for eastern hemlock. The area is one of the few places in Alabama where this graceful, shade-tolerant conifer grows.
Located about 13 miles south of Russellville lies Dismals Canyon, a privately owned, 85-acre sandstone gorge with large rock formations and two waterfalls. Many years of moving water sculpted the topography, which results today in rock shelters, natural rock bridges and a 16-inch-wide rock squeeze known as "Fat Man's Misery." Walk the 1.5-mile trail to see and feel the formations while also delving into the lush landscape of tulip poplars, beech trees, hemlocks, mosses and ferns. On nights in May and June, a unique element lights up the canyon. Dismalites, sometimes called a glowworm, are actually fly larvae (Orfelia fultoni) that emit a bluish light to attract prey. Special guided night tours are available to see these dismalites, the only bioluminescent insect in North America.
Alabama Tourism Department introduces new motorcycle product to operators
The Alabama Tourism Department is in their second year of creating and introducing a motorcycle fly drive product to operators. The route will begin and end in Nashville highlighting the scenery of Alabama's back roads along with some of the state's most sought after attractions.
The route from Nashville down the Natchez Trace Parkway to Alabama's music Mecca, The Shoals begins the journey with a treat. Riders will tour music studios that recorded top hits from the 60s & 70s and see how much Alabama artists and the artists who came to Alabama contributed to the Americana music we all know and love. From small town America riders will travel to Alabama's largest city, Birmingham.
In Birmingham riders will find an array of entertainment districts boasting tasteful craft brews and unique fine dining experiences. Also, Birmingham is the crown jewel of motorcycle enthusiasts, Barber Vintage Motorsports Museum. This museum houses nearly 1,000 motorcycles on display and is the Guinness World Record holder of "The Largest Motorcycle Museum in the World".
From Birmingham travelers will ride up Alabama's highest point, Mount Cheaha. From here take in the views of the rolling hills of the Appalachian Mountains. From the highest point to the most scenic road in Alabama, the Little River Canyon Parkway. Riders will enjoy switchbacks and elevation changes as they cruise The Little River Canyon National Preserve. From the most scenic road in Alabama to road with the most curves in Alabama, Jackson County Road 33. Riders will enjoy serene landscapes as they cruise the cotton fields and farmland of North Alabama.
The product is being supported by FAM tours organized by Graham Roderick. Tour operators and media from different European markets as well as Latin American have participated in the FAM tours thus far. In late 2019 RoadRUNNER Magazine will be sending a crew to video and photography the route to be featured on their YouTube Channel as well as in their Sep/Oct 2020 Fall issue.
The promotion of motorcycle product will continue on into 2020 with the final FAM tour in October.
Follow and Share with Jetsettersblog.