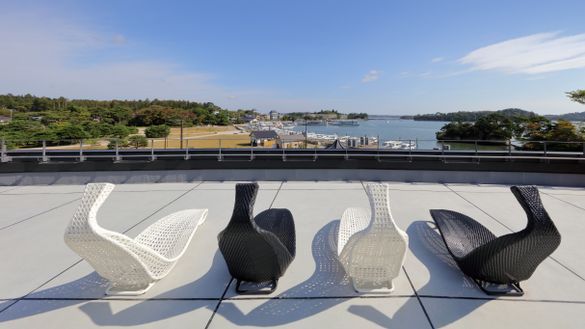 Tohoku, the nature-rich northeastern Japanese region where the Olympic torch relay will start in March, will be more enjoyable and accessible than ever when the time is right to travel again. Under a government project to turn this long-isolated region into a world-class holiday destination, Tohoku has continued to develop itself so that international guests will be able to access easily, relax and enjoy, like never before, the diverse variety of attractions this mystique region offers.
Here are some of the developments that Tohoku has made during the pandemic and plans for 2021. Take a look at them as a source of inspirations for a dream holiday to celebrate the long-awaited resumption of international travel. (Please note that the ongoing global pandemic may affect the plans and the availability of attractions and services.)
A decade-long project to build the Sanriku Expressway on the long-isolated Sanriku Coast facing the Pacific Ocean will reach completion in 2021. The 359-kilometer road will connect the northern port city of Hachinohe with Sendai, Tohoku's biggest city, reducing the travel time between the two by about 40 percent to almost four hours and 25 minutes. The Sanriku Expressway runs parallel to the northern part of the scenic and dynamic 1,000-km Michinoku Coastal Trail, Japan's newest national park that opened fully in 2019. While there is an option to take the train on local lines such as Sanriku Railway to access sections of the diverse trail, driving allows more freedom to explore and make spontaneous stops on the beautiful and diverse coastline. Highlights dotted throughout the trail include: the morning markets of Hachinohe; Tanesashi Coast; Jodogahama Beach; Orandajima (or "Holland Island"); Fudai Village; Kitayamazaki Cliffs; Iwate Tsunami Memorial Museum; Onagawa; and Kinkasan to name just a few. Many rental car shops are located around JR Sendai Station which is 90 minutes away from JR Tokyo Station by the Tohoku Shinkansen bullet train. For greener travel, some of the rental shops offer electric vehicles, with power charge stations available at many hotels and other locations alongside the expressway and in wider Tohoku.
Discovering and booking immersive activities in Tohoku used to be difficult, especially for non-Japanese speaking tourists. A brand new multi-lingual multi-functional portal site, that opened in October, has made it easy and fun. The Experience Sendai Activities website showcases an array of unique experiences that allow you to soak up the nature, culture, spirituality, food and beverages of Sendai and its surrounding prefectures including broader Miyagi, Iwate, Yamagata and Fukushima. Your holiday in Tohoku may not be the same without a tea ceremony in a traditional "sukiya-zukuri" wooden tea house, a stroll in the scenic Matsushima bay area in an authentic kimono, a sake brewery tour, a zen meditation at Rinnoji Temple, a hot air balloon ride over Matsushima Bay, tasting oysters straight out of the sea, a tofu workshop or a guided tour of the Yamadera mountain temple. Check out the website to dream now and plan your future trip.
The Olympic torch relay will soon start and go through the natural hidden gem of Oku Aizu, deep in the mountains of Fukushima Prefecture. Unique efforts by the locals to promote the area as a tourism destination have drawn the attention of savvy travelers and the international media in recent years. Encouraged by the attention and inspired by local residents' enthusiasm, local governments and businesses have taken steps to make it more accessible and enjoyable. Last year, the No.1 Tadami River Bridge View Point, set on a hill, was upgraded with stairs so that people of various physical abilities would be able to reach the viewpoint and photograph the now world-famous landscape of the bridge over the foggy Tadami River surrounded by lush mountains. The Mugenkyo no Watashi sightseeing ferry service, which had been on hold since last year for facility improvements, will be back in April with an upgraded dock and newly-added restroom facilities. JR Tadami Line, Oku Aizu's only railway that has been disrupted partially since a destructive flood in 2011, will be resuming full service in 2022, connecting the scenic 135 kilometers between Aizu Wakamatsu, the old castle town of Fukushima, and Koide in the rice country of Niigata Prefecture.
Northern Tohoku is preparing for the potential addition of the Jomon Archaeological Sites in Hokkaido, Northern Tohoku and other regions to the UNESCO list of world heritage sites this year. The sites under review for recognition of global significance include Sannai Maruyama Site and seven other sites in Aomori as well as Oyu Stone Circles and Isedotai Stone Circles in Akita. Akita Nairiku Jukan Tetsudo Railway, the one-car rural train line that runs through the beautiful rice country, launched a Jomon-themed train in February this year. The "Jomon-go" train makes one round trip between the former samurai town of Kakunodate, which is accessible directly from Tokyo by the Akita Shinkansen bullet train, and the rural Jomon-Ogata station which is 10 minutes away on foot from Isedotai Stone Circles.
Hachinohe Art Museum will open in November 2021 to showcase art pieces themed mostly around the culture and aesthetics of the northern port city on the Michinoku Coastal Trail. It will have a permanent collection of about 3,000 items, with selected displays rotated across a total 4,881 square-meter floor space. The museum was designed by a team led by Tezzo Nishizawa, a Tokyo-based architect specializing in museums, with a goal to make it a place of inspirations and human connections for the brighter future of Hachinohe. Hirosaki Museum of Contemporary Art opened in July in the historic brick warehouse which was built almost a century ago as a sake brewery and later became Japan's first site to mass-produce apple cider. It is located in the castle city of Hirosaki, famous for cherry blossoms and for apple production. When entrepreneur Tosuke Fukushima constructed the warehouse, using bricks as a building material was rare. He chose the brick structure, hoping that the building will remain useful for Hirosaki, even if his business failed. After several turns, the fate of the building ended in the hands of the city of Hirosaki which sought to protect and use it for cultural promotion in respect of the founder's will.
Matsushima Rikyu, a commercial tourist complex, opened in October in front of Matsushima Bay on the Sanriku Coast, which is considered one of the three most scenic spots in Japan. A rooftop view of Matsushima Rikyu captures the bay's some 260 islands which have helped protect the town of Matsushimafrom tsunamis, even during the major earthquake of 2011. Bicycles and kimonos are available for rent, as well as various workshops, such as where visitors can paint kokeshi dolls. Other facilities include the tourist information center, which is staffed with interpreters; several restaurants serving dishes using fresh seafood and other local ingredients; and a small pool and a BBQ facility which together make Matsushima Rikyu a cozy place for a wide variety of visitors including families.
Natori Cycle Sports Center opened in October near Sendai International Airport and right in front of the Pacific Ocean. Bicycles, including e-bikes, sports bikes and bikes for kids, are available here for rent. There is a four-kilometer road reserved for bicycling, that runs parallel to the ocean, as well as a skateboarding area and a futsal field. At Natori Yuriage Onsen "Rinrin no Yado", you can relax in an onsen hot springs bath while taking in a view of the Hiroura Bay and Zao mountains, for a brief respite or an overnight stay.
Tohoku is known for premium-quality agricultural products such as fruits. In March, a "fruit park" will open on a 7.5-hectare lot on the coastal area of Sendai, where different kinds of fruits will be grown for visitors to pick and taste and for shipment within and outside Japan. By 2022, total 156 varieties of eight types of fruits including apples, strawberries, blueberries, pears, figs and kiwis will be available there.
NOTE TO EDITORS:
Japan currently has entry restrictions in place in efforts to contain the global pandemic. Please see coronavirus advisory information by Japan National Tourist Office for updates on entry restrictions:travel/en/coronavirus
Please credit Tohoku Tourism Promotion Organization on all images.
<About Tohoku>
Japan's northeastern region of Tohoku is a wild and expansive area encompassing six prefectures: Aomori, Iwate, Miyagi, Akita, Yamagata and Fukushima.
This rural region has historically stayed isolated by limited transport and some of the world's heaviest snowfall. Isolation has allowed Tohoku to develop a unique culture with its own distinct traditions, with very limited influence from the outside world.
After a decade of government-led efforts to make it an international holiday destination, this best-kept secret of Japan tourism is finally ready to take center stage, offering lush landscapes, serene winter wonderlands, one-of-a-kind spiritual experiences and world-class outdoor adventures.
Tohoku is remarkably accessible from Tokyo. As easy as a one-hour bullet train ride away, the region's bountiful nature, expansive rice paddies and beautiful villages immerse visitors instantly in warm rural landscapes reminiscent of Ghibli films.
Tohoku Tourism Promotion Organization is the public-private organization responsible for marketing the Tohoku region and Niigata Prefecture in northeastern Japan as a travel destination.
For more information on Tohoku,
please visit Tohoku Tourism Promotion Organization's official website at https://www.tohokukanko.jp/en/index.html

Follow and Share with Jetsettersblog.