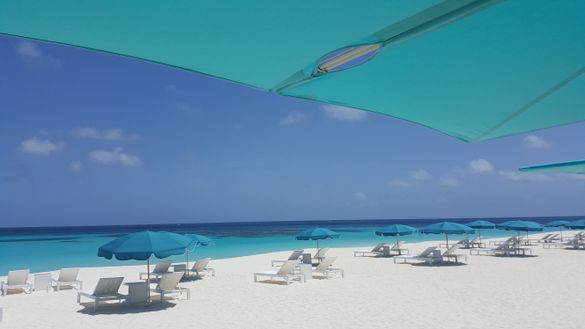 With a new decade dawning, let us help inspire your wanderlust with these unmissable destinations and experiences…
Enjoy A Slice Of Paradise In The Caribbean
Head to the stunning island of Anguilla in the British West Indies for the ultimate in powder-soft sand and turquoise sea, delicious food and adventurous activities.
Known for its stunning beaches, new experiences for 2020 include sea-kayaking to discover secret caves and explore offshore islands as well as guided hikes in the rugged north to discover the iconic Anguilla Arch limestone formation and the little-known Goat Cave, where visitors can cool off in the unique blue and yellow rock pools. Take the plunge at amazing cliff diving spots across the island, enjoy a sunset horseback ride along the beach or zip around the island on ATVs.
Having undergone extensive renovations and reconstructive work following the impact of hurricane Irma in 2017, in 2020 the 'beyond extraordinary' island dazzles with a selecting of charming and much loved local venues and accommodation options as well as an exciting influx of luxury new properties. From relaxed beach restaurants to romantic sunset cocktail bars and glamorous hotels, there are plenty of gorgeous spots to wind down after a day of exploring. Those planning a trip should visit Anguilla Tourism Board's official website ivisitanguilla.com for further information, accommodation recommendations, sample itineraries and much more.
Warwick Castle 2020: spectacular shows and new attractions at family favourite
Britain's favourite castle will be opening the gates to a host of new events and attractions in 2020, including the UK's only medieval Festival of Archery during February half-term. This brand new live action show (included with standard entry prices) features a company of highly-skilled bowmen in daily demonstrations and competitions, and an opportunity for visitors to take aim for themselveswith have-a-go sessions for a small additional charge.
Spectacular shows The Falconer's Quest and Dragon Slayer will also be back, providing top-quality family entertainment in an outstanding setting along with the ever-popular jousting shows synonymous with the Castle.
With plans afoot for further additions of seasonal events and permanent attractions to the array of activities on offer at Warwick Castle, it's easy to see why Warwick Castle is as popular with daytrippers as it is for short breaks. On-site accommodation and dining at the Knight's Village mean that visitors from further afield can take their time to discover all that the Castle has to offer for young and old alike. warwick-castle.com
Experience Breathtaking Montenegro at Ānanti Resorts, Residences & Beach Club
Set to open its doors in May 2020, with postcard-perfect views Ānanti Resort, Residences and Beach Clubis set to become one of the most prestigious addresses in the Adriatic when it welcomes guests to 14 Seaview Suites and eight private-pool Seaview Luxury Villas. A proud member of The Leading Hotels of the World® alliance, Ānanti commands uninterrupted views of the Budva Riviera from its elevated spot on a secluded, forest-covered mountainside. The elegant resort is also conveniently located to explore some of Montenegro's most remarkable attractions and UNESCO-protected areas.
Independently-owned, Ānanti will boast a Wellness and Renewal Spa Centre offering a hot pool, steam room, sauna, jacuzzi and a menu of unique photo and sono therapy treatments aimed to aid detoxification and revitalisation. A state of the art gym and Kids Club complete the wellness offering.
Meanwhile, gourmets will be spoilt for choice thanks to head chef Darko Ceklic, who has created a delightful offering of Mediterranean cuisine with Montenegrin and global influences for breakfast, lunch, and dinner. Guests can enjoy further culinary treats such as champagne, cocktails and freshly prepared, light dishes at the Mediterranean grill restaurant located by Ānanti's beach club, perfectly situated by the turquoise waves of a private beach exclusive to Ānanti's guests.
Think Outside The Box With 'Escape Dining' Experiences At Borthwick Castle
'Escape Dining' at Borthwick Castle combines the popular trend for escape rooms with the 15th century castle's fascinating history and atmospheric setting. Inspired by its most regal of guests, Mary Queen of Scots, a series of thrilling challenges awaits to be solved while feasting on a shared banquet.
Guests will be divided into teams at the table, competing against each other to solve the most testing of puzzles by candlelight and under the vaulted ceiling of the Great Hall – the very room where Mary, Queen of Scots, was forced to flee from approaching troops by lowering herself through a window, some 450 years ago. The quest? To become the Lord of the Castle.
Headed up by former MasterChef UK winner and National Chef of the Year finalist Derek Johnstone, the award-winning Borthwick Castle kitchen team consistently works with the finest local  ingredients to create mouth-watering seasonal menus to suit all palates. The next dining club experiences are set to take place in May, July and November 2020. Visit www.borthwickcastle.com to enquire.
Culture, Culinary Delights And Incredible Entertainment In Toronto
The possibilities are endless in the vibrant city of Toronto, Canada, in 2020, when a host of new experiences will expand the metropolis' culture, gastronomy and entertainment offering even further. Cirque du Soleil's first ever indoor family entertainment centre is set to open in spring and sure to delight all ages as well as becoming a global talking point!
See famous sights from across the country without ever leaving the city at Toronto's Little Canadaminiatures display, which features five Canadian cities, before refuelling by immersing yourself into the multicultural diversity of Toronto's varied culinary scene.
After an action-packed day enjoy a dreamy night's sleep at one of the city's exciting new hotel openings such as the eco-friendly and super-stylish 1 Hotel Toronto, which puts luxury and sustainability front of mind, the newly expanded The Drake Hotel or the glamorous W Toronto. Visit seetorontonow.comto plan your trip now.
Enjoy The Epitome Of Luxury Pampering With The Elysium Collection from Spabreaks.com
Launched in 2019, The Elysium Collection by Spabreaks.com collates the very best pampering experiences from across the UK and currently includes a portfolio of 34 venues, with more to be added during 2020. Built on the company's unrivalled knowledge of the spa industry, the collection celebrates variety, individuality, customer service and distinction.
Each experience is bookable via a dedicated team of the most experienced consultants within Spabreaks.com's UK-based call centre. Each Elysium Collection package also includes added extras and gifts to take your spa break truly to the next level. Visit spabreaks.com to explore experiences now.
Travel Greener, Faster And More Cost-Effectively With Comparison Platform Omio
With so many fantastic destinations to visit in 2020, getting there is half the adventure!
And for savvy travellers with a carbon-footprint conscience, travel app Omio allows users to find, compare and book tickets for plane, train and bus journeys, working out the best option for them dependent on price, speed or time. And, with ferry options joining the list in 2020, customers can now enjoy taking to the waves to reach destinations such as the France or Ireland.
Connecting hundreds of thousands of destinations from more than 800 transport providers in over 35 countries, Omio – formerly GoEuro – is Europe's leading travel booking app for travel by train, bus and flight. Visit omio.co.uk to get to your next destination now.
Sample Award-Winning Food In The Heart Of Devon At The Ginger Peanut
The  Ginger  Peanut is a Devonshire foodie destination that offers a restaurant, bar and accommodation all under one roof in  the idyllic  country town of Bampton.  Led by award-winning chef Peter Mundy, the restaurant's ethos is to serve up great-tasting food made from the finest locally sourced ingredients and prepared with love and skill in a relaxed and comfortable environment.
Guests are invited to bookend their culinary experience with fine wines and expertly-mixed cocktails from the carefully curated bar. Five stylish bedrooms await those who have been indulging in all The Ginger Peanut has to offer, each lovingly and individually designed.
Kitted out with ensuite shower rooms, flat screen TVs, fast WiFi and large, ever-so-comfy beds,  one of the  best night's sleep in town is guaranteed! Ideally located in the beautiful Devon countryside, The Ginger Peanut makes the perfect base to explore the area from – be it visiting the local pubs and shops of Bampton, heading over to the stunning Wimbleball lake or exploring the nearby Exmoor National Park. Rooms start from £76.50 per night, visit gingerpeanut.co.uk for more information.
Restore, Relax & Rejuvenate with a Retreat at Huntsham Court
Start the new decade in style by retreating to the Devonshire countryside for a relaxing and rejuvenating retreat at Grade II Listed manor house Huntsham Court, near the historic town of Tiverton and on the fringe of Exmoor National Park. Currently welcoming guests as the UK's largest private hire country home, Huntsham Court's relaxed grandeur is the perfect environment for intimate and exclusive events.
New for 2020, two bespoke retreats have been created exclusively by Anoushka Emson to be hosted at Huntsham Court. One focused on mothers and their babies, the other designed to help busy people in need of relaxation and a rejuvenating short break.
Full details on schedules for both retreats (which are available on multiple dates in 2020) are available on request. For further information, visit www.huntshamcourt.co.uk.
Explore The World On Two Wheels With BSpoke and Cycling For Softies
Sister companies BSpoke Cycling Holidays and Cycling For Softies are pedalling into the new decade with a variety of new routes that allow you to enjoy the sights, cuisines and cultural riches of your chosen destination – at your own pace and at any ability level. An ideal way to combine fun and fitness, cycling holidays are a great way to explore some of the UK and Europe's most beautiful landscapes.
New for 2020, BSpoke Cycling Holidays has unveiled a portfolio of 14 new tours across France, Italy, Spain and Portugal showcasing some of Europe's most majestic regions including The Loire, Emilia Romagna and Catalonia. BSpoke covers everything from leisurely cycling and e-biking to road cycling and 'Bike & Boat' trip combinations.
Meanwhile, gourmet cycle holiday specialists Cycling For Softies boasts an exciting portfolio of new experiences across France and Italy to tickle the taste buds in 2020, including South Tyrol and Lake Garda, the valleys of the Dolomites and Burgundy. Experience the drama of the Alps, the sleepiness of mountain villages and the vibrancy of cosmopolitan hotspots on extraordinary self-guided cycle tours that allocate ample time to stop at local restaurants, breweries and vineyards before bedding down in comfortable 3- and 4-star accommodation at night.
Explore New Horizons With Air Arabia
Make your dreams of an exotic adventure come true in 2020 by exploring Morocco, the colourful country on Europe's doorstep with low-cost carrier Air Arabia. Whether you're heading for the Red City of Marrakech, timeless Tangier or seeking foodie heaven in Fez, Air Arabia's fleet offers comfort and quality at very reasonable prices.
And with serious investment into golf courses making Morocco – one of the airline's key destinations – a leading hotspot for the sport, Air Arabia is your perfect 'airborne caddy'! Offering complimentary 10kg luggage allowance and free transportation of clubs (up to 10kg), golfers can enjoy a round in the winter sun from as little as £79 for return flights.
Named the Middle East and Africa's 'Best Low-Cost Airline', Air Arabia operates a fleet of 54 new Airbus A320 and A321 Neo LR Aircraft serving over 170 routes across the Middle East, Africa, Europe, and Asia. Passengers can enjoy Air Arabia's world-class comfort seats, which offer one of the most spacious economy cabin seat pitches in the world at 32 inches. UK departures from London Gatwick.
Find The Perfect Place To Pitch Up With PitchUp.com
Whether you are looking to get away from it all, immerse yourself in adrenaline-fuelled outdoor activities or want to get the whole clan together on a family-friendly trip, a camping holiday offers it all!
However, in 2020 'camping' doesn't have to mean going 'back to basics'. Founded in 2009 by former lastminute.com man Dan Yates, multi-award winning outdoor accommodation booking platform Pitchup.com lists over 3,500 locations in 65 countries across the UK, Europe, the Americas, Africa, Asia, Australia and New Zealand.
With accommodation options ranging from quirky 'pods' to romantic lodges, enchanting wigwams to retro caravans, you can choose exactly how far you want to stray from home and how many creature comforts are required to keep everyone happy!
As we face a new decade and adapt to the consequences of Brexit, alongside mounting concerns about the impact of travel on climate change, Pitchup.com remains a trusted tool for 22 million annual users in finding the most stunning sites for a 'staycation' as well as environmentally-friendly accommodation options further afield.
hannah.chapman@whitetigerpr.com / +44 (0) 7590 985 775
Follow and Share with Jetsettersblog.