Where to See Cherry Blossoms in Tohoku Japan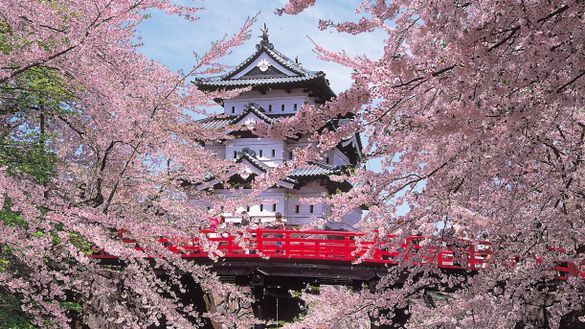 ---
One of the reasons why people in Japan have admired cherry blossoms for centuries is that their mesmerizing appearance never fails to return and inspire hope every spring – no matter what. With the springtime approaching, now is the perfect time to think about this icon of optimism and dream about viewing them in Tohoku, an ideal and under-traveled northern Japanese destination for the post-pandemic era.
Tohoku offers unique views of cherry blossoms in serene natural settings, typically with abundant space to relax and immerse yourself in a magical ambience unlike in an urban environment. It is also possible to combine a visit to Tohoku with a stop in Tokyo or Kyoto for a more diverse "hanami" (cherry blossom viewing) experience.
The 10-to-14-day period where the pale pink blooms move northward gradually from Okinawa in the south to Hokkaido in the north over a few weeks starts in March. This period normally falls in late March through early April for Tokyo and Kyoto and early April through early May for Tohoku. So, it is possible to start your cherry blossom hunt in Kyoto or Tokyo, move up to the northeastern region and enjoy this famed Japanese springtime tradition in both urban and rural settings.
Hirosaki Park, in Aomori Prefecture at the northern end of Japan's main island, Honshu, is well worth the top spot on any bucket list for a forever-lasting memory of a once-in-a-lifetime hanami experience. With some 2,600 carefully-pruned cherry trees surrounding the 17th-century Hirosaki Castle, its moats and the red-colored bridges over them and with Mt Iwaki, reminiscent of Mt Fuji, in the background, this park is lauded as one of the most beautiful cherry blossom spots.
The Hirosaki Cherry Blossom Festival is held annually between April 23 and May 5 when over 2 million visitors normally visit the spacious and diverse park. The 492,000-square-meter park offers various ways to enjoy the festivity: you can take a stroll through cherry blossom tunnels, admire petal filled moats, picnic under raining petals and row a rental boat in a blossom-lined moat.
Cherry trees at Hirosaki Park originate back to 1715 when the Tsugaru clan requisitioned 25 Kasumizakura cherry trees from Kyoto and planted them in the grounds of Hirosaki Castle, present day Hirosaki Park. The cherry trees continued to grow with the help from citizens, and by early 20th century, the castle had become surrounded by splendid cherry trees. Today, the park is owned by the city of Hirosaki, and has 50 different types of cherry including Somei-Yoshino (Yoshino), Shidarezakura (Weeping Cherry), and Yaezakura (Double Layer Cherry).
What sets this park apart from all other cherry blossom spots is not just its setting but also the unique pruning technique adopted to make the trees bloom more beautifully and live longer. Hirosaki is Japan's biggest producer of apples. Since apple farming began in this northern city in late 19th century, the farmers of Hirosaki developed a technique to make apple branches grow horizontally or downwards instead of upwards so that it's easier to maintain and pick apples. Using this expertise, the team of certified "tree doctors" who are employed by the city prune their cherry trees so that the branches grow horizontally or downwards instead of upwards. The result of this is a one-of-a-kind blossoming en masse, with the blossoms facing the eyes of the spectators on the ground. Apple pruning techniques are also used to allow the cherry trees to gain vitality and live longer. The average longevity of the Somei-Yoshino varietal is about 60 years. At Hirosaki Park, there are more than 300 Somei-Yoshino trees that are over the age of 100 years.
The following are the most famous hanami spots in each of the other Tohoku prefectures, as well as their neighboring Niigata Prefecture, which are all located between Tokyo and Hirosaki.
Kakunodate in Akita Prefecture, known as the "Little Kyoto of Michinoku" (an ancient name for Tohoku), is often considered the most elegant town of the Tohoku region. On the famous Bukeyashiki Street, the 162 weeping cherry trees, that are designated as a Natural Monument of Japan, bloom wildly during the season. The banks of the Hinokinai River are coloured pink with Somei-Yoshino blossoms that extend along the riverside for approximately 2 kilometers. Another symbolic sight of Kakunodate in springtime is Shidarezakura cherry flowers blooming across the Bukeyashiki Street, making an enchanting pink contrast against the background of black wooden fences of former houses of samurais and merchants. The Cherry Blossom Festival is normally held from the end of April to early May each year, in conjunction with which various events in and near Kakunodate are organized, such as the illumination of Bukeyashiki Street, and traditional arts performances and concerts at specially set-up stages.
Kitakami Tenshochi Park in Iwate Prefecture is home to about 10,000 cherry trees of nearly 150 varieties and one of Japan's Top 100 Cherry Blossom Spots designated by the Japan Cherry Blossom Association. The row of cherry trees that extends for 2 kilometers from Sangobashi Bridge along the banks of the Kitakami River is often considered one of the best hanami spots of Tohoku along with Hirosaki and Kakunodate. During the Kitakami Tenshochi Cherry Blossom Festival, which is held from 15 April to 6 May, there's much to enjoy, including vivid carp streamers that add colour to the sky over the Kitakami River, pleasure boats floating on the river, nostalgic sightseeing horse-drawn carriages running along the line of cherry trees with the beautifully illuminated lines of cherry trees reflected on the river surface.
Miharu Takizakura in Fukushima Prefecture is a red weeping cherry tree designated as a Natural Monument of Japan and is estimated to be over 1,000 years old. It is one of the top three cherry trees in Japan. The tree's height is 13.5 meters and its root circumference is 11.3 meters. The span of its branches stretches out from its trunk to 25 meters in an east-west direction and 20 meters in a north-south direction. It is a stunning sight up-close. The small light pink flowers bloom in full on the branches making it look like a waterfall splashing down. Accordingly, it has come to be called Takizakura (Waterfall Cherry Tree). Takizakura is also a must-see at night in addition to during the day because it is lit up. (The lighting period is determined according to the flowering situation.)
Hitome Senbonzakura on the banks of the Shiroishi River in Miyagi Prefecture literally means a view of one thousand cherry trees and is known as the most scenic hanami spot in Miyagi. One thousand cherry trees lining the river with their reflections on the water creates a breathtaking sight. During the blossom season, food stalls crop up and the river bank becomes popular for picnics. Also available are boat rides on the river and a nightly illumination at nearby Funaoka Castle Ruins Park. Cherry flowers here typically bloom around mid-April, but note that the exact dates vary from year to year. Check the official Facebook page for updates.
Tsuruoka Park in Yamagata Prefecture is built on the ruins of Tsuruoka Castle by the Aka River. With 730 cherry trees planted around the remains of the castle, such as moats and stone walls, this park also ranks among Japan's Top 100 Cherry Blossom Spots. The variety of the trees include Somei-Yoshino, Yaezakura and Shidarezakura. Their peak blossom here is usually around mid-April.
Takada Castle Site Park in Niigata is home to castle ruins and is famous for its gorgeous cherry blossoms especially in the evening when a three-storied pagoda and the blossoms are lit up by lanterns with reflections on the water of the surrounding moat. The park is often regarded as one of the top three cherry blossom night viewing locations in Japan, along with Hirosaki Park and Ueno Park in Tokyo. Visitors can enjoy a panoramic view of Takada Park framed with cherry blossoms from the top floor of the pagoda. The highlight is Sakura Road, a tunnel of cherry blossom trees illuminated at night. Takada Castle Site Park Cherry Blossom Festivalis normally held from April 1 until April 15.
Most cherry blossom festivals this year are cancelled or downsized significantly in response to the ongoing global pandemic.
Japan currently has entry restrictions in place in efforts to contain the global pandemic. Please see coronavirus advisory information by Japan National Tourist Office for updates on entry restrictions:travel/en/coronavirus
Please credit Tohoku Tourism Promotion Organization on all images.
<About Tohoku>
Japan's northeastern region of Tohoku is a wild and expansive area encompassing six prefectures: Aomori, Iwate, Miyagi, Akita, Yamagata and Fukushima.
This rural region has historically stayed isolated by limited transport and some of the world's heaviest snowfall. Isolation has allowed Tohoku to develop a unique culture with its own distinct traditions, with very limited influence from the outside world.
After a decade of government-led efforts to make it an international holiday destination, this best-kept secret of Japan tourism is finally ready to take center stage, offering lush landscapes, serene winter wonderlands, one-of-a-kind spiritual experiences and world-class outdoor adventures.
Tohoku is remarkably accessible from Tokyo. As easy as a one-hour bullet train ride away, the region's bountiful nature, expansive rice paddies and beautiful villages immerse visitors instantly in warm rural landscapes reminiscent of Ghibli films.
Tohoku Tourism Promotion Organization is the public-private organization responsible for marketing the Tohoku region and Niigata Prefecture in northeastern Japan as a travel destination.
For more information on Tohoku,
please visit Tohoku Tourism Promotion Organization's official website at https://www.tohokukanko.jp/en/index.html
Follow and Share with Jetsettersblog.