Who Explores the World? Girls!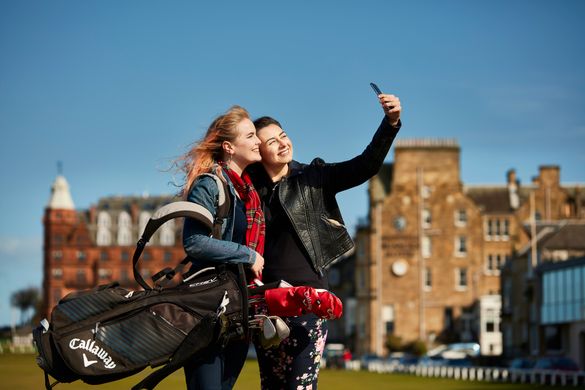 ---
Travel is the ultimate form of self-care. It quenches our thirst for the unknown, it allows us to reflect and learn about ourselves, and it's an excellent stress buster. When we step outside the daily grind of life and choose to travel, we are choosing ourselves.
It's probably no surprise that women are travelling more than ever.  In fact, 50 per cent of women have taken a holiday by themselves and a further 75 per cent of women plan to take a solo trip in the next few years*.  For those planning their next trip, Scotland offers many paths of self-discovery.
Whether visitors are looking for a relaxing retreat, a swim with sharks or a whisky weekend with the girls, there's a trip in Scotland for all travellers.
WATER YOU WAITING FOR?
2020 is Scotland's Year of Coasts and Waters where VisitScotland shines light on Scotland's lochs, rivers, canals, inland and coastal landscapes and history. Take part in this amazing year-long programme by exploring Scottish waters.
The charming and most westerly island of the Inner Hebrides, Isle of Tiree, is one of the sunniest places in the UK and hosts Britain's premier windsurfing competition and longest running professional windsurfing event, the Tiree Wave Classic. Women's Pro registration is now open for the 10 – 16 October dates. For those not competing, there are still a plethora of water activities to try including windsurfing, surfing and paddle boarding. The beach bums who attend will love the island's beautiful white sandy beaches.
Thrill-seekers can dive deep on a basking shark tour in the biggest basking shark hotspot off the Isle of Coll.  They are the second-largest living sharks after the whale shark and despite their size are harmless to humans. Those who are too nervous to dive in are welcome to watch onboard.
For more information on Scotland's Year of Coasts and Waters 2020 visit: www.visitscotland.com/ycw2020
WHISKY BUSINESS
Adopting its name from one of Glasgow's original distilleries in 1770, The Glasgow Distillery Company re-opened in 2014 becoming the first Single Malt Distillery in Glasgow for over 100 years. The company names their copper pots where they distill the whisky after important women including 'Annie', 'Mhairi', and 'Tara' – three family members of the founders – and 'Margaret' and 'Frances' the MacDonald sisters who became important members of 'The Glasgow Girls'. Tastings of their malts are currently available at Tennent's Brewery.   
Join a female-lead whisky tour with Linda Bruce at Speyside Escapes. Linda is a lifelong whisky insider who grew up in Moray Speyside just over the wall from a distillery. Her father was a local grain merchant and she has worked at several Speyside distilleries over the years. There's a range of different tours available including a Trail Run and Whisky Tour which includes a trail run followed by distillery visits!
To help plan the perfect whisky weekend away, visit: www.visitscotland.com/see-do/food-drink/whisky/
FORE! THE GIRLS
After a two-year hiatus, the AIG Women's British Open – a major championship in women's golf – returns to Scotland. From 20 – 23 August 2020 the AIG Women's British Open will take place at the wonderful Royal Troon Golf Club in Ayrshire. Tickets for this highly anticipated event will go on sale in March.
For more women's golf inspiration visit: https://www.visitscotland.com/womensgolf/
RELAX, GO DO IT!
Yogis should head up to the Highlands for the Cairngorms Yoga Festival. The weekend will take place in the breath-taking Cairngorms National Park from 28 – 30 August and will include a number of different styles of yoga classes as well as sound baths, guided walks, massage and music.
Crafty travellers will love Camp Glen Dye's 4-night Craft retreat happening in Perthshire. The retreat begins on 9 October with guests taking part in printing, weaving, river swimming, woodworking, wool making, knitting, yoga and much more. There's a variety of cabins and cottages to stay at during the retreat including three cottages and one cabin with their own woodfired hot tub.
For more wellness break ideas in Scotland visit: https://www.visitscotland.com/holidays-breaks/wellness/
TAKE A SHOT ON SCOTLAND
Tracy Ferguson a female Senior Level 3 Coach in all Clay Shooting Disciplines, Game Shooting and Rifle runs Country Sports at SCHLOSS Roxburghe in the Scottish Borders. The estate runs a variety of activities including clay shooting, tomahawk throwing, archery and more. No equipment or experience necessary!  The estate also boasts one of the best draining golf courses in the UK and offers fly fishing for anglers.
For more outdoor activity ideas visit: https://www.visitscotland.com/see-do/active/
GIRL GUIDES
Wilderness Scotland's fully-guided women-only tours are designed to encourage women to explore wild Scotland. Their aim is to create a welcoming environment for women to build confidence in adventure activities that have been known to be male-dominated. Activities such as wild walking and kayaking in regions including Orkney and the Outer Hebrides are available. Wilderness Scotland is recognised as one of the UK's Best Workplaces for Women.
Emma Chalmers is the founder of the award-winning Mary's Meanders tours. They offer a variety of film, history and ancestral tours including a Classic Outlander Tour  and 3-day Mary, Queen of Scots Tour. A must-do for film buffs!
Bike Valley Scotland runs a special 4-day Women Power tour package run by highly qualified female riding instructors. Women will be able to explore unique cycling trails in the Scottish Borders and will enjoy a spa session for a truly refreshing experience.
Getting here
New Caledonian Sleeper trains launched in 2019: New carriages made their debut on the Lowlander route between London and Glasgow/Edinburgh and Highlander route between London and Aberdeen, Inverness and Fort William. Book here: www.sleeper.scot
New direct Loganair flights between London City Airport and Dundee from 29 March 2020: https://www.loganair.co.uk/
For more information on breaks to Scotland go to: www.visitscotland.com/holidays-breaks
About VisitScotland
2020 is Scotland's themed Year of Coasts and Waters. A year-long programme of events and activities that shine light on Scotland's lochs, rivers, canals, seafood, inland and coastal landscapes and history. To find out more go to www.visitscotland.com/ycw2020 or join the conversation by using #YCW2020
In April 2018 VisitScotland launched a brand new global campaign, Scotland is Now.  To find out more go to www.scotlandisnow.com  or join the conversation by using #ScotlandIsNow
VisitScotland's Community site was set up for the Scottish public to help, engage and enthuse potential visitors about the country.  To get involved go to: www.visitscotland.com/community
For holiday information on Scotland go to www.visitscotland.com  
To ensure everyone can safely enjoy Scotland's amazing countryside and landscapes, VisitScotland encourages all visitors to fully respect their surroundings by behaving in a responsible and appropriate way.
For VisitScotland's press releases go to www.visitscotland.org/media_centre.aspx,
For tourism statistics and frequently asked questions go to www.visitscotland.org
Follow and Share with Jetsettersblog.