Why the A-List Loves Anguilla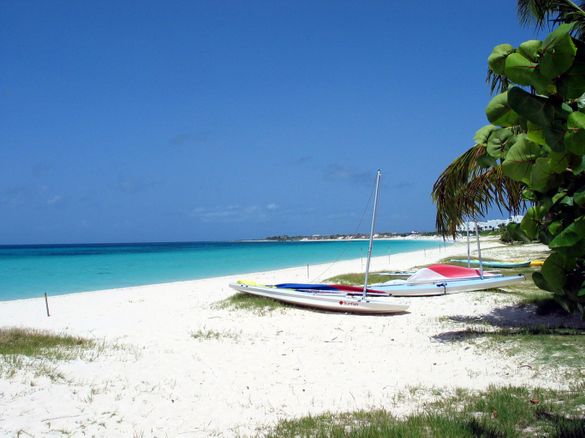 ---
It's no secret after this weekend that pop queen Adele along with BFFs Harry Styles and James Corden have been enjoying the sand and sunshine of Anguilla, and they're following in the footsteps of many other celebs including Beyoncé and Jay-Z, Justin and Hailey Bieber, LeBron James, Meryl Streep, Brad Pitt and Jennifer Aniston.
Celebrities love the petite and picture-perfect Caribbean island of Anguilla, not only because of its breath-taking beaches and crystal waters but also because it offers a more tranquil and private winter sun getaway than flashier neighbouring islands like St Barts. While you don't need to be A-list to holiday in Anguilla,  here are a few reasons why it's such a dream destination.
Wellness Wonders
Anguilla may well have been a deliberate choice for Adele to show off the results of her health kick – the island has a growing reputation for wellness (not least a dedicated Wellness Week in June) and offers plenty of ways to rest, restore and rejuvenate. From the Taino Bathing Ritual at Zemi Beach's Thai Spa House to the Tropical Spice Body Polish at the Belmond Cap Juluca, you are spoilt for choice where unique pampering treatments are concerned.
A-Listers keen to keep fit on their holidays can enjoy sea-kayaking by day or night, try their hand at SUP (stand-up paddle-boarding), get their steps in on a beach walk or explore the more rugged part of the island on hikes that reveal some of Anguilla's most stunning sights.
Privacy
Unlike other paradise islands that attract the jetsetting 'flashpack', Anguilla retains a peaceful and relaxing vibe that allows A-Listers to feel like they are truly getting away from it all. Paris Hilton famously called the dreamy destination her "secret island" because it allowed her to enjoy a getaway completely undetected until after her departure.
The stunning beaches are less crowded, the incredible azure waters unspoilt and even Hollywood royalty can enjoy relative anonymity amidst the welcoming locals. Further privacy-loving stars that have holidayed on the island include Leonardo DiCaprio, Liam Neeson, and former Beatle Paul McCartney.
Luxury Accommodation 
With a fresh influx of spectacular luxury hotels and private villas, celebrities can enjoy desert island vibes with all the creature comforts they are accustomed to.  The Belmond Cap Juluca, the Four Seasons Resort and Residences, Zemi Beach House, The Reef by CuisinArt and Malliouhana are just a few of the show-stopping accommodation options discerning travellers can choose from and all of them have been extensively renovated if not wholly recreated in the past two years. The island is also a popular mooring point for yachts for those that prefer to sleep offshore, or island-hop around the region (although strictly no cruise ships allowed!).
Breathtaking Beaches
For the ultimate romantic getaway, Anguilla won't be beaten on the 'wow factor' where its 33 stunning beaches are concerned.  From the infinite blue waters at Meads Bay to the powder-soft golden sands of Shoal Bay East or the vibrant Sandy Ground with its many bars and restaurants, the choice is yours! Enjoy blissful tranquillity or soak up the lively atmosphere and a rum punch or two for instant holiday vibes.
Adrenalin-Fuelled Activities & Once-In-A-Lifetime Experiences
Action-loving stars like Justin Bieber, who is never straying far from his 'boys toys', can get their adrenalin fix during a jet-ski ride through the azure waves or a daredevil cliff-jump like basketball royalty LeBron James. And for couples, it doesn't get more romantic than a horseback ride on the beach, a sunset boat trip or even a 'glow-in-the-dark' kayak excursion.
The Local Hospitality
Even the most famous of celebrities will be able to relax amongst the down-to-earth, friendly locals, who are used to dealing with A-Listers during the high season in December and January. With an unspoken rule to allow visitors to enjoy the island as the locals do, even international superstars are left to enjoy their holiday in peace.
Harry Styles and Kendall Jenner, for example, were spotted enjoying a low-key dinner together at Blanchards back in 2015, and he recently returned to the renowned eatery with popstar pal Adele. The restaurant, which specialises in a range of Caribbean, Asian, Mediterranean and American cuisine, also has a hugely popular second venue called The Beach Shack, which is perfect for grabbing an ice cream or enjoying sunset cocktails in a relaxed setting. Meanwhile, Justin Bieber delighted his fans while letting his hair down during an impromptu drum session at Viceroy's Sunset Lounge.
How To Get There:
Virgin Atlantic 
Virgin Atlantic operates an international route departing from Gatwick, London Airport, United Kingdom (LGW) and arriving at Antigua Airport, Antigua and Barbuda (ANU). The flight distance is 4076 miles, or 6560 km. For direct flights, the flight time varies between 8:45hr and 9:00hr.
Return flights from London Gatwick to Antigua in January 2020 cost around £506.52 in Economy Classic including one piece of hand luggage and one checked bag.
TransAnguilla Airways 
Trans Anguilla Airways is an air charter airline operating to and from Clayton J. Lloyd International Airport to points in the Caribbean Leeward and Windward Islands region. Flights from Antigua depart daily and take less than an hour.
A roundtrip from Antigua to Anguilla in January 2020 costs approximately £340.07.
Those planning a trip should visit Anguilla Tourism Board's official website for further accommodation inspiration, as well as the best places to eat and activities to try: www.ivisitanguilla.com
For information and updates on all things Anguilla please visit the official website www.ivisitanguilla.com; and follow on Facebook, Instagram and Twitter.
About Anguilla
Anguilla is a British Overseas Territory in the Eastern Caribbean. It is one of the Caribbean's best-kept secrets, measuring just 35 square miles and 14,500 people. The island boasts 33 pristine white sand beaches, tempting turquoise waters and world-class restaurants.
Anguilla offers a choice of international hotels and luxury spa resorts, modern villas and small intimate properties, boutique hotels, apartments and welcoming guesthouses.
The pace of life is calm and relaxed and visitors can do as little or as much as they like on this tropical paradise. Anguilla offers an experience like no other – glorious weather, breath-taking vistas, azure waters, incredible beaches, mouth-watering cuisine, and activities land and sea based.  A warm and friendly welcome awaits visitors to Anguilla – it is the pinnacle of the idyllic Caribbean escape.
Follow and Share with Jetsettersblog.