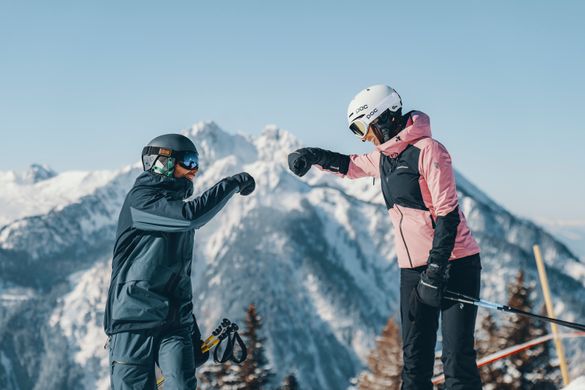 \\\The Austrian National Tourist Office's biggest ever winter campaign
Winter Love in every corner of Austria
Winter holidaymakers still eager to travel
Austria's impressive safety strategy
A spectacular start is in sight for this year's winter season! Under the hashtag #winterlove, the Austrian National Tourist Office and its partners are launching their biggest international campaign to date, with the aim to draw maximum online attention from around the world to the joys of winter in Austria: "For the first time, we are collaborating with the regional tourism organisations to send one joint clear and comprehensive message for the winter. We want to reignite our visitors' passion for the winter by sharing our Austrian hosts' love of winter with them," explains Lisa Weddig, CEO of ANTO. "And of course, along with our regular visitors, we also want to attract new target groups by showing just how much Austria has to offer in winter."
Austria impresses with its wide range of winter activities
Skiing, snowboarding, and freeriding are still by far the most popular winter sports activities and Austria, with over 50 percent of the market share, remains the undisputed leader in Europe. However, for a long time now, people have not only travelled in winter for the sporting options, but also to relax, enjoy nature and the snow-covered scenery, or to take in a few city breaks. "People want to go for walks, enjoy Austria's fine cuisine, see the sights, visit Christmas markets or simply relax in a spa," adds Weddig. "Whether they're holidaying with friends or family, they'll find Austria has so much to offer that it can meet the needs of any visitor."
"This ambitious campaign is also a response to the current situation and trends arising from the coronavirus crisis,"explains Weddig. People's longing to be outdoors and take in their natural surroundings has increased, she says. Hiking and walking in the countryside, in particular, have become more popular since the start of the pandemic. Topics such as health and sustainability have also gained in significance. Even if many visitors currently still prefer to travel to Austria by plane, in the future, sustainable travel will play a more significant role, both when traveling to and from and while actually being at the holiday destination. Therefore, locally produced food and drinks will also rise in importance.
Winter Love in Austria's different regions    
An Austrian winter is a wonderland of great variety. While winter sports obviously play a central role, Austria has much more to offer. It features enchanting cities including Vienna, Graz, and Salzburg, with their Christmas markets, coffee-houses, and cultural amenities. Regions such as Lower Austria, Styria and Burgenland invite visitors to come and enjoy the winter wildlife and discover the joy of a slower pace of life. The main activities here are ski tours, winter hikes, cross-country skiing or simply a leisurely stroll through idyllic snow-covered scenery. Tyrol, Vorarlberg and the SalzburgerLand score highly with their vast ski resorts, but also with their traditions, cultural offers, and hospitality. Upper Austria is the place for families thanks to child-friendly skiing areas and activities such as winter horse-riding and sledging. The best regions for relaxing after an action-packed day are Styria, Carinthia and Burgenland with their numerous spas and wide range of culinary delights.
Here are just a few examples of the broad range of winter activities in Austria, as well as several innovations for this season:
In SalzburgerLand, one of the largest and most varied winter sports regions in Europe has been created with the new "Panorama Link" cable car service connecting the winter sports resorts of Flachau/Wagrain and Flachauwinkl/Kleinarl.
In the Kreischberg ski resort in Styria, winter sports guests will, for the first time, be able to travel the 3.8 km from the valley to the mountain station in 161 ultra-modern 10-seater cabins.
In Tirol, the Silvretta Arena in Paznaun and SkiWelt Wilder Kaiser-Brixental were both honoured for their commitment to sustainability and climate protection.
Lower Austria offers the perfect contrast to the hustle and bustle of the slopes: wrapped up warm, you can enjoy the Austrian winter wonderland on the numerous winter hiking trails – including with snowshoes.
Carinthia is an attractive skiing destination, but it also boasts other winter activities such as ice skating on Lake Weissensee – the largest natural ice surface in Europe.
One example of the diverse nature of holidays in Upper Austria is the Feuerkogel mountain. With just one ticket you can enjoy several different leisure activities, from skiing on the Feuerkogel itself to surfing on the Riverwave.
On a winter hike from Lech to Zug in Vorarlberg, you will discover how special places are transformed into theatre stages on certain days, with actors portraying scenes from Lech's history throughout the years.
In Vienna, around 10 new hotels have opened in recent months. These range from the elegant flair of the 1920s in the "Hotel Motto" to the trendy ambience in the "Superbude" and the music-themed "Jaz in the City".
In Burgenland you can enjoy a romantic horse-drawn sleigh ride in the steppe, stop at one of the numerous winemakers, then relax in a thermal bath and listen to Haydn's "Die Jahreszeiten" at Esterhazy Palace, which precisely reflects the mood of the country.
The #winterlove campaign focuses on the characteristics of the different regions of Austria, and the interactions between people, emotions, and special moments. Yet even with all this diversity, one thing remains the same: We love winter! "We want our campaign to appeal not only to winter sports fans but also to winter holidaymakers who enjoy the finer things in life. It's all about experiencing art, culture, and good food together. In short, it's about the pleasure and joys that make us feel alive again," summarises Weddig.
People are still keen to travel – confidence in winter holidays is high
The results of a recent survey carried out by the Austrian National Tourist Office between early and mid-September in Austria, Germany, Switzerland, the Netherlands, the UK, the Czech Republic, and Poland are also promising for the coming winter season. They suggest that people are still eager to travel, confidence in winter holidays is high and firm plans are already being made.
If you are looking for snow in winter, Austria is the place to be! This is the result of a comparison of top holiday destinations and underlines Austria's winter credentials. Austria ranks high among people's favourite destinations: In Germany, our biggest market, and the Netherlands, Austria is ranked no. 1, and in Switzerland, the Czech Republic and Poland it is no. 2. Among British holidaymakers, Austria is in fourth place, just slightly behind Italy and Switzerland who are second and third.
In terms of preferred travel periods, things are slowly returning to normal. Visitors are planning along traditional lines again, based on peak holiday times – with the busiest months being December, January, and February – but prospects for spring are looking promising as well. It is currently expected that the season as a whole will be busy even if bookings now tend to be made later than pre-pandemic.
Looking at the booking criteria, visitors are, above all, interested in money-back guarantees and generous cancellation terms, followed by the hygiene measures being taken by the accommodation provider.
Safety is our top priority
The survey also showed that the requirements for entering and leaving the country have a big impact on the travellers' choice of destination. Austria was one of the first countries to put in place a clear and transparent safety protocol in 2021. "Here at the Austrian National Tourist Office, we will always promptly share the latest safety regulations in detail with our international network," promises Lisa Weddig. "Travellers need to feel safe if they are to enjoy a relaxing holiday in Austria – and that's the top priority for us."
T

Follow and Share with Jetsettersblog.